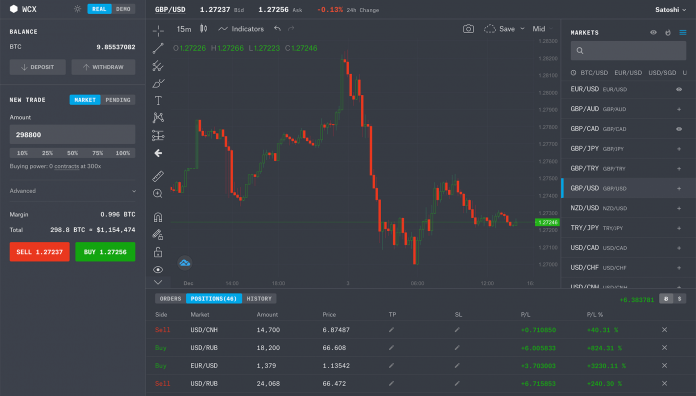 WCX is a popular crypto trading platform that was started by ex-Apple software engineers. While the company is still relatively new (it launched in 2017), the trading platform has experienced high growth and gained popularity thanks to its ease of use, broad selection of markets, and 0 fee trading.
WCX is different than regular crypto trading platforms because it lets users trade all kinds of financial markets, like stocks, commodities, and also cryptos, using just BTC. There is no need to link your bank, or credit card, or deposit fiat — everything from deposits to trading to withdrawals is made in BTC.
Because it doesn't rely on banks and uses just bitcoin, which is an open-source technology at its core, WCX claims it can cut costs that other exchanges and brokers have to deal with, and pass on those savings to its users in the form of 0 fee trading and high liquidity.
In our review, we'll attempt to outline everything you should know about WCX, including how it works, how to trade, the security aspects, customer support, and more.
Website: https://wcex.com
Based In: Switzerland
Accepts U.S. Clients: No
Minimum Deposit: 0.001 BTC
Fees: 0%
How it works
If you're using WCX for the first time, you might ask yourself how exactly you can use your BTC, which is a currency that exists outside the financial system, to trade traditional markets like stocks, currencies, commodities, and indices.
The answer is that when you trade on WCX, you go long or short a market, and you do not actually purchase or own the underlying asset for that market. You predict whether your market's price will rise or fall, and the degree to which you are right or wrong determines the profit or loss you make.
It's actually quite simple when illustrated with an example. Let's say you believe Apple's stock (AAPL) price will rise. You open a long position for 10BTC on AAPL. Over the next few hours, AAPL rises by 1%. You gain 1% x 10 BTC = 0.1 BTC. If AAPL had dropped by the same value, you would have lost the same amount.
One of the nice aspects of WCX is that you can actually position yourself to make money even when a market declines, by opening a short position. Let's say you expect Oil prices to decline. You open a 10BTC short position on Oil. Oil prices proceed to decline by 2%, and you gain 2% x 10 BTC = 0.2 BTC. Had Oil risen, you would have made a loss.
Now that we've covered the basics of how things work, let's dive into trading. Here is what the trading dashboard looks like: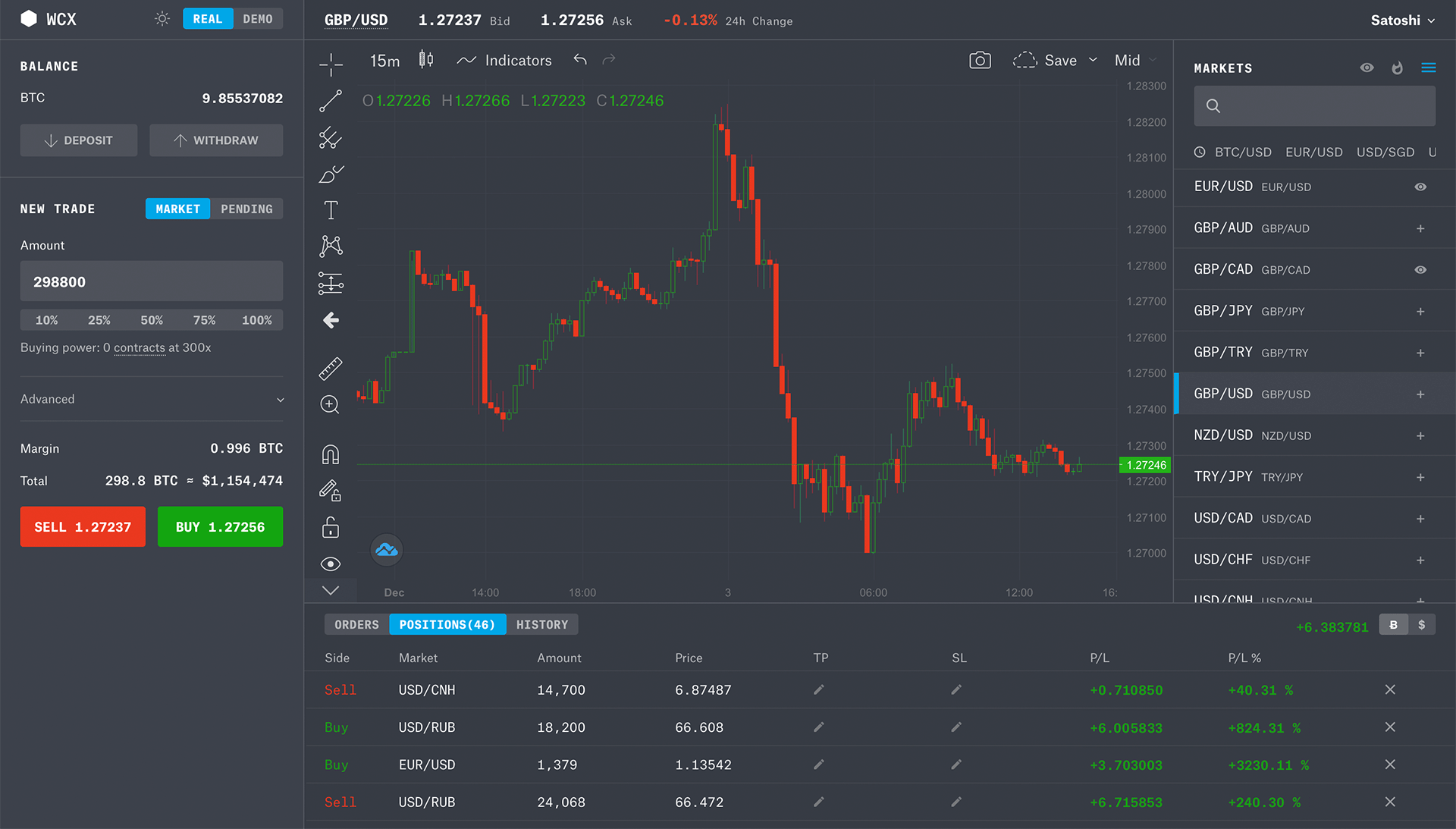 It is nicely designed and well laid out, with the order submission panel on the left hand side, and the chart and your open positions in the center. You also have a market selection menu on the right that lets you search and select the market you want to trade, as well as glance at the latest prices.
The layout is presented with two themes that you can select: dark or light. The dark theme is easier on the eyes if you spend most of your time watching the charts, but it's a matter of preference.
Sign up and login
To use the platform, the first thing you want to do is create an account.
While you can start using the platform with demo trading (a fictional balance) straight away, to deposit and trade with real BTC you'll need to verify your ID. This is required to comply with KYC/AML laws.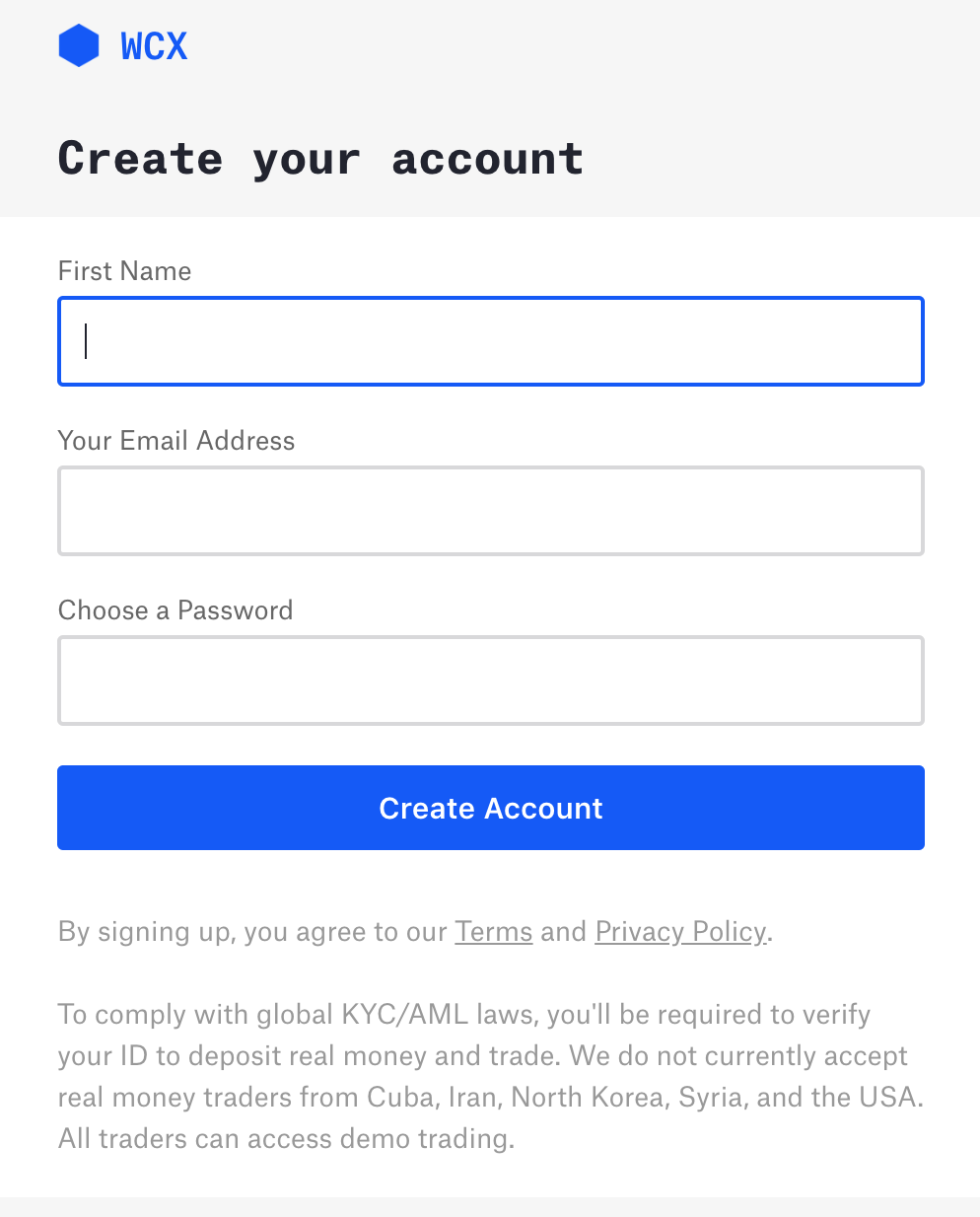 The verification process is relatively straightforward and takes about 3 minutes to complete. You'll be asked to answer a few questions about yourself, such as your name and address, and upload your ID and residence documents. The time for approval is anywhere between a few minutes to a couple of hours.
If you're new to the platform, you can start by demo trading with fictional funds to get used to the platform. Once you're ready you can verify your ID to deposit and trade with real money.
How to trade on WCX
Trading on WCX is fairly straightforward. To get started after you sign up, go to the trading dashboard. There you will see an option to select real or demo trading in the top left part of the page.

If you click on "Demo", you'll receive a fictional balance of 10 BTC to make trades. Demo trading works exactly the same way as real trading, the only difference being that the funds you trade with are not real. This lets you test out the platform without risk and you get to refill your demo balance an unlimited amount of times.
If you click on "Real", you'll see a button to Deposit. You can click that button and if you've verified your ID, you'll see a panel that comes up with your bitcoin deposit address. BTC deposits are credited after 1 confirmation.

Once you have funds in your balance, the first thing you want to do is to select a market to trade. You can do this from the right-hand side column where it says "Markets".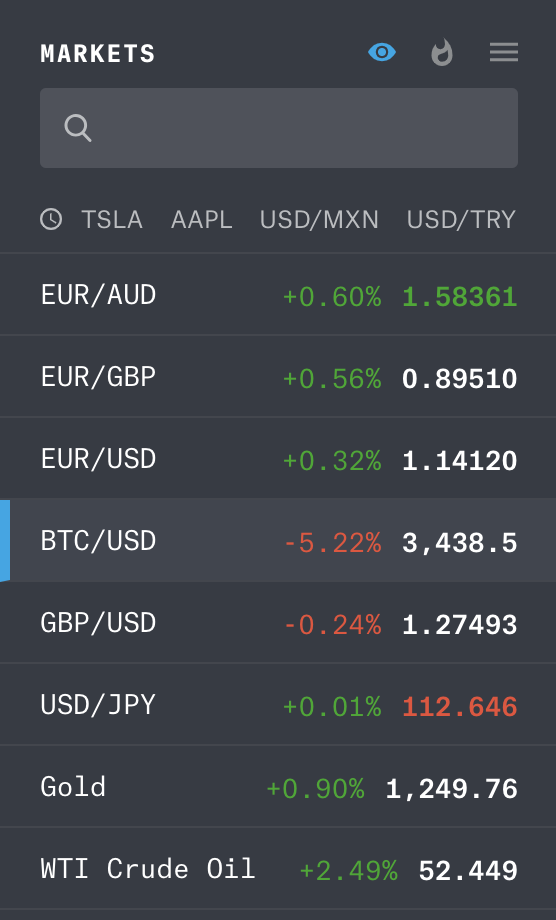 There are plenty of markets to choose from, including all kinds of forex markets, like EUR/USD and USD/JPY, stocks and indices, a dozen or so of the most popular cryptos, as well as commodities like gold and oil.
Once you select a market, you'll see its chart and latest prices load up in the center of your dashboard. You can use the chart to perform technical and fundamental analysis with the hundreds of different indicators and settings that are supported.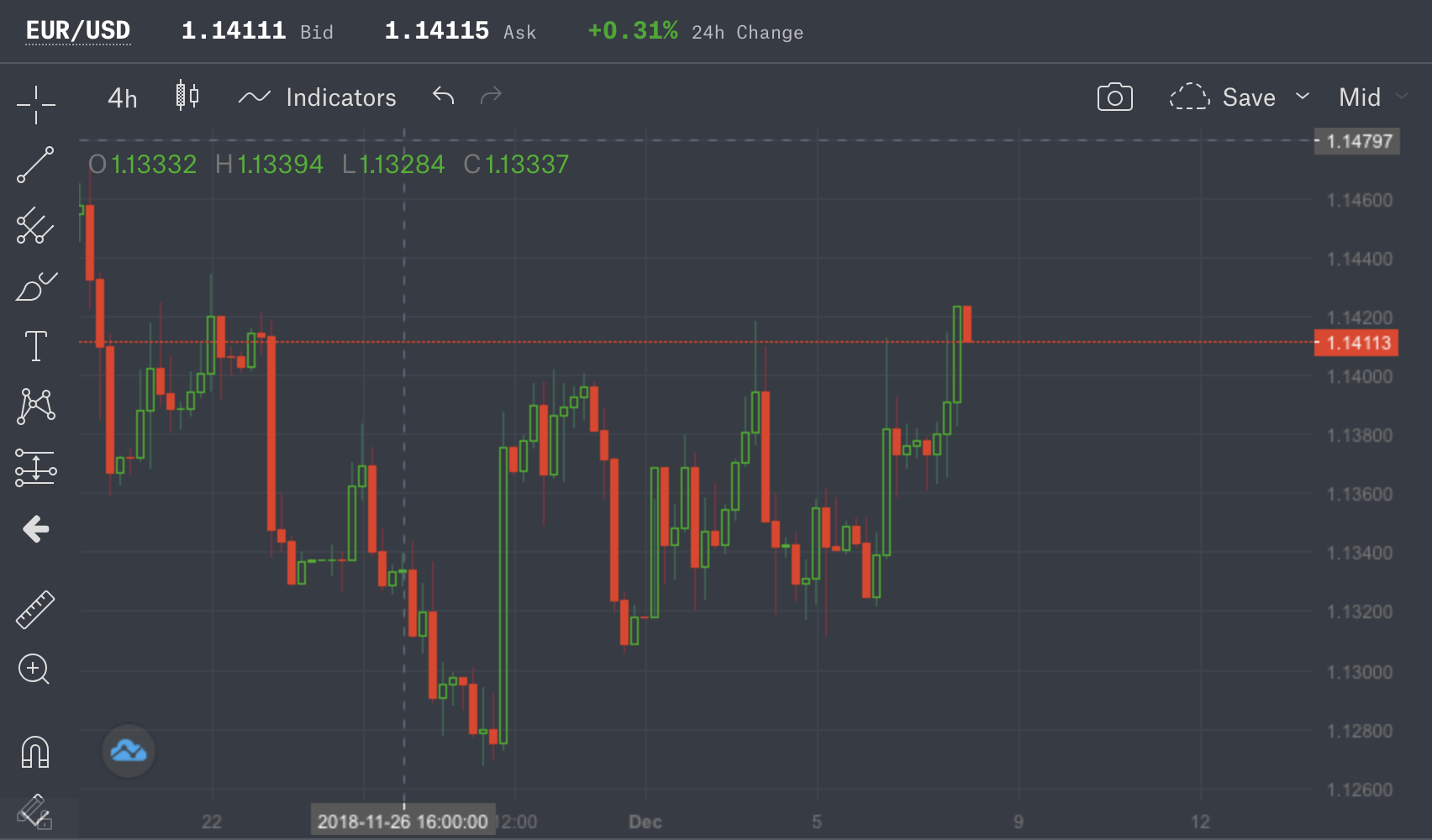 Once you're ready to place a trade, select an amount from the left hand side panel, then click on "Buy" or "Sell". The amount you choose includes leverage, which you can adjust in the "Advanced" menu. You can also set a take-profit or stop-loss price for your order, and if you'd like to enter at a specific price instead of the market price, select "Pending" then enter a price of your choosing.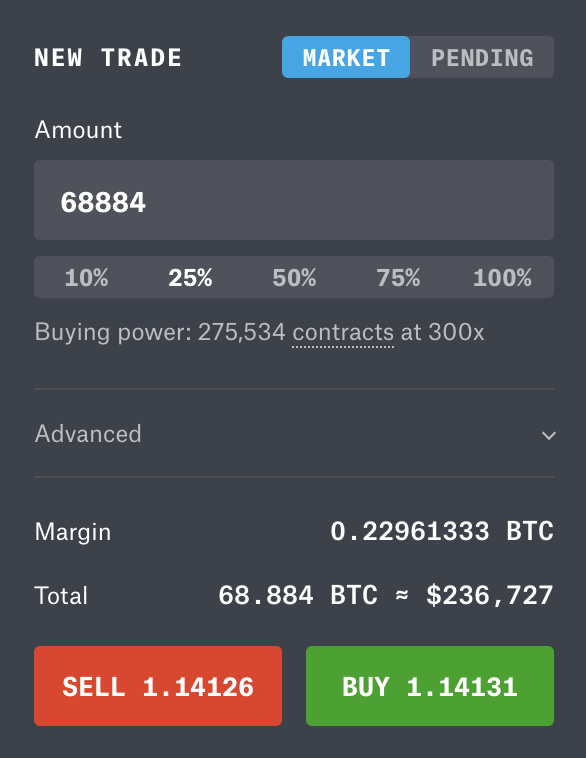 Amounts are expressed in contracts, which are nothing more than a simpler way to represent BTC so as not to deal with decimals. 1 contract is equal to 0.001 BTC.
When you enter an amount, you'll see the corresponding margin amount appear in the new order panel. The margin is the real amount of balance that will be used in your trade. For example, if you enter 50,000 contracts (50 BTC) as your amount at 100x leverage, that means your margin (real balance used) will be 50 / 100 = 0.5 BTC.
"Buy" to profit from rising prices and "Sell" to profit from falling prices. Buy orders will always execute at the market's ask price while sell orders will always execute at the market's bid price.
One your trade is placed, it will show up in your "Positions" panel in the center of your screen.

There you can track your position P/L (profit / loss), P/L %, as well as update your position by, for example, setting a take-profit or stop-loss to close it automatically at predetermined prices.
Click on the "X" once you're ready to close your position. The BTC margin tied to the position will be returned to your balance, plus any profit or loss incurred.

More features
There are many different features offered to traders on WCX. While we went over some above, below we highlight some of the ones that set this platform apart.
100+ markets
There are many different types of markets to trade on WCX, including:
Cryptocurrencies – users can trade more than a dozen of the most popular cryptos, including bitcoin, ethereum, litecoin, ripple, and more

Forex – forex is the largest trading market in the world, and WCX offers just about every type of FX trading pair including EUR/USD, GBP/USD, USD/JPY, AUD/USD, and more

Stocks – dozens of stocks including Apple, Amazon, Tesla, and more are available to trade

Commodities – gold, oil, silver and other precious metals and commodities are available for trading

Indices – users can trade popular global indices such as the S&P500 and the China 50.
Risk management tools
An important aspect of a professional trading platform is the risk management tools it offers to traders. WCX has risk-free and unlimited demo trading to allow new traders to get used to the platform without risking any funds.
The platform also offers take-profit and stop-loss, which you can set either before opening your position or after. Take-profit is the price at which you want your position to automatically close in profit, while stop-loss is the price at which your position will automatically close at a loss. Both of these tools allow you to manage the risk/reward on your trade automatically, without needing to have your browser open or be in front of your computer.
Additionally the platform offers flexible leverage, meaning you can choose the leverage you want for each trade you make. This is adjustable between 1x up to 300x for the highest leverage markets.
Affiliate program
WCX offers one of the highest paying affiliate programs, which may explain the fast growth it has experienced. When you refer a user, you receive 50% of the commissions made from that user, forever.
Mobile trading
When you load the website on a mobile device, the UI automatically adapts into a friendly mobile interface that is usable like an app. Native apps for iOS and Android are not available at this time.
API
Another standout feature is the WCX API. The platform offers both REST and Websocket libraries for real time trading and prices, as well as comprehensive documentation.
Supported countries
WCX is based in Switzerland, with its legal entity based in British Virgin Islands, as per their terms of service. As such, WCX complies with Swiss and global KYC/AML laws and requires identity verification before allowing you to deposit and trade with real BTC. Traders from most countries are accepted, except for Cuba, Iran, North Korea, Syria, and the USA, for regulatory reasons.
Customer support
For a trading platform to be successful, it requires fast and responsive customer support. The WCX help center is a good resource for traders just starting out and wanting to learn more about the platform. You can read the articles on there or search for a specific topic. You can also contact customer support from the web form at wcex.com/support. From our experience and based on other reviews from around the web, the WCX support team responds in a timely manner.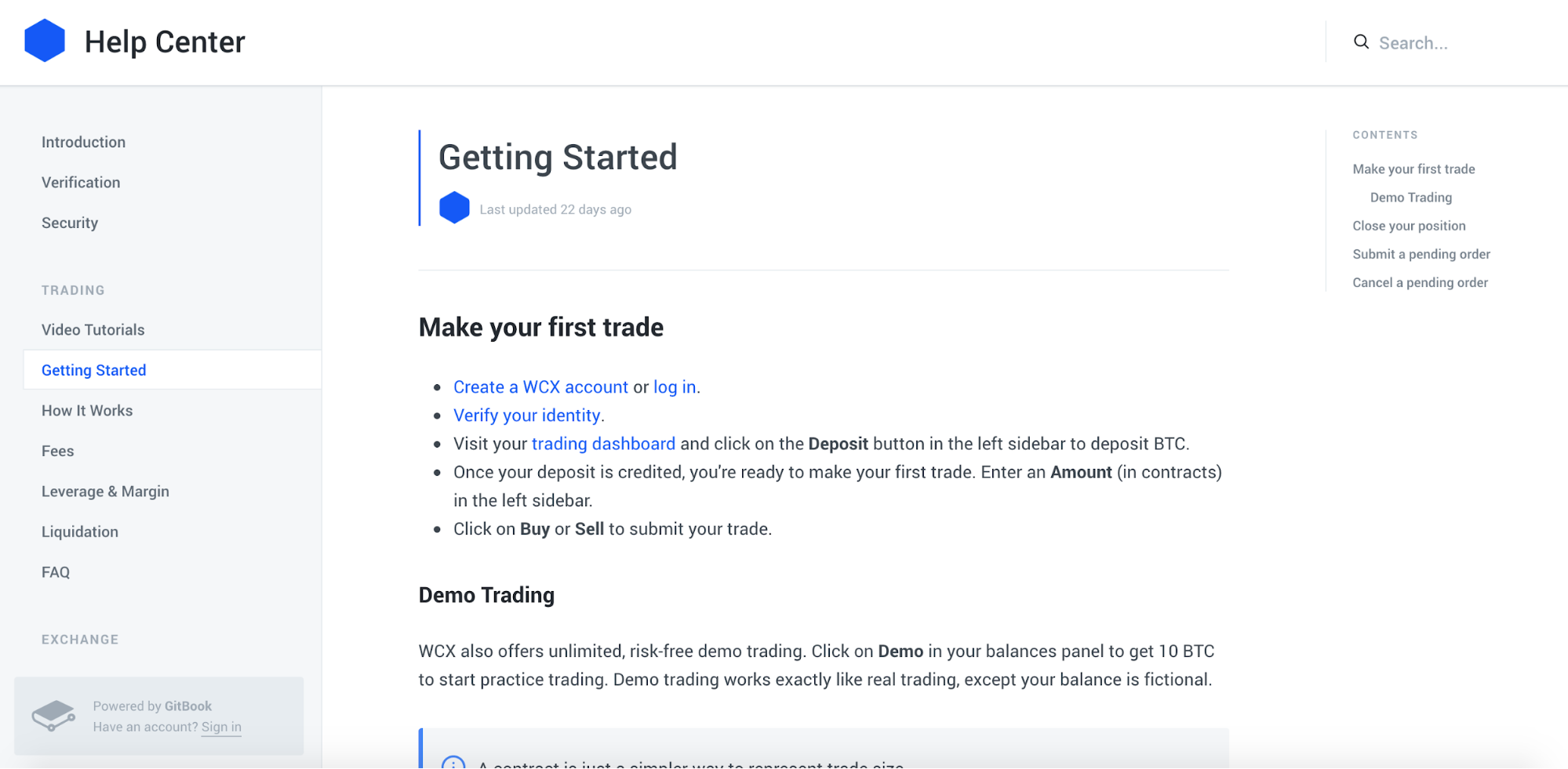 Team
WCX was founded by ex-Apple engineers Amatsu Soyonobu and Tagawa Hayashida. Both of them are early bitcoin adopters. They left their jobs to create WCX as a way for all people to access the financial markets by using bitcoin, a currency that is accessible to everyone.
Is WCX safe?
While WCX is fairly recent, it has quickly managed to attain a high level of trust from its users and the crypto community. Customer funds are stored in cold wallets and you can choose to enable 2-factor authentication on your account for an extra layer of security (which we recommend). We believe security is taken seriously and WCX has no history of hacks or breaches.
Conclusion
By using bitcoin exclusively, WCX is able to offer one of the easiest and fastest ways to trade.
Based on everything we've outlined above, WCX is ahead of the competition with its broad selection of markets, 0 fees, fast trading dashboard, risk-free practice trading, and safety features.
As always, please take security precautions such as choosing a unique password when you sign up, and switch on 2-factor authentication to further protect access to your account.
Rating:
Ease of use: 9/10

Fees: 10/10

Customer support: 9/10

Compliance: 9/10

Choice of markets: 9/10

Countries supported: 8/10

Payment methods: 8/10
Average rating: 8.8/10
---
Disclaimer: This is a Sponsored Article and NullTX advises users to do their own research and is not responsible for the content included in this article, or the products or services mentioned.
Image(s): Shutterstock.com