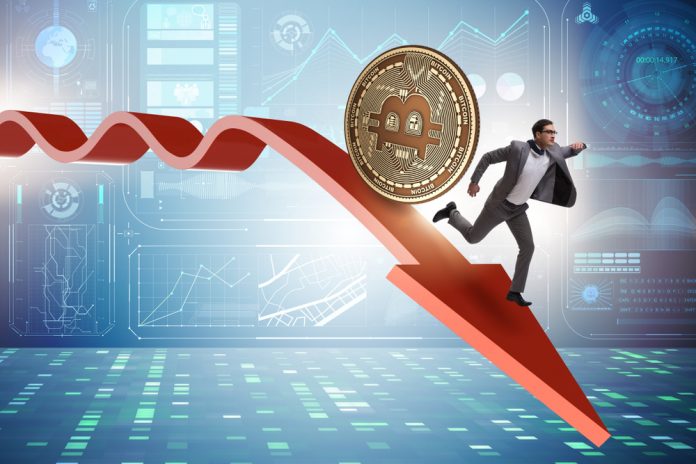 It has become increasingly difficult to expect any positive price momentum across the cryptocurrency and digital asset industry. In the Bitcoin department, the bearish pressure continues to mount, although no one can pinpoint the exact reason. The following three short-term price predictions offer a bit of everything, albeit no one can deny the overall sentiment remains rather negative.
A dip to $1,175 is Possible
Although most people would rather not see anything like this happen, there is a good chance the Bitcoin price might not bottom out at $3,000. Instead, this level has come awfully close in the past few days, thus there is no reason to think it can't be broken. The bearish Bitcoin price chart by MagicPoopCannon seems to confirm as much, albeit in rather spectacular and worrisome fashion.
More specifically, this trader fully expects Bitcoin to drop a slow as $1,175 before the first month of 2019 comes to a close. That is an unusually bearish perspective, a sit would result in a further 60% decline for Bitcoin. While it is not impossible things will get this bad, one has to wonder if overall faith in cryptocurrency will grind to a halt if that were to happen. For now, it is an option to keep in mind, albeit one no one hopes to see materialize anytime soon.
In Search of Lower Lows
When it comes to somewhat neutral yet still interesting price predictions, Botje11 usually has one covered in this department. This trader continues to outline his vision for the Bitcoin value in the coming days and weeks. The inverted head and shoulder pattern failed – which we documented last week – which effectively creates a worrisome outlook. The main question becomes whether Bitcoin will hit higher lowers or a new low in the coming weeks.
There is a good chance this most recent Bitcoin price push will come to a halt sooner rather than later. When that happens, there will be no further Bitcoin price support, and a further downtrend can be expected. Very few buy orders have been placed lately, as most experienced traders expect to see prices fall further. With lower volume, there can't be any real price recovery whatsoever. At the same time, the sell volume seems to be lower as well, which can effectively create an interesting scenario.
Finding a New Support Zone
Given the current market circumstances, it is evident the Bitcoin price needs to find a stable support level. All previous zones have been broken in quick succession, which explains why the value continues to swing so wildly over the past few weeks. Several tests of the resistance have been attempted, albeit with little to no success so far. As such, the key support near $2,958 will come into play again fairly soon.
According to trader Xuanhaimoer, the current price momentum does not look all that promising. As there is no effective support in place, any test of the key resistance at $3,800 will be rather fruitless. For now,  his target remains closer to $3,000 than anything else, which would indicate a lot more bearish pressure can be expected in the coming days and weeks. It is not the outlook people have hoped for, but there isn't much that warrants any positive sentiment right now.
---
Disclaimer: This is not trading or investment advice. The above article is for entertainment and education purposes only. Please do your own research before purchasing or investing into any cryptocurrency.
Image(s): Shutterstock.com