In January, this anonymous investor withdrew a substantial 7 million $FRONT tokens, valued at $1.33 million at the time, demonstrating their confidence in the project's long-term potential.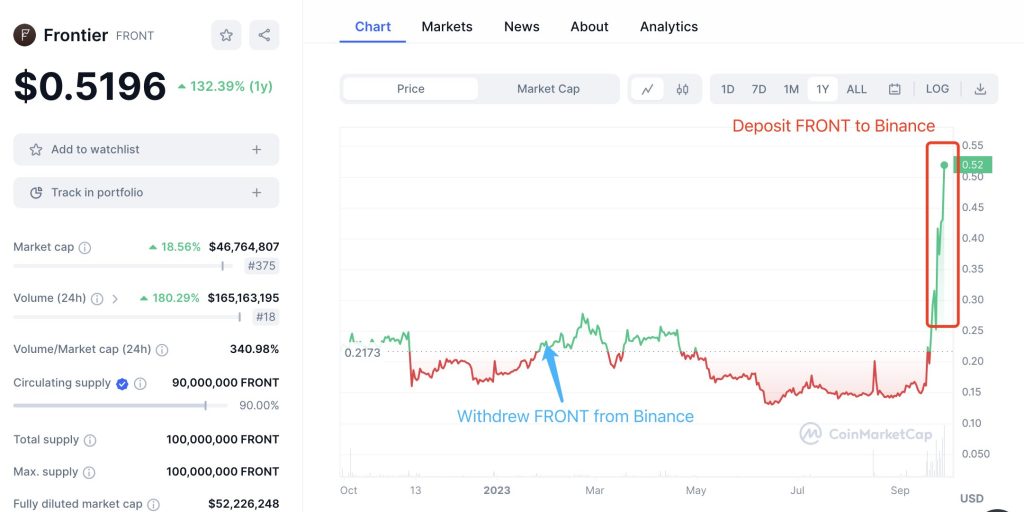 Whale Held $FRONT For Straight Eight Months
Fast forward eight months, and this investor's patience has paid off. The price of $FRONT has seen a significant increase, validating their belief in the project. With a clear vision, they decided to take advantage of this favorable turn of events and deposited the same 7 million $FRONT tokens on #Binance. However, what sets this move apart is the shrewd decision to do so over the course of eight days at an average price of $0.44 per token. This strategic approach allowed the whale to maximize their returns.
$1.75M Reward Profit
The result? A staggering profit of approximately $1.75 million, showcasing not only the potential for substantial gains in the cryptocurrency market but also the importance of patience and timing. This success story highlights the importance of strategic thinking and adaptability in the crypto world.
It also underlines the critical role that large-scale investors play in shaping the market. Their decisions can significantly impact token prices, making it essential for retail investors to stay informed and make informed choices.
Final Thoughts
In conclusion, this whale's journey from withdrawal to depositing on #Binance demonstrates the profit potential in the cryptocurrency market when coupled with patience and strategic decision-making. It serves as a reminder that, even in a volatile environment, opportunities abound for those who can navigate the crypto seas wisely.
Disclosure: This is not trading or investment advice. Always do your research before buying any cryptocurrency or investing in any services.
Follow us on Twitter @nulltxnews to stay updated with the latest Crypto, NFT, AI, Cybersecurity, Distributed Computing, and Metaverse news!