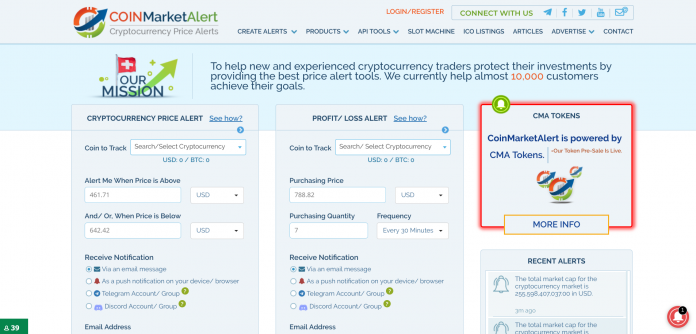 Tracking cryptocurrency prices can be done in many ways. Most enthusiasts rely on various mobile or desktop applications to do so. CoinMarketAlert will make this process a lot easier, as it is designed to offer alerts to users when particular price trends occur.
Keeping Tabs on Major Price Changes
In this day and age of social media, it is not always necessary to keep tabs on specific industries at all times. Every time something important happens, social media will make a fuss about it and trigger a shock wave of activity in the process. This is especially true when it comes to political events, although it has also become a very real trend in the cryptocurrency world.
Even so, a lot of professional traders want to watch every price tick as it happens in real time. Doing so, however, can cause traders to miss other major developments and price changes to take advantage of. CoinMarketAlert aims to make a positive impact in this regard, as the platform is designed to track cryptocurrency prices and trigger alerts when major price changes occur.
With all of the market volatility plaguing the cryptocurrency industry, price alerts become all the more important. Even so, there is still a lot of potential market manipulation to keep tabs on. CoinMarketAlert tracks over 1,400 cryptocurrencies, assets, and tokens across the industry at all times. It offers both email and push notifications to connected devices, which allows for a high degree of personalization.
For those users who are not actively trading but merely maintain a portfolio, CoinMarketAlert can also be rather functional. It sends notifications when the value of one's portfolio changes in a certain way, either for better or for worse. All of the market data is pulled from the CoinMarketCap API, which has been the go-to source for most cryptocurrency price updates over the past few years.
The new platform is not just about price alerts, though. CoinMarketAlert will also help users protect their investments with some unique features. The advanced alerts feature, for example, lets users purchase cryptocurrency and receive notifications about volume changes, market cap dips, and so forth. There is even an option to be notified when new coins are added to CoinMarketCap, which is something a lot of users will be looking for.
One potential downside is that the advanced CMA functionality is only accessible through the project's upcoming ICO token. Even so, the free alerts and features provide users with a lot of functionality. Cryptocurrency is one of the most active industries out there, as it doesn't take days off and has no closing hours. Remaining on top of everything has become increasingly difficult as a result.
Image(s): Shutterstock.com