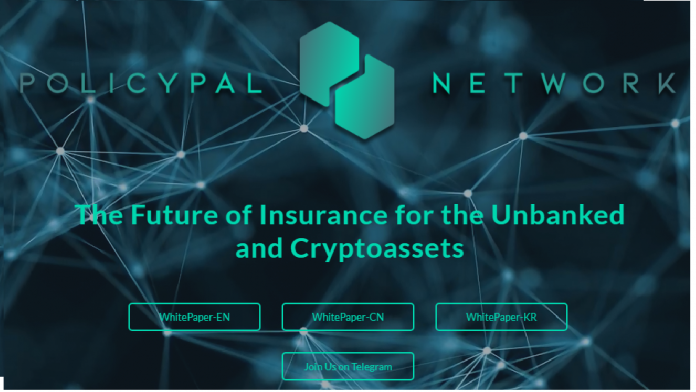 The idea of insurance started, unsurprisingly, with merchants. Over the ages, this concept has undergone major improvements, primarily thanks to Chinese and Venetian merchants. The modern insurance industry is comprised of two structural components – carriers and policyholders – connected by a middleman, usually a sales team.
While the global insurance ecosystem accounts for 5.7% of the world's economic output, discernible innovation in this field has been lacking. This stagnation has exposed structural inefficiencies which can be effectively addressed by inventive collaboration via the blockchain.
By utilizing blockchain technology for insurance, PolicyPal Network is looking to create a decentralized platform to facilitate the purchase of insurance policies. Its portal is also intended as a secure validation point for swift and easy disbursement of funds.
Overview of the Platform
This is a non-regulated platform built with the idea of bringing insurance protection to the vast number of unbanked people in developing economies.
It features comprehensive protection plans that look to reduce risk in the cryptocurrency space for any type of crypto asset.
The platform offers secure, time-stamped storage of a policy holder's relevant information, which serves to eliminate any duplication.
The blockchain affords smart contracts which will automate payouts and address the primary bottleneck in this area, verification delays.
Along with the above, there is unmatched transparency during the reconciliation process.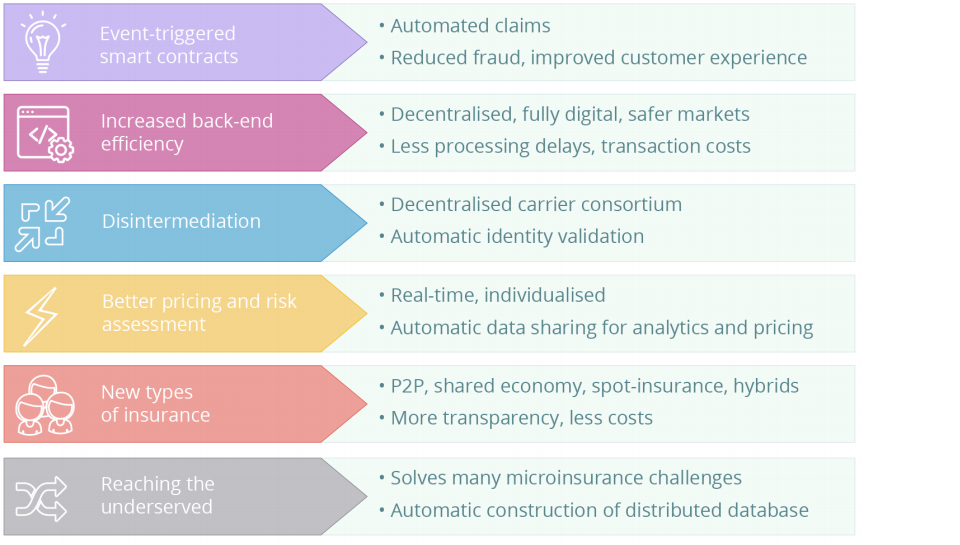 Advantages of integrating blockchain tech into insurance
Key Features
The main focus is on ushering in modern technology to an age-old practice. The issues that PolicyPal Network looks to address are:
The large number of unbanked and uninsured people in the developing world: By simplifying the barriers to entry for insurance coverage, consumers in developing countries are afforded access to the insurance ecosystem.
Security of crypto assets: Insurance against hacks on cryptocurrency exchanges and wallets is no longer a luxury. This platform will offer robust protection for commercial enterprise and individual investors against loss of funds.
Simplifying policy claims: The use of smart contracts in combination with trusted third party data sources allows policy claims to be processed automatically, significantly cutting down on handling time.
Preemptive action against insurance fraud: A blockchain is a decentralized time-stamped ledger. This fact augurs well for the industry, as it can ensure data immutability and transparency on the ledger, diminishing the possibility of fraud.
How It Works
The platform utilizes blockchain technology for easy accessibility to the insurance ecosystem. PolicyPal Network is looking to leverage its existing partnerships in emerging markets to reduce barriers to entry as well as spread overall risk among a larger group to significantly lower each individual's contribution. These partnerships are key to the distribution of the proposed insurance products. Lastly, the partners play a key role in identity verification of users as well as verification of claim documents to minimize fraud and scams.
Through this shared network, transactions are processed through a secure, shared ledger that helps to improve overall operational efficiency.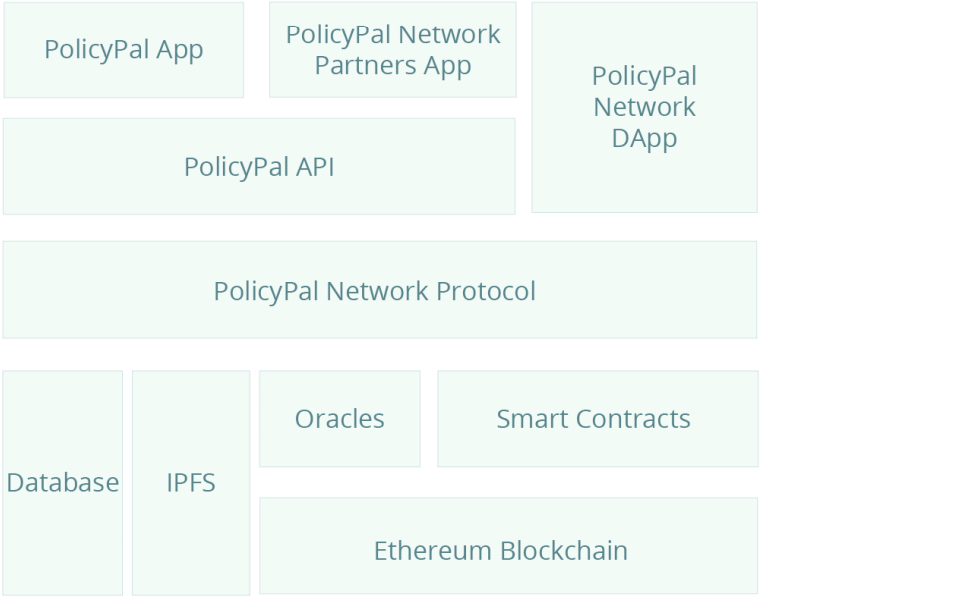 A high-level overview of PolicyPal Network

Members pay a joining fee and then a monthly membership fee. They are grouped into pools of 5,000 to assist with claims payout. Token holders can actively participate by suggesting new and different insurance products as well as assisting with the marketing of insurance policies among the community. The system rewards PolicyPal Network Tokens to various individuals when the pool they helped to form has a lower-than-average claim ratio.
PolicyPal Network is being developed on the Ethereum blockchain. Following that, PolicyPal Network's blockchain will be based off a private fork of the Ethereum codebase. This will naturally be tailored to insurance products. The plan is for there to be two sidechains: Plasma for scaling and PPSecure for privacy and security.
PolicyPal's application uses Django as a core framework for building on the web. React Native and Redux are used for application rendering and state handling for the mobile app.
About the Team
Val Yap is the Chief Executive Officer and Founder of PolicyPal. She brings a wealth of experience, having served as the Assistant Vice President at OCBC Bank. Her involvement spanned a wide range of digital initiatives and brand rejuvenation campaigns. Yap also served as a Risk Assurance Associate at PwC's London office. She holds an MSc degree from London's Imperial College. In 2017, Forbes included her on its '30 under 30′ list in the Finance & Venture Capital category.
KC Wong is the Tech Lead at PolicyPal. He has deep and varied experience in a multitude of OOP languages including C++, GO, Python, and JavaScript. With previous experience in HyperLedger and Ethereum along with a deep interest in the cryptocurrency sphere, he is keenly abreast of all developments within the space. His experience includes laying technical groundwork, building a backend web infrastructure, and developing a content management system for a similar undertaking.
Scott Walchek is the Founder and CEO of Trōv. He is a successful technology entrepreneur who was involved in the formation and development of various internet technologies over the past 25 years, including Macromedia, C2B Technologies, and Debt Market. The fact that he was a co-lead investor and founding director of Baidu gives a fair assessment of his entrepreneurial acumen.
Token Performance Details
Introduced into the market at the start of May 2018, PolicyPal tokens (PAL) were initially valued at US$0.030 per token.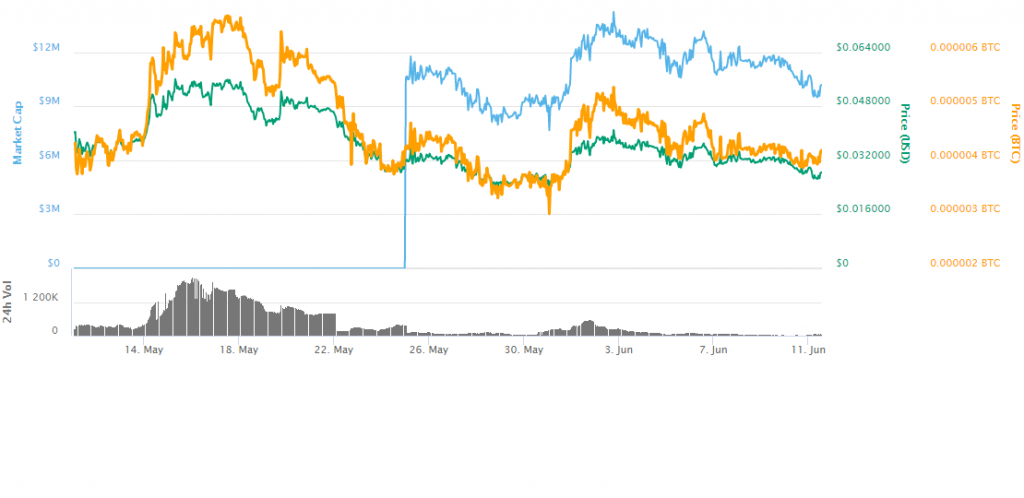 PAL lifetime performance chart (courtesy of CoinMarketCap)
As of the 9th of June, PAL's trading value is US$0.0329. While the true potential of this token is debatable, the idea itself and the people involved with this project give it extra credibility.

Final Thoughts
The PolicyPal Network looks to simplify a tedious yet important service. Its multiplicity and ease of implementation makes this an intriguing prospect. Consequently, it would not be a surprise to see this service blossom as the year progresses.
If you are interested in investing in PolicyPal, PAL trading pairs are currently available on DDEX, IDEX, and OTCBTC.
Image(s): Shutterstock.com