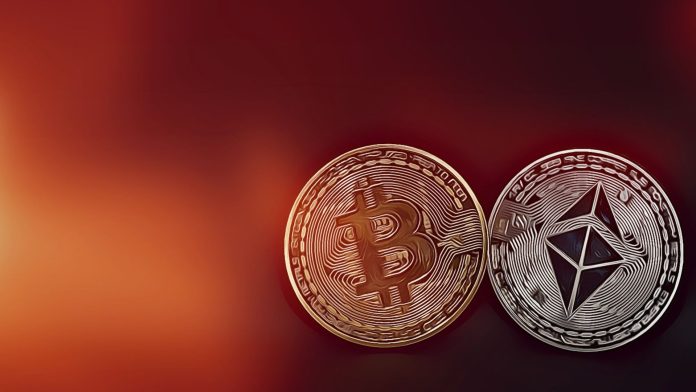 Bitcoin and Ethereum have been two of the most prominent and valuable cryptocurrencies in the market since their inception. In recent months (since 2023), their prices have experienced significant increases, with periods of high growth. Despite this volatility, both cryptocurrencies have continued to attract investors and enthusiasts, with many speculating on their future potential. Recently, the price of Bitcoin and Ethereum has had significant increases, starting in 2023 but especially in April. Statistically, Bitcoin has had over 100% increase from $15,400 levels in November last year to $31k levels this month, April.
The same goes with Ethereum, with over 80% gain, from $1,100 levels in the same period to over $2k this month. We will be looking at the reasons for this price increase, seeing that the two cryptocurrencies have outperformed Gold, silver, and the general stock markets in the same period.
Institutional and Territorial Adoptions
The institutional adoption of cryptocurrencies like Bitcoin and Ethereum has been one of the most significant drivers of their price rise. Institutional investors, such as hedge funds, asset managers, and even publicly traded companies, have been increasingly interested in adding cryptocurrencies to their portfolios. Institutional adoption continues as Twitter and eToro have a partnership that enables users of the social trading and investment site to get real-time market data, according to CNBC.
Territorial adoption has also played a role in the rise of Bitcoin and Ethereum prices. Territorial adoption refers to the adoption of cryptocurrencies in specific regions or countries. For example, in countries with unstable economies or high inflation rates, cryptocurrencies can provide a way to store value and protect against currency devaluation. In these regions, cryptocurrencies may be seen as a more stable and reliable investment compared to fiat currencies. El Salvador For instance, intends to open a second Bitcoin embassy in Texas, USA, to increase its global Bitcoin presence, encourage the use of digital assets outside of their physical borders, and educate the public about the new tech, Bitcoin.
In addition, territorial adoption can also be driven by regulatory changes. For example, Paul Chan, the financial secretary for Hong Kong, confirmed recently that now is the "right time" to promote Web3 adoption in the Chinese administrative territory. Countries that have friendly regulations and policies towards cryptocurrencies may attract more investment and adoption, leading to increased demand and prices. Conversely, countries with stricter regulations or bans on cryptocurrencies may have a dampening effect on prices.
Ethereum Shapella Update
There is a lot of hype because the imminent Shapella upgrade, which was eventually activated on April 12, 2023, was keenly anticipated and debated by members of the cryptocurrency community. The second-largest cryptocurrency recently had a price increase as a result of the hype and expectation around the Ethereum upgrade, crossing the $2k price threshold.
The network's execution clients were upgraded by both Shanghai and Capella at the same time, with Capella concentrating on the consensus layer. Shapella's goal, according to Ethereum Improvement Proposal (EIP) #4895, is to make it possible for staking validators to make their first cash withdrawal. The Beacon chain contract has 18.14 million ether, or nearly $34 billion, locked in.
With the Shapella upgrade, these validators will be able to withdraw their funds, however, subject to specific thresholds built into the rules, such as 1,800 validator cap per day. This upgrade has resulted in the recent price increase we are currently witnessing on Ethereum.
These validators will be allowed to withdraw their cash with the Shapella upgrade, but only up to certain limits set forth in the rules, such as the cap of 1,800 validators each day. The recent price surge on Ethereum that we are now experiencing is a result of this upgrade.
Upcoming Bitcoin Halving Event
Bitcoin halving is a key event in the cryptocurrency world that takes place approximately every four years, or once every 210,000 blocks. During the halving event, the reward that Bitcoin miners receive for adding a new block to the blockchain is cut in half. The following Bitcoin halving is projected to take place in or around May 2024. The incentive for processing transactions on the network for Bitcoin miners will then be reduced in half, from 6.25 BTC to 3.125 BTC. This will slow down the production of new Bitcoins, ultimately limiting the currency's distribution.
Bitcoin values have historically been significantly impacted by halving events. For instance, the price of Bitcoin soared from $8,000 to over $60,000 within a year following the most recent Bitcoin halving event in May 2020. Similar effects on their pricing are anticipated from the next Bitcoin halving occurrences. The impact of the Bitcoin halving event on the price of the asset is a matter of debate among investors and experts.
Disclosure: This is not trading or investment advice. Always do your research before buying any cryptocurrency or investing in any services.
Image Source: thomaseder/123RF // Image Effects by Colorcinch