Will Smith punched comedian Chris Rock at the 2022 Oscars receiving an Oscar himself shortly after. The moment went viral, and in response, a new meme coin was born, Will Smith Inu. Today, the cryptocurrency saw significant price gains, rising over 1288% in the past 24 hours alone.
Will Smith Punches Chris Rock at The Oscars
Chris Rock made a joke about Will Smith's wife, Jada Pinkett Smith, regarding her shaved head, calling her "GI Jane 2."
The joke didn't go over well as Jada rolled her eyes, and her polite smile turned into disgust. Chris followed up by saying, "that was a nice one," referring to his out-of-place joke.
The camera showed Will Smith forcing a smile and a few seconds later walking on stage. Before Chris Rock could finish his sentence, saying "Oh, " and moving on to the next topic, Will Smith smacked Chris Rock with his right hand.
Check out the iconic moment in the video below:
What Is Will Smith Inu (WSI)?
Will Smith Inu (WSI) was born during that moment, the next hottest crypto meme this bull run. The team behind WSI claims to be an experienced DeFi team and calls itself a community of chads.
The cryptocurrency was listed on CoinMarketCap within hours, and its price has started to rise ever since. At the time of writing, WSI's price is up over 1200%, with a 24-hour trading volume of $976k.
WSI is an ERC-20 token living on the Ethereum blockchain. Currently, you can only purchase WSI on Uniswap, a decentralized exchange.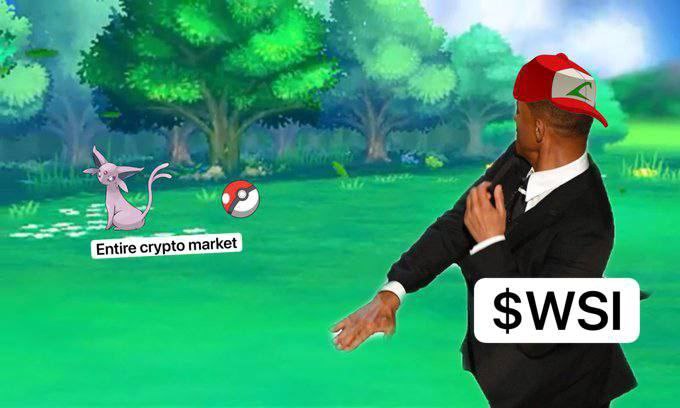 Several funny memes were born from the project, and if you're looking to gamble some of your Ethereum and bet on Will Smith Inu's continual price hike, you might see some returns.
It's important to note that Will Smith Inu is merely inspired by the iconic moment during the Oscars and is in no way affiliated with Will Smith.
Some upcoming features for Will Smith Inu include CEX listing, a DAO release, MErch Launch, and WSITOOLS launch.
Disclosure: This is not trading or investment advice. Always do your research before buying any meme coins.
Follow us on Twitter @nulltxnews to stay updated with the latest Metaverse news!