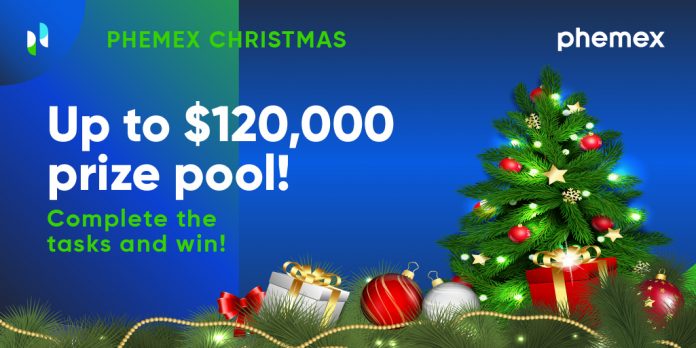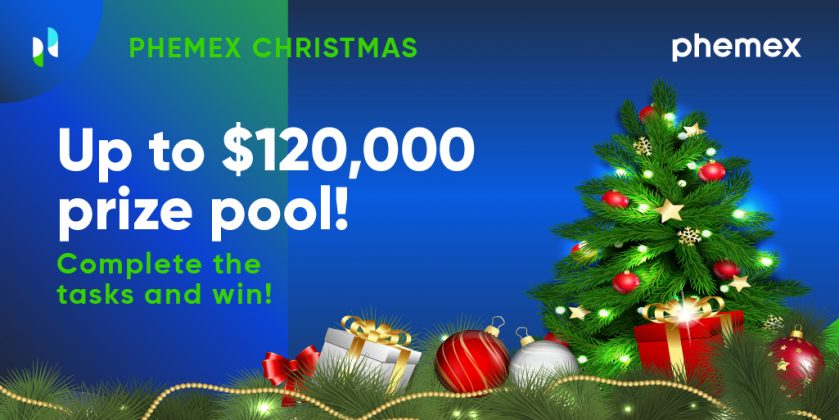 'Tis the season! December is when the world starts singing Christmas carols from the heart, baking cookies with love, and sprinkling cheer throughout the Holiday season. Christmas brings a giddy feeling of sharing warm hugs, meeting loved ones, and best of all – presents. This December, with Phemex's special Christmas campaign, Web3 is embracing the yuletide.
2020 was a rollercoaster ride for Bitcoin (BTC)  and other cryptocurrencies. Bitcoin made it to $24,600 by the end of last year, and though BTC has traced new highs this year, whether it'll end the year at a peak is still yet to be seen. Bitcoin's market capitalization has, however, risen by 4 times since 2021 began.
Christmas is a festival of showering happiness, and Phemex, Singapore's leading cryptocurrency exchange, is all geared up with a giveaway of $120,000.
Phemex's Christmas Campaign
Participate in Phemex's Christmas offer to win prizes worth $120,000 and a chance to win a brand new iPhone 13 Pro Max. To bring the prizes home, log on to Phemex and register your Phemex UID. To participate in the event, complete the list of tasks set out for participants, like following Phemex's social media accounts and sharing its posts with your followers. Complete the Know Your Customer Process to ensure eligibility for participating in the campaign. Last year's Christmas bonanza had a Tesla Model 3 on the prize list.
Depositing Bitcoin (BTC) and Ethereum (ETH) tokens will win you additional gift offers. Cross the set limit for contract trading volume and tackle some questions to increase your winning chances. The offer will run between December 14, 2021 and December 25 , 2021. Results will be posted on January 3, 2021. Prizes will reach the winners post a few weeks after the results are declared.
There are four prize pools in total, giving users more chances to win a prize. The first prize pool consisting of 1000 randomly selected users, will share an airdrop worth $20,000. For the second prize pool, 10 Lucky Winners will get to flaunt a brand new iPhone 13 Pro Max, though users will be required to fulfill 11 campaign requirements to be eligible for this pool.
Participants who meet the requirements for contract trading volumes can win from a prize pool worth $40,000, and the fourth pool of prizes worth $40,000 can be won for making deposits on the exchange. Deposits must remain on the exchange wallet throughout the campaign duration to be considered for rewards.
Under the Christmas Tree
The lucky winners will receive an email on 3rd January on their registered email IDs from [email protected]. User participation is allowed only from a single account. In addition, only main accounts will be eligible to win prizes.
If a participant is found using more than one account, the individual's campaign entry will be disqualified. Please ensure that your Phemex UID is correct and your account is connected with a Gleam email address in order to win awards.
Phemex has witnessed remarkable growth in the past two years, from three contract pairs to supporting over 40 spot pairs, 39 contract pairs, and hosting around 2 million traders. It regularly runs events to foster a vibrant community on the exchange. CoinMarketCap ranks Phemex as one of the top 10 derivatives exchanges for digital assets, and Phemex Christmas Campaign seeks to double the joy this Christmas by celebrating the victories of its blockchain community that helped it shine bright in 2021.