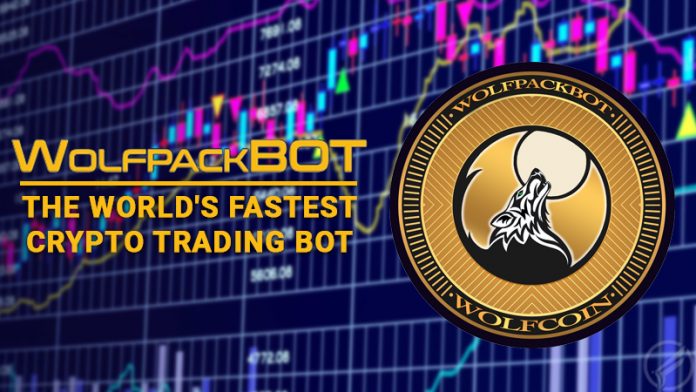 Unlike the traditional stock markets, the cryptocurrency market never closes, which is a highly stressful scenario for even experienced traders and investors. Trading bots are solving this problem by managing the crypto traders' portfolios even as they sleep. With crypto trading bots, traders can have control over their trading strategies at all times, and the volatility of the crypto market has made crypto trading bots even more popular. Bots allow trades to be executed with greater speed and efficiency than is possible with manual trading.
WolfpackBOT
Now, Wolfpack is leading the pack of next generation crypto trading bots that will revolutionize the world of crypto trading and proof of work blockchain technology. WolpackBOT is a highly advanced crypto trading software that executes trades at lightning speed using proprietary trading algorithms, proprietary Werewolf Trading Analysis configurations, or user-customized settings based on the user's personal trading style. The bot also allows for simultaneous trading access to all compatible crypto exchanges that are available to the WolfpackBOT and all trading pairs with the WerewolfBOT subscription package.
The most advanced crypto trading bot on the market, WolfpackBOT is enabled with limit, market, and Wolf Trade orders on all trading candles with the widest array of technical trading indicators available. Wolf Trade orders offer superior market orders. It is the only trading bot that offers live price scanning on trade positions and also handles partial fills with ease, which means the users will not miss out on orders.
As we have already told you, WolfpackBOT executes orders with lightning speed, and can execute up to thousands of trades per day depending on the conditions of the market and the user's subscription package.
Features of WolfpackBOT
Some of the robust features that make WolfpackBOT such a promising venture are:
All trading pairs on all exchanges
WolfpackBOT allows the users to simultaneously trade on various crypto exchanges including Binance, BitMEX, Bittrex, KuCoin, and Poloniex. The trading pairs that are available on these exchanges are available for WolfpackBOT users. The company is also looking to add additional exchanges in the near future.
Technical Analysis
WolfpackBOT offers the widest array of technical analysis indicators, oscillators, configurations, and settings. Some of the technical indicators which WolfpackBOT provides are Bollinger Bands, Double EMA, Elliot Wave, Fibonacci Sequence, EMA, EMA Cross, KAMA, MA Cross, RSI, MACD, RSI, Stochastic RSI, Stochastic, SMA, Triple EMA, and many more.
Live Candle Scanning
Candlestick charts, which combine data for multiple time frames into individual price bars in order to make technical analysis more efficient, are considered one of the most effective technical analysis tools. WolfpackBOT scans candles in real-time to automatically detect patterns.
Shorting
With the help of WolfpackBOT, users can short their positions and buy them back when the price is lower. This feature helps users to maximize their returns.
Crash Protection
Crash protection is one of the most advanced features offered by WolfpackBOT. The feature enables the users to automatically scan and convert all their positions to a stable coin at the sign of Hidden Bear Divergence Indicator, and then buy back into base currency to resume trading at the sign of Hidden Bull Divergence Indicator.
Coin Selector
Currently, most of the automated trading platforms allow a limited amount of coins per subscription while WolfpackBOT allows all trading pairs and coins to be traded on all available crypto exchanges with the WerewolfBOT subscription package. With WolfpackBOT's built-in coin selector, users can select their favorite coins and tokens to trade, as well as blacklist specific coins or tokens.  Users can also search for the best performing and highest volume coins and tokens with WolfpackBOT's coin selector.
Werewolf Bull Market
Werewolf Bull Market is a preset setting that can be used when the base trading pair is in a Bull Run. This setting is specially optimized for the bull market.
Werewolf Bear Market
This setting is used when the base trading pair is in Bear Run. Werewolf Bear Market is specially designed for bear market conditions and must be used in such conditions only.
Werewolf Bear markets are preset settings and configurations that are usable when your Base Trading Pair is in a Bear Run. Werewolf Bear Market settings are optimized for such conditions and should only be used in a Bear Run Market.
Other than these, WolfpackBOT has various advanced features which make it one of the best trading bots on the market. The software is designed to execute trades with great speed by leveraging proprietary trading algorithms. The main object of the WolfpackBOT is to enhance the effectiveness, profitability, and versatility of the trades, helping its users increase the value of their portfolios and potentially gain greater financial independence through cryptocurrency trading.
The Wolfpack PaperBOT can be downloaded from https://www.wolfpackbot.com.  This FREE version of WolfpackBOT's software allows users to test strategies and take the world's most advanced cryptocurrency trading bot for a test-drive by simulating live trading on exchanges without risking their hard earned capital.

WolfpackBOT Twitter:  https://twitter.com/TheWolfpackBOT
WolfpackBOT Telegram Discussion:  t.me/wolfpackbot_discussion
WolfpackBOT Telegram Channel:  https://t.me/thewolfpackBOT
Disclosure: This is a sponsored article