Wrapped Bitcoin (WBTC), a tokenized representation of Bitcoin on the Ethereum blockchain, is currently experiencing notable activity and metrics that mirror previous crypto market rallies. These indicators suggest growing interest and participation in the WBTC ecosystem.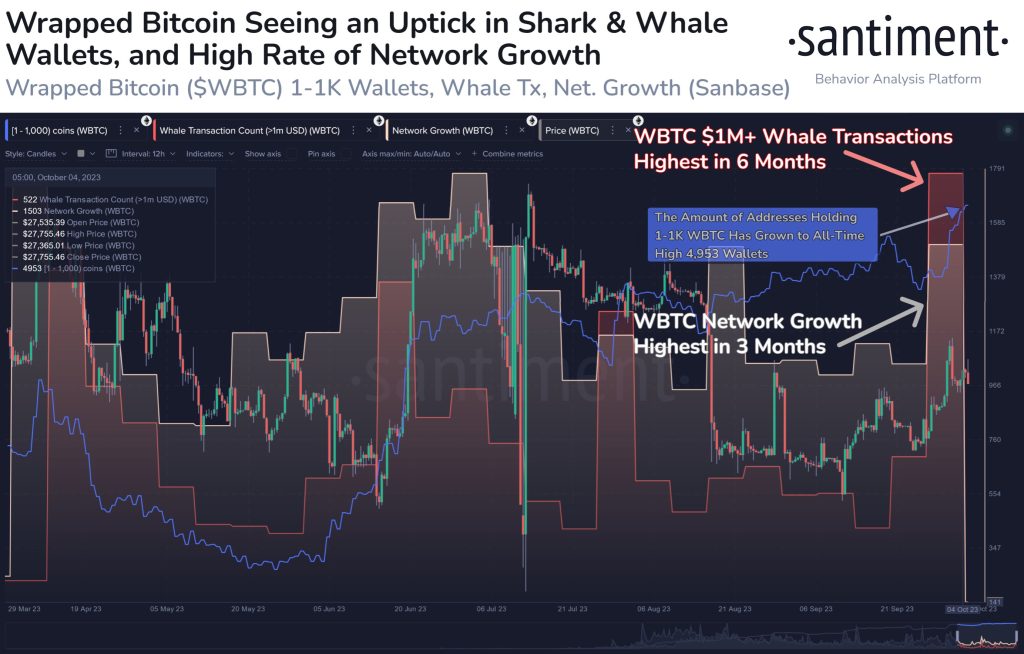 Whale Transactions:

WBTC is witnessing its highest rate of transactions involving large whales holding $1 million or more in assets since March. Such significant transactions often indicate institutional or high-net-worth investor activity. The presence of these whales can have a substantial impact on price movements and market sentiment.
Network Growth:

The network growth of WBTC has surged, reaching levels not seen since July. A growing network typically signifies increased adoption and usage of the token. It's an encouraging sign for the WBTC ecosystem, as more users and applications leverage its capabilities.
Wallet Creation:

There has been a notable spike in the creation of 1,000 WBTC wallets. These wallets are often associated with individual traders and smaller investors. A rise in wallet creation indicates retail interest in WBTC and the potential for increased liquidity.
Historically, similar patterns of activity in the WBTC market have preceded significant crypto rallies. Notably, just before both the March and June crypto market surges, WBTC exhibited similar increases in whale transactions, network growth, and wallet creation.
These trends suggest that WBTC is increasingly seen as a valuable asset within the cryptocurrency ecosystem. Its ability to represent Bitcoin's value while being compatible with Ethereum-based DeFi platforms has positioned it as a key player in the growing world of tokenized assets.
While these indicators are promising, it's important to approach the cryptocurrency market with caution. Crypto markets are known for their volatility, and price movements can be unpredictable. As interest in WBTC continues to grow, investors and traders should conduct thorough research, exercise risk management, and stay informed about market developments.
Final Thoughts
In conclusion, Wrapped Bitcoin's current performance and the observed trends in whale transactions, network growth, and wallet creation reflect a growing interest in the tokenized representation of Bitcoin on the Ethereum blockchain. As the crypto market continues to evolve, WBTC's role as a bridge between Bitcoin and DeFi applications may become increasingly significant.
Disclosure: This is not trading or investment advice. Always do your research before buying any cryptocurrency or investing in any services.
Follow us on Twitter @nulltxnews to stay updated with the latest Crypto, NFT, AI, Cybersecurity, Distributed Computing, and Metaverse news!
Image Source: dedmityay/123RF // Image Effects by Colorcinch