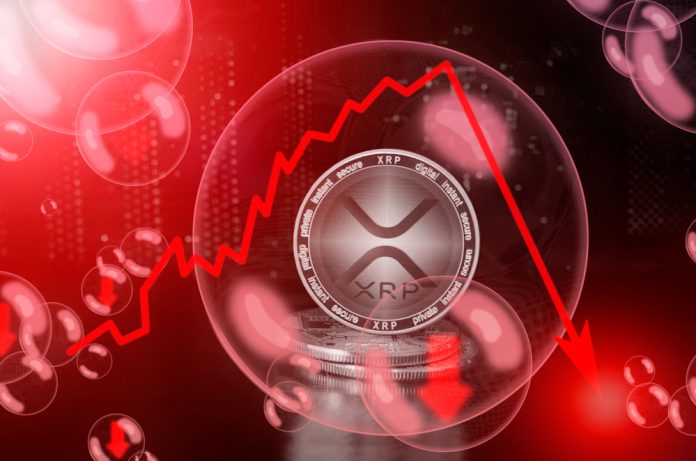 While most crypto traders and enthusiasts would have expected an uptrend to materialize today, it seems those hopes are completely misguided. All markets are going in the deep red very quickly right now. The XRP price is no exception, as it remains under heavy bearish pressure in both USD and BTC markets. The Coinbase Pro listing isn't doing much to change that fact at this time.
XRP Price Could Drop Below $0.3 Again
Despite some very promising signs throughout February of 2019, it seems unlikely the month will end on a high note. That is rather unfortunate, although it is not entirely unexpected as well. A lot of money was poured into all cryptos, tokens, and digital assets. It is only normal some of that money is pulled out again once traders pocket decent profits.
As far as the XRP price is concerned, there is a 3.3% decline on the chart right now. With its current USD value near the $0.3088 level, a drop below $0.3 is not as unlikely as some people want to think. There is also a 1.22% decline in RP/BTC, which can push that ratio to 8,100 Satoshi or potentially lower as well. Not the tends traders are looking for by any means.
Despite the negative price pressure, the Ripple team is still forging ahead. In its latest Insights post, the company touches upon streamlining remittance from Brazil. This can be a crucial market for Ripple in the future, although it remains to be seen how this "push" will impact XRP in the long run. Ripple and XRP are two very different entities, although they are also entwined in many ways.
https://t.co/Nt9SO468bS#XRP #xrpthebase

— Kool Hutch (@KoolHutch) February 27, 2019
The big news this week so far is how XRP has finally made its way to Coinbase Pro. While it will not land on "regular" Coinbase at this time, many people expected this news to trigger some upward price momentum. Unfortunately, that has not happened in the slightest. KenCarv is seemingly not too amused by the current market trend, but there is nothing to be done about it.
#XRP gets listed on Coinbase, potentially as Coinbase pushing themselves as a global xRapid bridge, and we're down 4-5%. Someone explain.

— KenCarv (@Ben_BlackWhite) February 27, 2019
Despite the current bearish pressure, some traders are still optimistic regarding the future. Jgolberino, for example, expects XRP to hit an all-time high this month. It is safe to assume he means the month of March, as February is almost over. Even so, there is nothing that warrants an XRP ATH at this time, as that would require a near 1,200% increase in value.
More chance of an All Time High price this month for #xrp than ever.#Coinbase was just an unexpected bonus. #xrpcommunity #XRPArmy #XRP #xrpthestandard #Bitcoin

— jgolberino (@golberino) February 27, 2019
When Bitcoin capitulates, it is only normal the rest of the markets follow in quick succession. XRP Is no longer an exception to this unwritten rule which will undoubtedly frustrate a lot of people. At the same time, the losses are still not piling up as quickly as they did throughout most of 2018, which is a promising sign in its own right. How this market will evolve in the coming hours and days, is impossible to predict right now.
---
Disclaimer: This is not trading or investment advice. The above article is for entertainment and education purposes only. Please do your own research before purchasing or investing into any cryptocurrency.
Image(s): Shutterstock.com