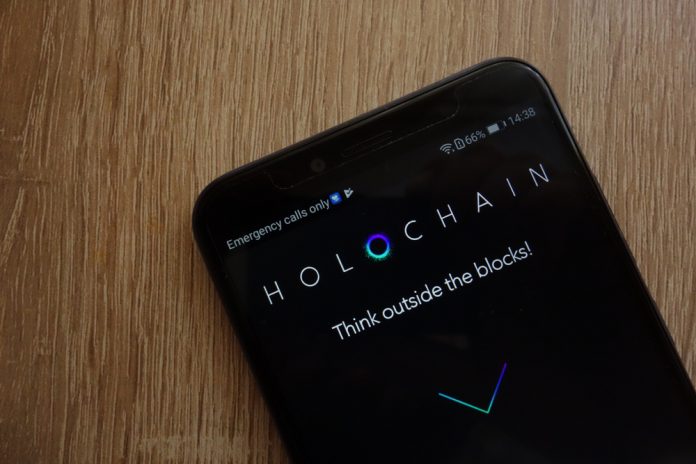 During these somewhat uncertain times in the cryptocurrency industry, any sort of momentum can materialize when people least expect it. Despite promising signs this morning, most markets have dropped in the red ever so slightly. Even the Holo price is facing a rather big decline, which seems to indicate the next leg up for this token may not necessarily occur right away.
Holo Price Trend Isn't too Appealing
It is not entirely uncommon for altcoins to go deeper in the red than Bitcoin itself. In fact, this is a rather common development in the past three to four years  When those altcoins not only lose USD value, also BTC and/or ETH value, things are not looking all that great. For Holo, it is evident the coming hours will be crucial in terms of determining the overall trend ahead of the weekend.
To be more specific, the Holo price has declined by over 4% across the board. Because of this negative pressure, the value is driven down to $0.001114 USD, or 29 Satoshi, or 813 Etheroshi. While this setback is not too significant by any means, the overall trading volume will not be sufficient to turn the ship around. This also means HOT will not reach 40 Satoshi again in the coming days.
As is always the case where social media is concerned, there is no shortage of interesting information out there. HoloIslandNews shared a YouTube video explaining how Hlochain's benchmark scenarios could unfold. It is a very informative video for fans of the ecosystem, although it might not necessarily get too many non-holders excited right away. Even so, bringing more positive attention to Holo is never a wasted effort.
@Holochain #Benchmark Discussion

Full Video : https://t.co/gaRXmHvXt7#Holo $HOT 🔥 #Ethereum $eth #Holochain #Blockchain pic.twitter.com/3iBCVPtTIF

— HoloIslandNews | Holochain Community Member (@HoloIslandNews) February 27, 2019
There is also some information being spread about Holochain and Holo the token. It is evident Dr. Holo is explaining the difference in a concise manner, as it is important to distinguish between the two. This is similar to how people confuse XRP and Ripple, even though they are two completely different entities as well.
Actually, no. #Holochain is a framework, just like HTML for example. There is no coin or token involved and it has no business model. #Holo, which is built with/for Holochain, is a hosting service that involves $HOT which may be redeemed for #HoloFuel as soon as the network is up

— Dr. Holo (@ChielReemer) February 27, 2019
Based on the current market conditions, it seems unlikely Holo will see much of an upward trend in the coming hours and days. As the price has already briefly dipped one of the key support levels, it is evident this may not necessarily be the last time something like this occurs. If the downtrend continues, things can get very ugly in rather quick succession.
#hot #holo
Serbest düşüş alanına bi iğne atıp kaçtı 🙂 pic.twitter.com/KFVJkGmtiW

— yav he he (@keyf_iiii) February 27, 2019
All things considered, it would appear things will not necessarily improve all that much for Holo. That is rather unfortunate for the people who bought this altcoin at a higher value, although they should know the risk of chasing pumps quite well by now. Until Bitcoin recovers in a significant manner, no alternative market will note much of an uptrend. Unfortunately, it seems Bitcoin may not necessarily begin forming a new leg up this week.
---
Disclaimer: This is not trading or investment advice. The above article is for entertainment and education purposes only. Please do your own research before purchasing or investing into any cryptocurrency.
Image(s): Shutterstock.com