By Dmitriy Gurkovskiy, Chief Analyst at RoboForex
On Feb 15, the XRP is moving up slightly, trading at $0.3089.
Over a few weeks, the crypto has been forming a triangle, still without testing either the resistance or the support. The MACD is however moving up, which makes the resistance breakout at 0.3047 more likely; this may then push the price to 0.3230. The overall trend is descending, though, so once the resistance at 0.3047 gets broken out, the price may also be sent to the support at 0.2899 and then break it out, heading towards the midterm support at 0.2804, and the target at $0.2470.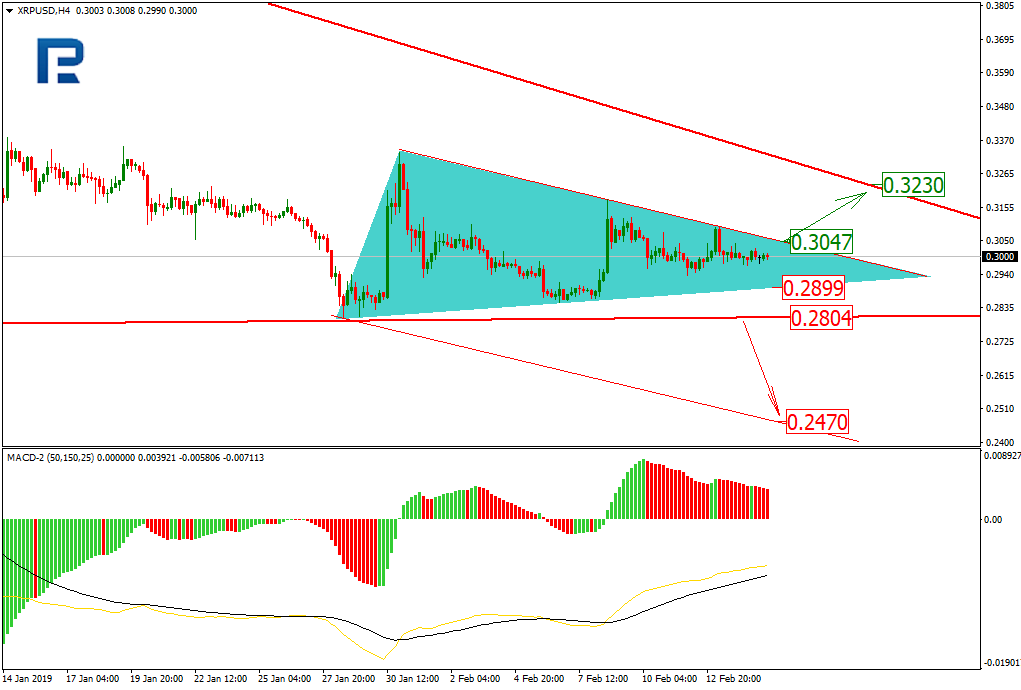 Coinmotion, a crypto exchange based on Finland, added the XRP to its portfolio. At the same time, the exchange published an article called XRP Is a Centralized Digital Currency, saying that the altcoin is not really a crypto.
The article author, Pessi Peura, says the investing process shows that Ripple is more like a security than a crypto. Besides, the token is developed by a single company, which is risky: in case Ripple Labs loses its reputation in any way, the XRP will have big problems.
Finally, Peura says Ripple Labs is controlling its tokens, which is totally against the decentralized network principles. This is actually the most curious thing, as Ripple Labs says its token is autonomous, and no monopoly is possible.
Ripple has not commented on the article yet, but is likely to comment soon, as the company is usually quick at reacting at any criticism in the media. Most likely, Ripple Labs will say the usual thing regarding XRP having nothing to do with securities.
Disclaimer
Any predictions contained herein are based on the authors' particular opinion. This analysis shall not be treated as trading advice. RoboForex shall not be held liable for the results of the trades arising from relying upon trading recommendations and reviews contained herein.
Image(s): Shutterstock.com