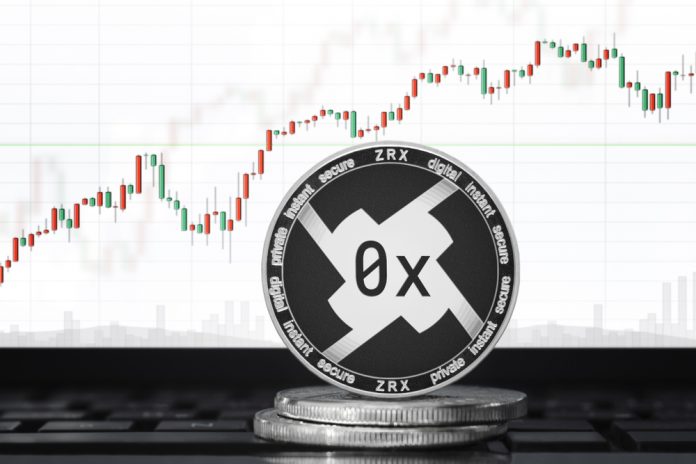 Today may prove to be a rather interesting day for the cryptocurrency industry after all. Considering how there is a fair bit of positive momentum brewing once again, it will be rather interesting to see how all of the markets evolve. The 0x price is the first to note very strong gains today, primarily because it will be the first ERC20 token to make it to Coinbase Pro.
0x Price Surge is in Effect
After yesterday's troublesome day across the cryptocurrency markets, it is surprising to see very strong momentum from 0x. More specifically, the current is the only one in the top 30 to note double-digit percentile gains in 24 hours, albeit it remains to be seen how long this trend will remain in place. The recent announcements might have a very positive impact in this regard.
To put this all in perspective, the 0x value is surging to $0.75 courtesy of a 13% net USD gain. This is established through a 13.5% gain over Bitcoin and an 18% gain over Ethereum. This trend also confirms Ethereum is getting the worst of the bearish pressure again, and it will create a very interesting scenario for all altcoins in the coming days.
The main reason why people are so excited about 0x is that the currency is getting listed on the Coinbase Pro trading platform. It has been a while since Coinbase Pro announced they would begin listing additional tokens. The choice for 0x is pretty interesting, primarily because its protocol tends to facilitate exchange liquidity.
ERC stands for Ethereum Request for Comment, and 20 is the number assigned to this request. #ETHEREUM #ERC20 #Coinbase #CoinbasePro #Crypto #CryptoNews #CryptoExchange #cryptotrading #0x #0xproject https://t.co/tQQOZ0I4eJ

— CHAINdia (@CHAINdia2018) October 12, 2018
The community is waiting for the 0x trading market to open once and for all. So far, there has been an announcement regarding the actual listing of WRX, although trading is not available yet and the deposits are not live as of yet. This should change in the coming hours, although no official timeline has been proposed at this time.
Trading could happen any time now. $zrx announcement was 14h ago with the message transfer only stage would at least take 12h.

I consider this a big moment for #0x, but also for lots of other #ERC20 tokens as #Coinbase is known to be compliant with regulations. A big step! pic.twitter.com/I82jd7eHlr

— CryptoManiac ⚡️ (@HappyWithCrypto) October 12, 2018
Traders are quite excited regarding the prospect of seeing 0x on Coinbase Pro. Andy is confident his orders are filled and things will only improve from here on out. There is some resistance across the charts to keep in mind, especially because of this steep gain in the past few hours. Reaching 17,000 Satoshi will be challenging, considering the value sits at 12,080 Satoshi at the time of writing.
1D hit my sell orders around the fib extension. Closed above the 100MA ✅ – hopefully now support

30M retracted beautifully to layered buys between 12-12.5k ✅

Next low TF 1.618 target needs to get through HT resistance

🎯 17k sats#zrx #0x #crypto #btc #bitcoin pic.twitter.com/IkALEW0u8w

— Andy [$DOGE] (@allstarandy85) October 12, 2018
As is always the case in the cryptocurrency world, things are subject to change. Even though the 0x price momentum looks incredibly strong right now, it is not unlikely there will be a massive pullback once Coinbase Pro trading goes live. That is usually the case in this industry, as hype creates pumps and actual developments trigger dumps. For now, the momentum remains in place, but things can change in the blink of an eye.
Image(s): Shutterstock.com