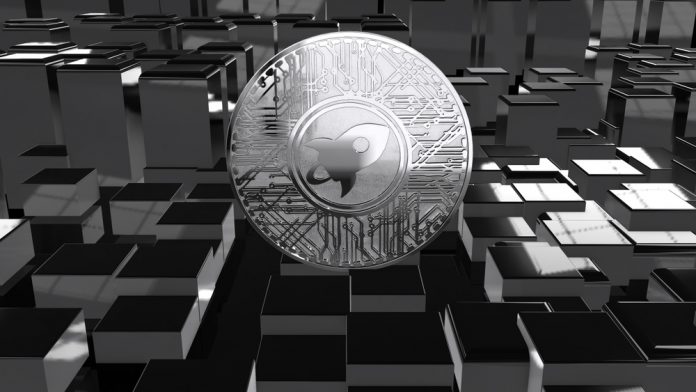 Digital assets often tend to leave cryptocurrency communities divided. In the case of Stellar and its Lumens currency, there are those who like the appeal and others who think this project needs to be eradicated. Conflicting opinions often lead to intriguing price predictions, and this asset seems bound to undergo some interesting changes in that department.
#3 The XLM Pennant
As is usually the case in the world of cryptocurrency and digital assets,  the markets can swing in two different directions. For BarclayJames, it is evident there is an XLM pennant forming which can lead to a crucial price change in the future. The current triangle will be broken either for better or worse, and send the XLM price on an interesting run because of it.
Although not everyone might agree with the targets, they are certainly not impossible. More specifically, the bullish target sits at $4.2, whereas the bearish target would send XLM to $0.025. Either of these outlooks will materialize in early to mid-2019. albeit there is a good chance it may take a while longer for XLM to break out of the pennant moving forward.
#2 Impending Breakout
The overall sentiment regarding XLM seems to be how there will be a breakout sooner rather than later. So far, XLM has seen a few interesting changes, although it remains to be seen if this will effectively lead to bullish price trends moving forward. For Jme1140, it seems the breakout is imminent.
Several key factors are identified for this specific trend. XLM broke resistance a little while ago, which led to a major price spike. Right now, it seems the asset is in a consolidation mode, which will either lead to a breakout or a new decline. The coming month will be quite crucial for the XLM price in this regard.
#1 The Rush to $0.36
Not everyone plans to wait around until the XLM price shows some positive momentum again. Trader Sevensphere is one of those people who simply expect bullish momentum to materialize in the next week. There is nothing wrong with such a short-term outlook, although the projected 50% increase in value may require a bit more time to come to fruition.
Based on this particular chart, the XLM price should hit $0.36 in the next week and a half. That is not entirely unlikely by any means, primarily because XLM has broken the ongoing downward trend a little while ago. The market sentiment also seems to favor XLM right now, albeit that is always a risky indicator to keep in mind.  How this particular chart will play out, is anybody's guess at this time.
Image(s): Shutterstock.com