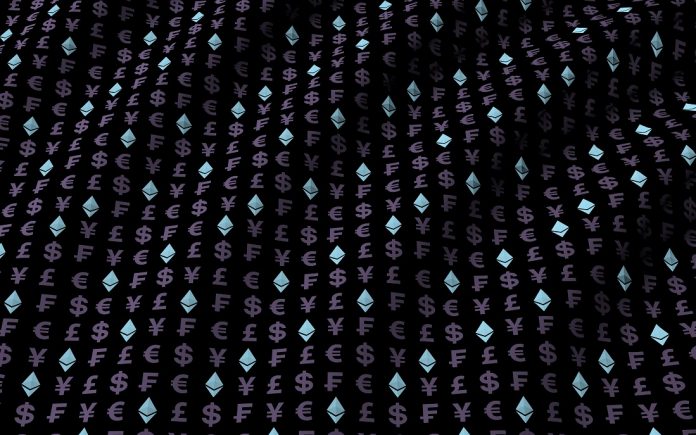 It is always difficult to make sense of the current cryptocurrency market momentum. A lot of things can go wrong in quick succession when not taking the necessary precautions, although the markets also seem to follow their own path right now. The following three Ethereum price predictions show an interesting, albeit mainly bearish future may lie ahead in this regard.
Help From the 2015 Support Line
December: Crypto carnage fell right into 2015 support trend line by Ajion on TradingView.com
The chart outlined by Ajion is quite messy, although it also contains a lot of valuable information when looking at the bigger picture. More specifically, it confirms how the bearish trend of 2018 was completely to be expected. The support line forming for Bitcoin and other cryptocurrencies in 2015 is still in place, and it seems all of the lows noted this year synchronize with this line almost perfectly.
As such, it seems to indicate the current Ethereum price will see a short comeback before going through one last major sell-off. Once that pattern has come to a close, the next major bullrun is expected to materialize. The big question is whether or not Ethereum will reclaim a value of $200 after that, as that has proven to be very difficult first and foremost. Assuming that will happen, there is a good chance the Ethereum price will hit $300 again by April of 2019. A positive outlook, although the coming days and weeks will be crucial.
Sideways Trading and a Shorting Opportunities
Ethereum Trades Sideways as G20 Members Call for Crypto Taxation by CryptoComes on TradingView.com
Over the past few years, major developments have affected the cryptocurrency industry in many different ways. More often than not, geopolitical events and fake rumors from China have triggered a massive selloff in the Bitcoin industry. According to CryptoComes, that trend will not necessarily relent anytime soon. As the G20 wants to tax cryptocurrencies, a lot of speculators may want to rethink their position in this regard.
More specifically, this trader assumes the G20 sentiment will push Ethereum into more sideways trading momentum and a potential dip below $110 in quick succession. While that is not an impossible scenario by any means, one has to keep in mind things can always evolve in a completely different direction as well. There are never any guarantees in this industry, although the momentum hasn't looked to no great for Ethereum.
Inverted Top Can Spell Trouble
#FRACTAL – Inverted ETH vs BTC 2017 Top by ripple10usd on TradingView.com
There are always a lot of conflicting views on how cryptocurrency markets are evolving. That is partially what makes this industry so interesting to watch, although it can also create a lot of unnecessary confusion for novice traders. In the chart outlined by Ripple10usd, it would appear Ethereum is suffering from an inverted top, which will lead to even more downward pressure moving forward. This is somewhat similar to how the Bitcoin price evolved in late 2017 prior to the massive bearish market materializing throughout 2018.
Although this chart may not necessarily make a lot of sense to most people right now, there are some interesting aspects to note. This chart seemingly indicates Ethereum will test the $100 support level again pretty soon. If that breaks, no one knows where things will end up at. Assuming it holds, however, there is a good chance the value will surpass $125 in rather quick succession. It is an interesting spread to explore, although no one knows where this will end up.
---
Disclaimer: This is not trading or investment advice. The above article is for entertainment and education purposes only. Please do your own research before purchasing or investing into any cryptocurrency.
Image(s): Shutterstock.com