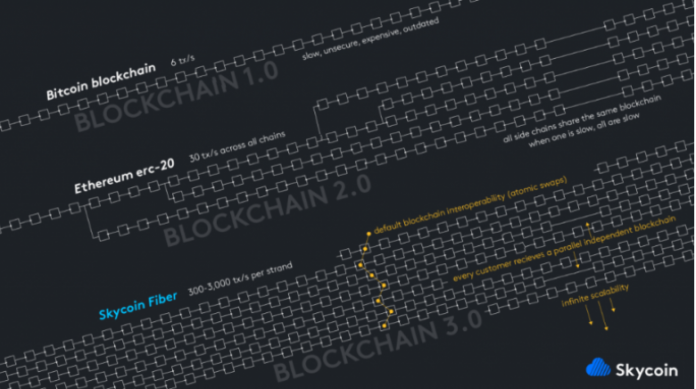 Decentralized cryptocurrency Skycoin is setting its sights on the emerging market in South Korea for an expansion of influence for its next-generation blockchain project.
Disclosure: This is a Sponsored Article
Having developed Skycoin as a high-performing blockchain-based ecosystem, the team's ultimate goal is to replace the current slew of blockchains and their inefficiencies with a new networking protocol that is highly decentralized, leading to a new era of faster and more secure internet that is as decentralized as it was first imagined.
Skycoin gives a due nod to the role of Bitcoin in establishing decentralized economy and introducing a global financial system controlled by users over a global network. It also acknowledges Ethereum as the proponent of Blockchain 2.0 after birthing a smart contract platform hosting thousands of decentralized applications.
However, Skycoin presents itself as Blockchain 3.0, constructed from the ground up to create an limitlessly scalable, incentivized ecosystem to foster privacy and decentralization. Keeping the best aspects of Bitcoin and Ethereum, Skycoin addresses centralization, scaling and speed through a combination of new technologies:
– A native token Skycoin that produces Coin Hours to generate network bandwidth.
– A wireless and decentralized mesh network called Skywire to create a fast and secure Web 3.0.
– A new consensus algorithm to secure the network via a web of trust called Obelisk.
– A parallel blockchain network able to scale without limits called Fiber.
A new dawn for blockchain
The industry has seen the crippling effect of housing multiple blockchain implementations on one network. Fiber does away with this, allowing for 100% customized implementations of Dapps on parallel blockchains, scaling as the need arises. Furter, the network grows stronger with more projects hosted on Fiber.
Skycoin's CX programming language allows for users to code contractual agreements on the blockchains, giving easy access to change contracts and fix bugs, solving the security issues often encountered on Ethereum. CX is a general purpose programming language based on the general programmer's premise for security.
Skycoin is built for the real world, taking actual concerns head on and incentivizing Skywire users for their bandwidth to help create a faster, more open, more secure Internet for all.
A new home in South Korea
South Korea's incessant thirst for technological advancement sees it consistently take top spot in the Bloomberg innovation index, and a leader in technical density.
Blockchain is embraced by a government working hard to implement classification standards and regulatory frameworks, and adopted by major conglomerates backing world-class crypto exchanges.
Skycoin believes this to be a conducive environment that will hasted adoption of decentralized technology. The strong desire of South Koreans to create fun and simple-to-use products is an added advantage, demonstrated by how quickly they moved from paid texting, to free texting, to today's popular apps like Kakao Talk – all leading to rich user experiences that have allowed them to displace early movers as the nation's most preferred platform. South Korea's focus on tech for customer experience is what Skycoin believes will make blockchain adoption successful there.
Building upon the foundations of decentralized tech created by Ethereum, Skycoin continues to perfect ideas and implementation, coming up with an incentivized platform easily used today. This unique, practical, yet groundbreaking innovation is what Skycoin seeks recognition for to propel blockchain adoption in the region.
To learn more about the next generation blockchain, visit the Skycoin website and see details in the whitepaper. To keep up with the latest, enter the discussions with the Skycoin community on Telegram and on Twitter.
Image(s): Shutterstock.com