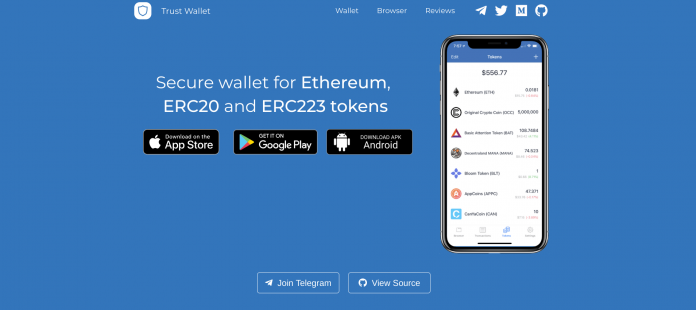 Binance has made its first-ever acquisition, snapping up a crypto wallet provider. Trust Wallet is a mobile Ethereum wallet that supports ERC20, ERC223 and ERC721 tokens. The acquisition is proof of the importance of secure wallet technology to the exchange, Binance stated in a press release. The Trust Wallet team will retain its autonomy and will continue to develop the crypto wallet's services, with Binance assisting in some non-technical areas such as marketing. While the details of the deal were not made public, reports indicate that the acquisition was made through cash, the exchange's BNB token, and Binance stock.
A Shared Vision
Launched in November 2017, Trust Wallet is an anonymous mobile wallet and decentralized application browser. Led by its founder, Viktor Radchenko, the company has 10 employees and enables its users to store over 20,000 Ethereum-based tokens. The company will continue working on delivering its products independently of Binance, but the Malta-based exchange will assist with the non-technical aspects such as marketing, Binance revealed in a press release.
The acquisition by Binance is a godsend for Trust Wallet, according to Radchenko. With his team being composed of developers who are focused on bettering the end user experience, Radchenko stated that the acquisition will give Trust Wallet a bigger war chest, helping the company to accelerate its growth and enroll new users. He views Binance as a partner which shares "a similar approach towards security and user management."
While it's not among the most popular crypto wallets in the market, Binance CEO Changpeng 'CZ' Zhao believes that Trust Wallet is "simply the best in this category." In an interview with TechCrunch, he described Binance as the wallet's new godfather.
We plan to keep the app as independent as possible. There will be more features going into it but not so much from a Binance demand perspective. We are like the addition of a godfather for the baby… there'll be some cooperation.
CZ further stated that the acquisition of the decentralized wallet provider will complement the centralized architecture of Binance. Trust Wallet is a decentralized wallet and does not collect users' private keys or access their wallets. Instead, it stores this information on users' devices.
The decentralized architecture is one that Binance has been exploring. The company announced its plans to create a decentralized exchange a few months ago, and development has been ongoing. The decentralized exchange will coexist with the centralized one, but with very different approaches to user control. While Binance has the ultimate say on how the centralized exchange operates and which coins get listed, the decentralized exchange will not be under its control, and according to CZ, it will list almost every coin. The decentralized exchange will be known as Binance Chain and will eliminate the use of a third party in facilitating transactions between users, using an automated process instead. However, its decentralized nature will make transactions slower and the costs higher, and will most likely appeal to traders who value security and anonymity over liquidity and speed.
Just over a month ago, Trust Wallet announced the cancellation of its token sale due to regulatory uncertainty. Its native TST tokens were to have been on sale beginning July 10, but the company decided otherwise, citing concerns over the regulatory framework governing the issuance of tokens as well as the fear that issuing a token would divert the company's attention from its core wallet business to maintaining a tokenized economy.
Image(s): Shutterstock.com