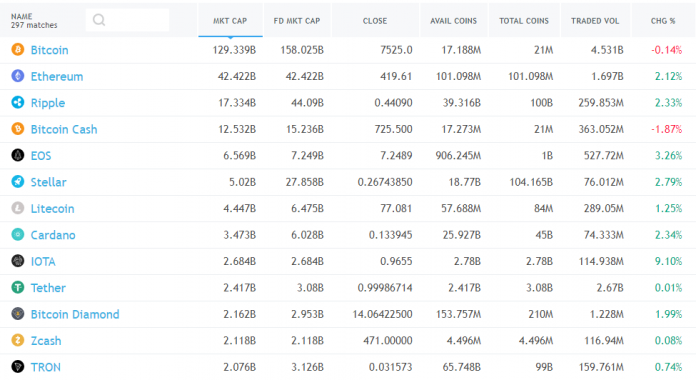 Bitcoin (BTC)
At press time, bitcoin is trading for about $7,485. This is roughly $60 less than where it stood 24 hours ago.
Wall Street player Goldman Sachs explains that bitcoin's recovery was a fluke; that the currency will never dominate the financial infrastructure, and future declines are expected. On the contrary, new payment company Bakkt – set to make its debut this coming November – is paving the way for many new retail clients to buy, sell and trade digital currencies. One of the major merchants to join hands with Bakkt is coffee giant Starbucks, which will utilize the company's services to accept digital currency payments from its customers.
Ethereum (ETH)
Unlike bitcoin, Ethereum has experienced a small price hike since yesterday's drop to $409. At the time of writing, the second-largest cryptocurrency by market cap and the number one competitor to the father of crypto is trading for $418 – roughly $9 higher than where it stood yesterday afternoon.
Ethereum has experienced serious drops over the past two weeks, falling from about $470 to its present position. Co-founder Vitalik Buterin claims we're at the end of a crypto bubble, and investors shouldn't be worried about the recent slumps. In fact, he believes another price boom is headed our way due to MEW's update and Coinbase's plans to accept ERC-20 tokens.
Ripple (XRP)
Ripple is presently trading for 44 cents. This is slightly less than the 46-cent mark it was "enjoying" last week.
Former president Bill Clinton will serve as a keynote speaker at an upcoming Swell Conference held by Ripple this October. Representatives believe he was the best choice, as he worked to usher in internet acceptance in the early 90s, and assisted with the national adoption of the World Wide Web, and they're confident he can assist in garnering Ripple the attention it needs to survive.
"Digital assets and blockchain technology offer a way for value to be exchanged as quickly as information, creating more financial inclusion and economic opportunity," Ripple heads explain.
Bitcoin Cash (BCH)
BCH is currently trading for about $724. This is a major step down from $833 last week.
Crypto exchange OKCoin is currently at the center of a lawsuit involving bitcoin cash. The company allegedly failed to provide an investor in China with his airdrop of BCH in August of 2017. This is ultimately the first bitcoin-based lawsuit to garner court attention in Beijing.
Litecoin (LTC)
Litecoin is trading for $77. That's about $9 less than where it stood during the beginning of the week.

Coinbase is releasing a new plugin that will give millions of websites and stores the ability to accept Litecoin, along with other major forms of crypto. The plugin is built to work with WooCommerce – an open-source platform presently integrated into more than three million WordPress websites.
Image(s): Shutterstock.com