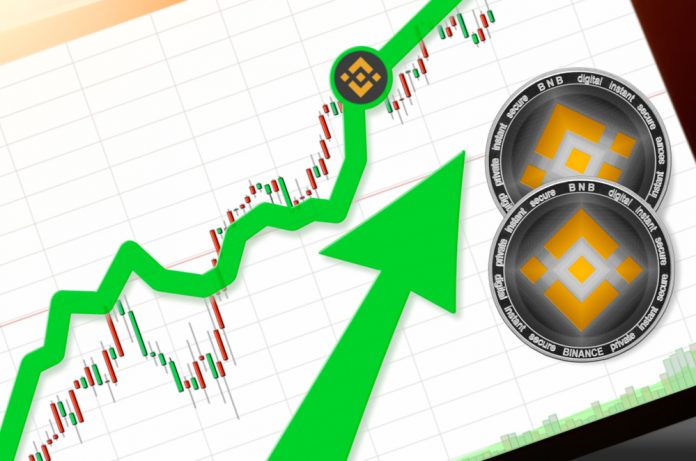 When it rains, it pours. This old saying has been quite appropriate in many cases, especially when looking at cryptocurrency prices. Although no major downtrend is happening right now, it is evident things are not going according to plan. That is, except for the Binance Coin price, which still notes a solid 4% increase.
Binance Coin Price is Moving up
It has been quite an interesting year for the Binance exchange Not only has the company become the largest crypto trading platform in the world, but they also set up shop in Malta. Additionally, some humanitarian efforts are taking place in Uganda. All of this has a positive impact on the Binance Coin price, which continues to soar despite the negative momentum.
Over the past 24 hours, the Binance Coin price has increased by just over 4%. That in itself is rather surprising, especially when noting how most of the major coins either lost some value or are stuck in sideways trading momentum. Even so, the BB price continues to impress holders over the past few months, and it seems reaching $15 is not entirely out of the question at this stage.
As one would come to expect, these gains are also the result of increases over Bitcoin and Ethereum. For the Binance Coin price, a 4.31% increase over Bitcoin and a 3.35% gain over Ethereum is very impressive at this stage. This is perhaps one of the very few currencies effectively decoupling its momentum from those top two coins, although that may only be temporary.
Similar to most other cryptocurrencies, Binance Coin doesn't generate an impressive amount of volume whatsoever. Although $64m in trades is not all that bad, it is also far from impressive at this stage. Whether or not this volume can increase as more time progresses, remains to be determined.
Unsurprisingly, the same trading pairs will continue to generate the most trading volume, for the time being. USDT, BTC, and ETH trading are all very popular right now. They are also the only pairs which effectively generate over $1m in 24-hour volume, further confirming how lackluster cryptocurrency trading has become in Q2 2018.
Given this current momentum, it is very likely the Binance Coin price reaches $15 in the coming hours. Maintaining that price level is virtually impossible, though, as there is so much bearish pressure on the markets, it seems highly unlikely anything good will come of it. At the same time, this may be the moment during which it all turns around for cryptocurrency.
Image(s): Shutterstock.com