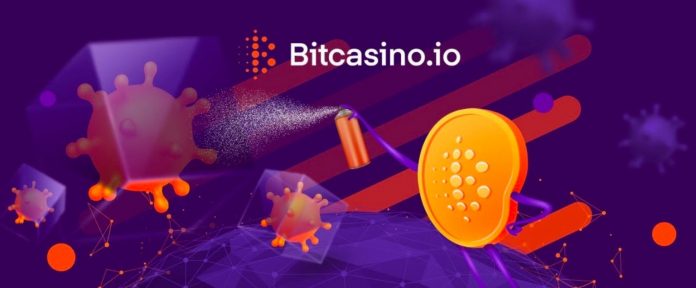 Bitcoin-led crypto casino Bitcasino.io is pleased to announce that it has managed to raise 20 BTC in total funding in its 'Crypto vs Covid' campaign in collaboration with The Giving Block!
Thanks to the generosity of its players and the Bitcasino community donating unused Loyalty Points, matched by Bitcasino monies, this means that over $190,000 has been successfully raised for the cause. And that's not the end of it!
Teaming up with the Pioneer Club and continuing its collaboration with The Giving Block, Bitcasino is now proudly hosting a No Limit Hold'em Charity Poker Tournament to raise even more funds for the global COVID-19 relief efforts in support of brave frontliners everywhere.
Weekend Poker for Charity
After seeing the positive turnout for the D3 virtual aid concert organized last week during the global Giving Tuesday Now event, Bitcasino will follow up with a major Charity Poker Tournament kicking off at 5 pm UTC on Saturday, May 16th, 2020.
Crypto and poker have an affinity for each other, as it turns out, as the past two charity poker tourneys have been graced by the likes of Litecoin founder Charlie Lee, and Bitcoin Magazine CEO David Bailey.
And what better way is there to have fun than by pitting your skills, luck, and courage at the poker tables, possibly coming up against famous crypto personalities, while contributing to a good cause? Binance Charity has also thrown in their hat, pledging to triple all funds raised through the event, via a 2:1 matched funding pledge. This will be in addition to a $10,000 even matched funding set aside by the hosts Bitcasino.
Bitcasino.io Director of Casino Tauri Tiitsaar spoke of the unity in the crypto community online, who have been unlikely contributors in the global effort against the crippling pandemic. He said:
"Now's the time to band together with both the crypto community in support of those who are most vulnerable to the threat of COVID-19. After a series of successful charity campaigns and more to come, we hope to show the world how generous our crypto community is and how crypto can be used for positive change."  
Keen to test your poker face with the best in crypto? Hold your nerve and go all-in with the top dogs of blockchain for only $100 as an entry fee in this Saturday's Charity Poker Tournament.
You can pay by card or by crypto in BTC, ETH, LTC, BCH, USDC, and DAI via the Pioneer Club portal. If you prefer you can even pay through SatStreet or via Event Brite as alternative options.
To learn more about the No Limit Hold'em Charity Poker Tournament, how to register and/or donate directly to the fight against COVID-19, check out the Bitcoin Tuesday Now website. Every $100 in entry fees collected will be matched with $200 by Binance Charity, giving your contribution extra bang during this weekend.