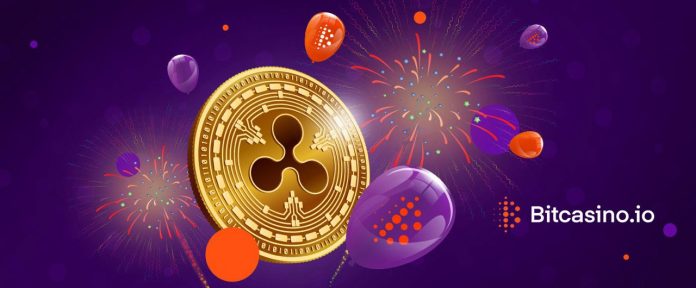 Bitcoin-led casino operator Bitcasino has launched support for a new payment currency on its platform to harmonize user experience and increase available payment options. Ripple's native token, XRP, is the latest crypto support to be integrated into Bitcasino's enjoyable and trustworthy casino and gaming service. Now, users will be able to wager using XRP and experience the 'ripple effect' of fair, fast, cheap and secure deposits and withdrawals. 
Bitcasino users have come to expect top-notch services from the platform and they will find XRP's performance and flexibility fits into that reputation of cutting-edge features. The cryptocurrency, ranked third in the world by market capitalization, offers instant, secure and a near-zero cost for transactions of any size with no chargebacks. While the cryptocurrency was initially designed for real-time banking use cases, its appeal has since transcended into other sectors such as gaming, where there is a need for consistency and simpler user interfaces. 
Director of Bitasino, Tauri Tiitsaar, remarked on how the platform keeps pushing for a top position in a highly competitive digital marketplace. He reiterates its goal to operate in transparency across its entire service lifecycle— from deposit to betting and withdrawals. Bitcasino will support end-to-end service processes underpinned by innovative crypto models. And one example of such a model is XRP, with its many advantages suited for gaming. 
He stated:
"It makes us very proud to say that we now have the three most used cryptocurrencies integrated with Bitcasino. XRP ranks third on the list of top virtual currencies by market cap just behind Bitcoin and Ethereum, and it's something our players have asked for quite some time now."
Bitcasino users already have access to some of the top cryptocurrencies such as Ethereum, Litecoin, Bitcoin and TRON (TRX). TRX support was launched last month following the integration of the TronLink browser extension, allowing for seamless deposit and withdrawal of TRON native tokens on its blockchain via a user's browser. 
This makes XRP the fifth cryptocurrency to be supported on the world's first licensed Bitcoin-led casino operator. The minimum deposit and withdrawal of XRP on Bitcasino are set at 50 XRP and 100 XRP respectively — that's just $10 for deposits and $20 for withdrawals.
About Bitcasino
First launched in 2014, under the Coingaming Group, Bitcasino set the standards by becoming the world's first licensed Bitcoin-led casino operator. The platform guarantees a fair and secure way of playing trustworthy casino and betting games, built with proprietary cutting-edge technology and featuring a withdrawal time span of just 1.5 minutes.
From slots and table games to live dealer titles, players can choose from over 2,000 games from some of the top leading brands. 
Placing games with XRP is currently live. Join now and find out for yourself why people keep coming back to Bitcasino. Start betting with XRP Here.