The cryptocurrency market is abuzz with the latest developments involving Bitcoin and Tether (USDT) whales and sharks, who are showing a strong accumulation trend. These large holders, with 10 to 10,000 Bitcoin in their wallets, have now accumulated their highest Bitcoin holdings in 2023, totaling 13.03 million BTC.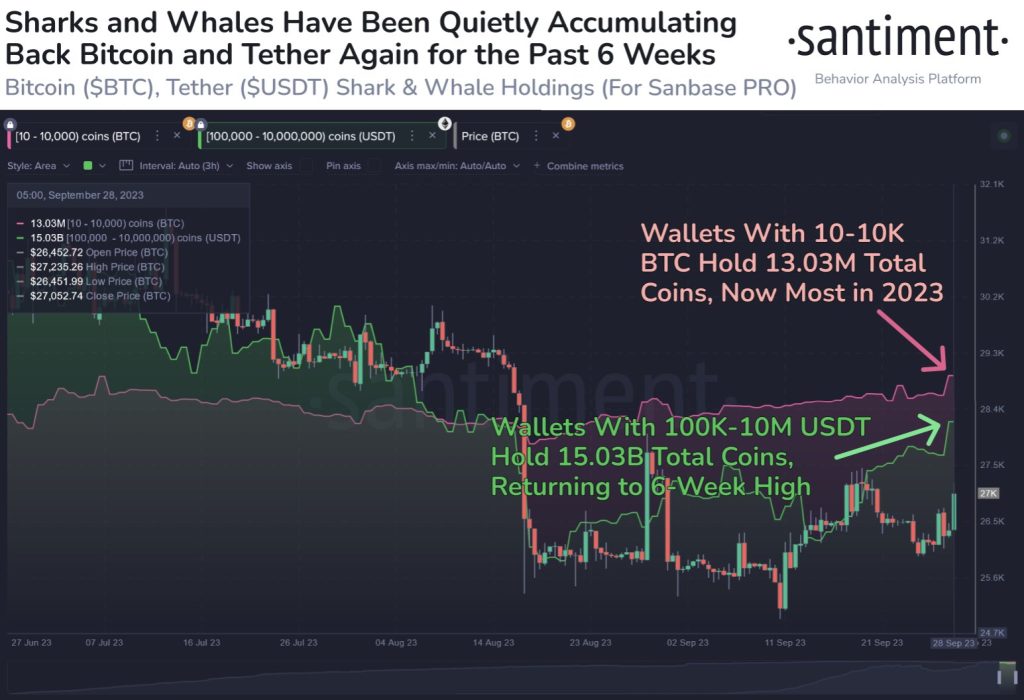 Positive Sentiment For The Market
This surge in accumulation among Bitcoin's most substantial holders is seen as a positive sign for the market. Such large-scale accumulation often signals confidence in the long-term potential of the cryptocurrency, and it's a strong indicator of bullish sentiment. What's noteworthy is that this accumulation has been ongoing for over six weeks, suggesting that these influential investors see value in Bitcoin's current market conditions.
Tether Whale Accumulation Hits 6 Week High
The accumulation story doesn't stop with Bitcoin. Tether, the popular stablecoin, is also seeing notable activity among its larger holders. Wallets with 100,000 to 10 million USDT have amassed a total of 15.03 billion coins, returning to a six-week high. This indicates that significant capital is entering the Tether ecosystem, which could be interpreted as a sign of increased buying power and liquidity.
Bullish Sentiment Combination
When considering both Bitcoin and Tether accumulation, this combination further reinforces the bullish sentiment in the crypto market. The actions of these large investors often have a profound impact on price trends and overall market dynamics. Their sustained accumulation implies a belief in the resilience and growth potential of both Bitcoin and Tether, two key players in the cryptocurrency ecosystem.
Final Thoughts
In conclusion, the recent accumulation of Bitcoin and Tether by whales and sharks, coupled with the prolonged nature of this trend, provides a bullish outlook for the crypto market. It signifies growing confidence in the digital assets and suggests that these influential players anticipate positive price movements in the future. As always, market observers will closely monitor their actions for insights into the evolving cryptocurrency landscape.
Disclosure: This is not trading or investment advice. Always do your research before buying any cryptocurrency or investing in any services.
Follow us on Twitter @nulltxnews to stay updated with the latest Crypto, NFT, AI, Cybersecurity, Distributed Computing, and Metaverse news!
Image Source: nexusplexus/123RF // Image Effects by Colorcinch