Bitcoin, the leading cryptocurrency, is currently experiencing a dynamic phase, marked by both bullish indicators for the long term and the potential for short-term corrections. The actions of whales and traders are at the center of this evolving narrative.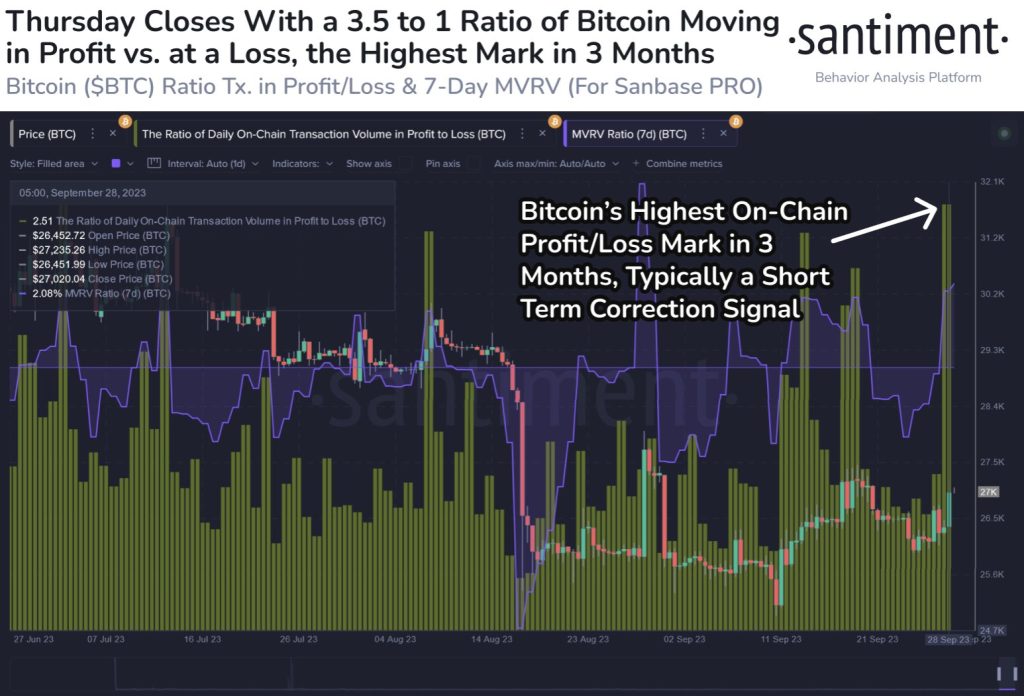 Bitcoin Maintains Bullish Momentum As We Enter October
In the long term, Bitcoin's outlook appears promising. Whales, individuals or entities holding significant amounts of Bitcoin, have been accumulating the digital asset alongside Tether (USDT), signaling their confidence in its future. This accumulation is a positive indicator for the broader cryptocurrency market, as it often reflects a belief in Bitcoin's resilience and potential for substantial growth.
Short-Term Corrections Are Expected
However, amidst this optimism, caution is warranted for the short term. Bitcoin recently reached a price milestone of $27,000, prompting traders to engage in profit-taking. Short-term corrections are a common occurrence in the crypto market, and they serve to balance out rapid price surges. This pullback provides an opportunity for traders to lock in gains and reassess market conditions.
7-day Market Value to Realized Value (MVRV)
One metric to watch closely is the 7-day Market Value to Realized Value (MVRV). When this metric dips below 0, it may signal an ideal setup for another leg up in Bitcoin's price. The MVRV ratio compares the market price of Bitcoin to the average price at which it was last transacted. A value below 0 suggests that the average trader is in a state of unrealized loss, potentially indicating oversold conditions and a potential rebound.
Conclusion
In summary, Bitcoin's long-term prospects remain bright, with whales accumulating and signaling confidence in its future. However, investors and traders should be prepared for short-term corrections, as seen with the recent profit-taking activity. Watching key metrics like the 7-day MVRV can provide valuable insights into the timing of potential market movements. As the crypto market continues to evolve, adaptability and a balanced perspective are crucial for navigating its dynamic landscape.
Disclosure: This is not trading or investment advice. Always do your research before buying any cryptocurrency or investing in any services.
Follow us on Twitter @nulltxnews to stay updated with the latest Crypto, NFT, AI, Cybersecurity, Distributed Computing, and Metaverse news!
Image Source: igorigorevich/123RF // Image Effects by Colorcinch