There are still people who firmly believe Bitcoin Cash will overtake Bitcoin at some point in the future. In the world of cryptocurrency, nothing is impossible until proven otherwise. The following three Bitcoin Cash price predictions paint an interesting future, as virtually everyone seems to expect a major price increase. Hitting these proposed targets may prove to be challenging, though.
Also Read: Stellar Price Down Over 10% – 2 Price Predictions
Three Bullish Bitcoin Cash Price Predictions:
#3 The $485 Struggle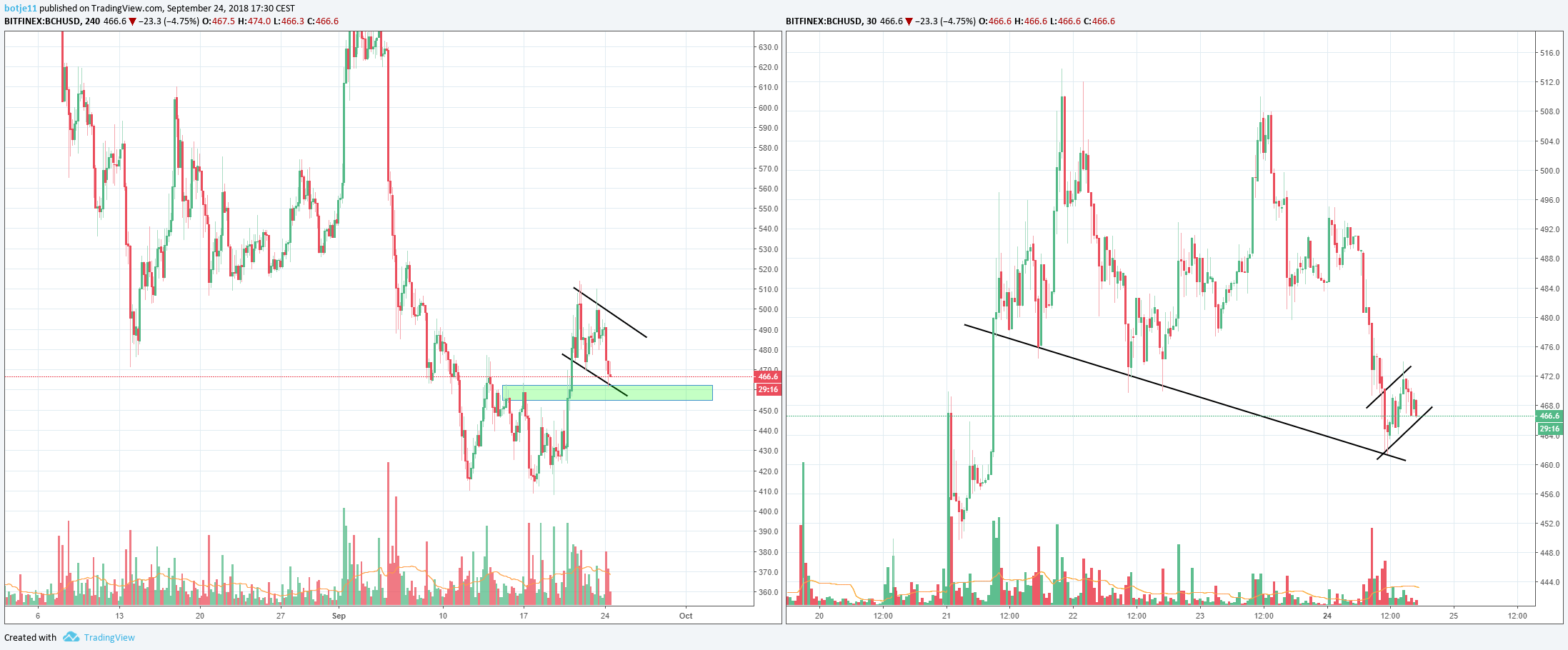 Over the past week, all cryptocurrencies received a big nudge. The positive momentum allowed the Bitcoin Cash price to make its way toward the $500 mark once again. Although the value has dropped a bit ever since, there is a good reason as to why this trend is forming right now. Trader Botje11 predicted such movement would occur, whereas $485 would prove to be a point of potential resistance.
Assuming the hurdle can be overcome successfully, there is a good chance the Bitcoin Cash price will rise to $525 in the coming days. That will mainly depend on how the overall cryptocurrency markets evolve, as things are not necessarily looking too great on this Monday morning. Even so, the recent bullish momentum shows there is some positive Bitcoin Cash price movement on the horizon.
#2 Triple Bottom to $545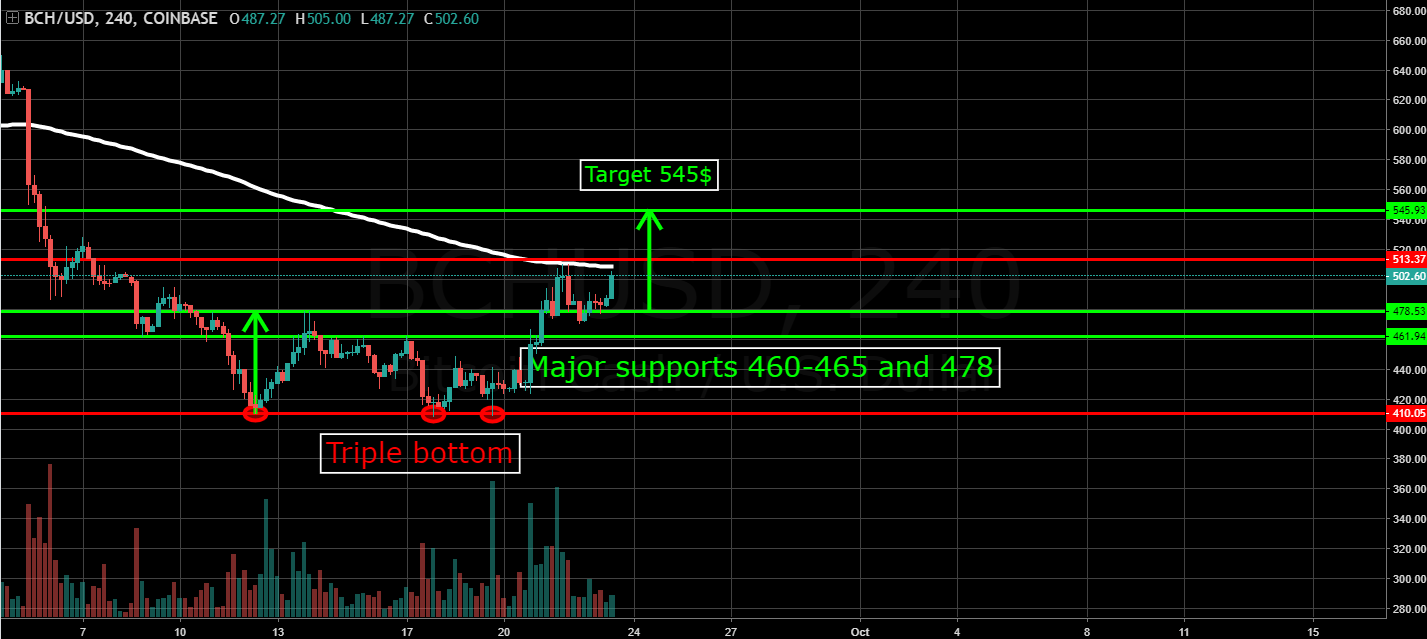 It would appear a fair few Bitcoin Cash speculators have very realistic expectations at this time. An increase in Bitcoin Cash's price to $545 would not necessarily be out of the question based on everything that has happened in the past few weeks. If the BCH support holds near the $460 level, there is no real reason as to why the value per BCH would drop even further, according to Christian2209.
In his opinion, the Bitcoin Cash price has noted a triple bottom bear the $410 mark over the past few days. As such, it seems evident to assume the value per BCH would see a healthy increase moving forward. A target of $545 seems fairly plausible, as it is not an outlandish gain to note with relative ease. A few very interesting weeks ahead for Bitcoin Cash, by the look of things.
#1 Go Big or Go Home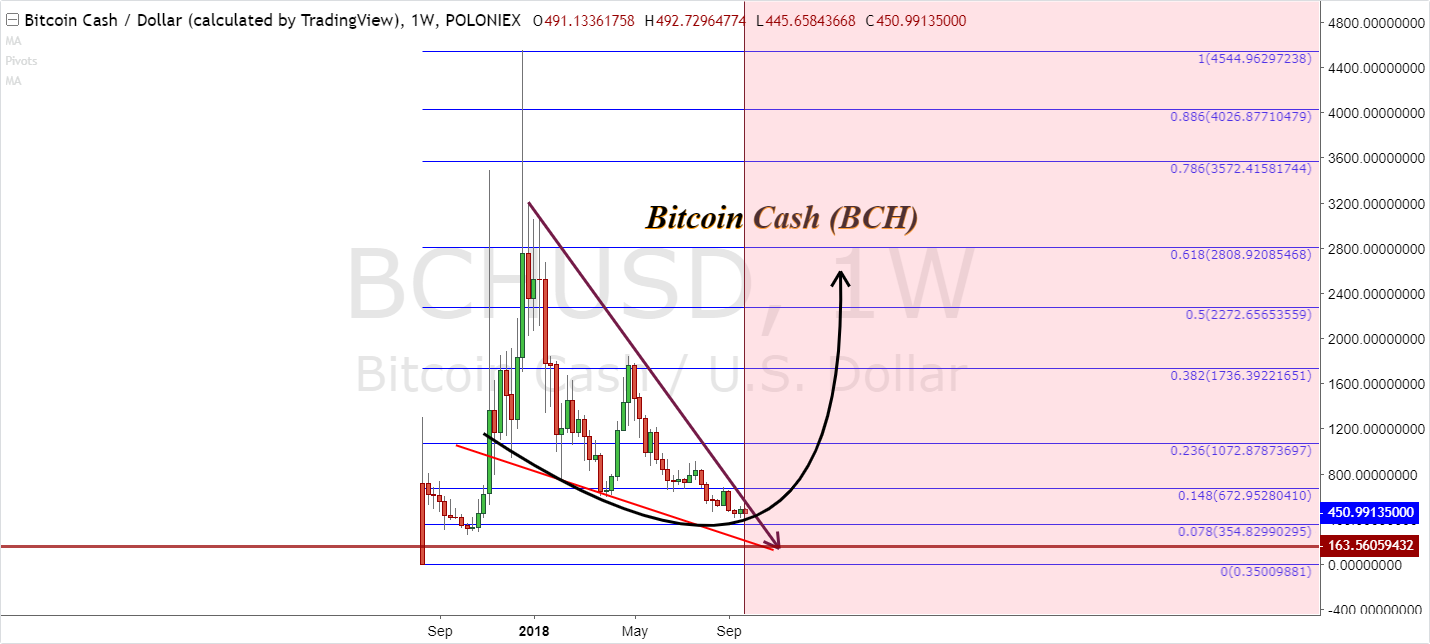 As is always the case in the world of cryptocurrency, at least one person has high expectations for Bitcoin Cash. Although the chart shared by HamadaMark is a long-term outlook, it remains to be seen if any of it will come true. Looking at the historic chart of Bitcoin Cash and how things are evolving, it would not be impossible to see the currency bottom out near the $325 mark before the year 2018 comes to a close.
As negative as that outlook may be, it will only herald a new era for BCH as a whole. This drop would effectively lead to a massive price reversal throughout 2019. If successfully completed, the potential target for Bitcoin Cash would be anywhere between $2,500 and $4,500. Considering how this currency has already passed $2,500 in the past, it would not necessarily be impossible to see that value being hit once again.
Image(s): Shutterstock.com