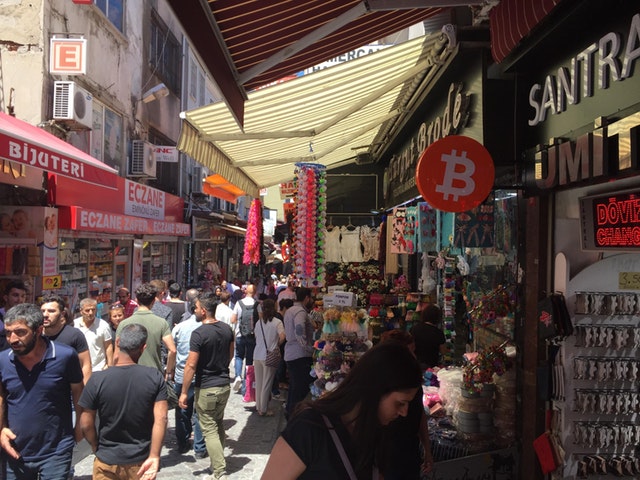 Earlier this week, a member of an online Bitcoin community revealed that a 550-year-old market in Istanbul contains merchants accepting Bitcoin. The photograph which the individual posted featured a big Bitcoin logo in a crowded part of the market that is widely acknowledged as a popular tourist destination.
Positive Sign
Located inside the market at 87 Sabuncu Hani Street in Istanbul, Turkey, a currency exchange office called Santral Doviz accepts Bitcoin. At the office, tourists can buy and sell Bitcoin with the national currency of Turkey, the lira. Like the vast majority of traditional markets, even those in cashless societies like South Korea, Hong Kong, China, and Taiwan, most merchants at the Turkish market do not accept credit cards or other forms of payment than cash.
As such, the acceptance of Bitcoin by a local foreign currency exchange in the traditional Turkish market is a positive sign for cryptocurrency adoption, showing demand from both tourists and local residents for cryptocurrencies.
In Turkey, Bitcoin and other cryptocurrencies are not illegal, and there are currently no laws or regulations that pertain to digital assets. However, Turkish financial authorities previously declared that Bitcoin is not money, and requested that banks avoid lending to operations related to cryptocurrencies.
The Turkish government's declaring Bitcoin to be an illegitimate form of money caused banks to become reluctant to provide banking support for cryptocurrency exchanges. Consequently, cryptocurrency exchanges failed to increase in popularity in Turkey, and over the past few years, the majority of Turkish investors have relied on peer-to-peer (P2P) exchanges like LocalBitcoins to buy and sell Bitcoin.
Declining Lira
The decline in the value of national currencies has always been considered a factor in the rising growth and value of cryptocurrencies. Traditionally, investors have purchased assets like gold and government bonds to prevent the devaluation of national currencies from affecting their holdings. But, in the future, as the cryptocurrency market evolves into a major asset class with the presence of custodial solutions and financial institutions, cryptocurrencies could become a safe haven asset competing with the likes of gold and bonds.
The value of currencies like the Turkish lira that are not considered reserve currencies are hugely influenced by reserve currencies such as the US dollar and euro. When the US government or the EU decide to increase interest rates, the value of the lira and other minor national currencies tend to fall.
Already, analysts have begun to predict a slow bleed out for the lira in the coming weeks, given that the US has increased its interest rates for the second time in 2018.
"The tide of easy [US] money is receding and periodic stress in emerging markets will be evident during the later stage of Fed tightening," said Jason Daw, cross-asset strategist at Société Générale.
In interviews with the FT, investment firms such as TD Securities and DoubleLine have emphasized that investors will likely return to bonds and traditional assets in the short-term to combat the declining value of the lira.
Even TD Securities, whose clients were bearish on bonds throughout the past year, stated that an increasing number of clients have started to explore bonds. A TD Securities analyst explained:
While clients did not seem to be outright structurally bearish on EM assets, considering that the fundamental position is not as negative as it has been in recent years, the extent of EM volatility and a couple of very negative country examples (Argentina and Turkey) have investors questioning the potential for wider-spread longer-term issues.
In the long term, digital assets like Bitcoin could be used by investors to hedge the value of national currencies like the lira, and the adoption of Bitcoin by small merchants could be a start to wider adoption in economies like Turkey that have shown strength since 2017.
Image(s): Shutterstock.com