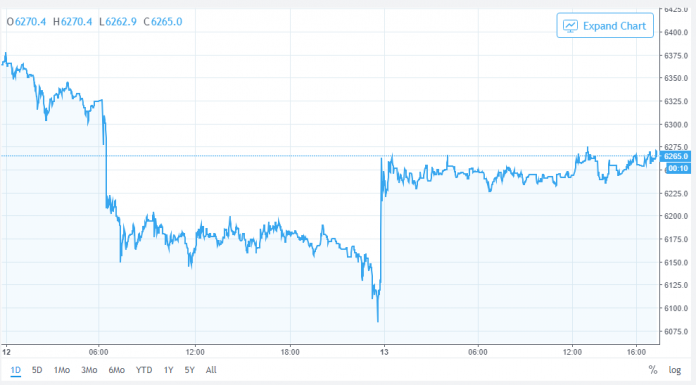 At press time, the father of cryptocurrency is up by $100 from yesterday afternoon and trading for about $6,250. It's always a good sign to see bitcoin pulling itself out of a dark hole, and while it can't be said if recovery is imminent or not, the currency is beginning to show signs of life once again.
Bitcoin has been down by five percent over the last couple of days, while the currency's market cap has been reduced to about $110 billion. For the most part, it appears the bulls are planning a reversal, while bearish headwinds are beginning to calm down a bit. The currency is also managing to stay above the $6,000 mark, though if the bears do regain control, it runs the risk of falling to about $5,700.
Still, investors are warned to remain cautious. Several analysts claim that while the market may be bolstering itself, we are still in danger of hitting some very low snags in the coming weeks, and the bears are not completely out of the way yet.
James Song, for example – CEO of the blockchain startup ExsulCoin – explained, "We have crossed over into bear market territory for cryptocurrencies, driven by widespread acceptance of market manipulation and the siphoning of capital from market participants." He notes that bitcoin – along with most other major forms of crypto – have been in a downward spiral since December.
Jon Pearlstone – publisher of the newsletter Crypto Patterns – comments that bitcoin will likely endure a major sell-off in the coming days given its failure to reach the $7,000 position. "Unless we see sustained prices above $7,250, the coming months may test the resolve of even the most committed crypto bulls," he says.
Trevor Gerszt – CEO of Coin IRA – also weighed in on bitcoin's price drops, explaining:
"Bitcoin is suffering under some of the same pressure that affected gold at one point, namely that it is still an alternative asset that doesn't make up a huge part of most portfolios, so it is one of the first assets to be liquidated when marginal investors need cash. We're seeing a decline in bitcoin trading from China due to the government's crackdown, and a decline in trading due to less-serious investors leaving the market, and so the combination of these factors is putting downward pressure on bitcoin prices."
While figures like Fundstrat's Tom Lee and Julian Hosp of TenX fame continue to tout high-end predictions for bitcoin's price at the end of the year (between $20,000 and $60,000), the Forbes bitcoin price estimator claims that the currency will ultimately end the year at around $10,000, significantly less than where these predictions stand.
Image(s): Shutterstock.com