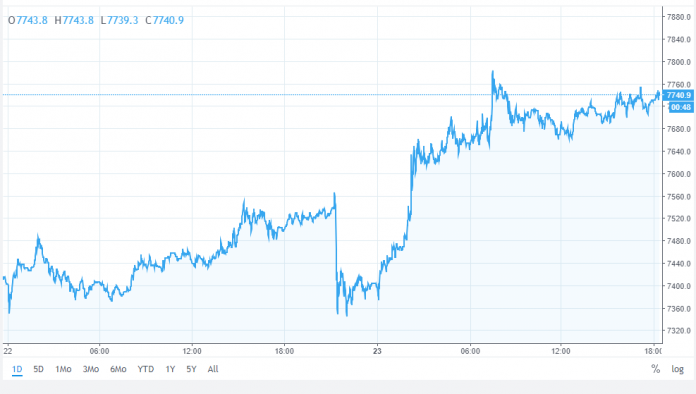 At press time, bitcoin is up by $200 and is trading for approximately $7,724. The father of digital currency has undergone a series of price swells over the past seven days and is up by nearly $2,000 from two weeks ago, when it was hanging around at $5,800. This price put everybody in a mental slump, but now analysts are relatively certain that $8,000 is around the corner.
Right now, general support lies at roughly $7,300. Thus, sentiment is positive that bitcoin will continue to ascend the financial ladder. Overall, bitcoin is up by nearly 20 percent since the end of February, and most technical experts believe the currency has bottomed out, meaning it is not likely to drop any further for the time being.
However, CEO of BitMEX Arthur Hayes disagrees. He believes the worst is not quite over and says that bitcoin is likely to test $5,000 again before it jumps to $50,000 by the end of the year – a figure he has been touting for several months.
Speaking with CNBC, Hayes says that bitcoin is likely to recover to $10,000 before it drops again and hits the $5,000 mark:
"I think the current rally will top out close to, but not greater than $10,000. Then, we will fall and test $5,000. If that holds, then we can rally to $50,000 by year end."
How realistic is this, though? Hayes seems to be forgetting that there are only five months left in the year, and bitcoin needed roughly two years before it could spike to $20,000 last December. Think about this: all during 2015, bitcoin was at a bit of a standstill. The currency started the year off on relatively rough terms, trading for less than $200 in January, and enthusiasts did not see any significant jumps until November. By then, the currency was trading for roughly $300.
Cut to November the following year, and bitcoin is pushing $1,000, and in 2017, bitcoin is at $5,000. It struck $20,000 the following month. It is easy to forget that reaching such a high figure was a process, but it was a process nonetheless. Now, Hayes is predicting that the currency will more than double this price in less than half-a-year, but one can't help but question the realism behind it.
Bitcoin has increased by roughly four percent in 24 hours, and the currency's market dominance now stands at roughly 46 percent. In addition, the daily trading volume has jumped to $4.9 billion, meaning that the latest rally still has "room for more." Growth appears to be occurring on all sides at a hurried rate, so maybe – just maybe Hayes knows what he is talking about…
Image(s): Shutterstock.com