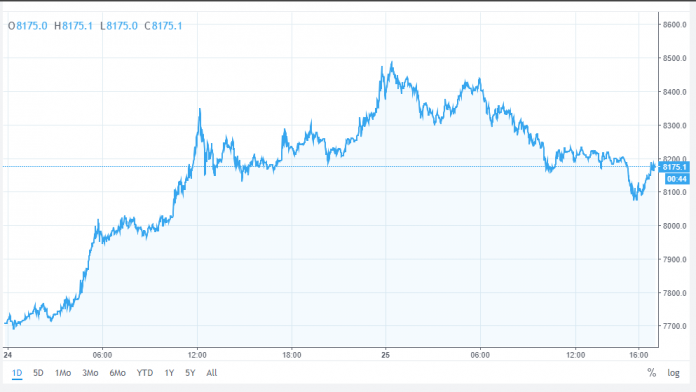 At press time, the father of cryptocurrency has fallen by about $150 and is down to about $8,095. This isn't something enthusiasts need to concern themselves with too much, considering it's still very early in the game and bitcoin has been on a speedy roll as of late. The currency rose by over $2,000 in just the last two weeks, jumping from $5,800 to over $8,000, showing that the currency's resilience is gathering steam and that the coin is working hard to overpower present resistance.
While the price has slowed in its approach of $8,400, one source still places the next big financial goal for bitcoin at $8,663. In addition, the bull run is slated to continue for the time being despite the Security and Exchange Commission's (SEC's) decision to delay any approvals for upcoming bitcoin ETFs.
There are several reasons for bitcoin's sudden jump. Among them include the easing of regulations by both Facebook and Google. The social media and search engine giants are amongst the two largest companies to place bans on both initial coin offering (ICO) and cryptocurrency-related advertisements.
However, in recent days, both platforms have eased up on present regulations and provided crypto with a small, yet sturdy way of building its presence. Facebook, for example, now allows Coinbase – one of the largest digital exchanges in the world – to advertise on its social media channel(s), while Google includes major coins in its exchange converter.
In addition, we are also seeing a surge of new institutional investors entering the fray, including several major Wall Street players, and the fact that the SEC is willing to consider bitcoin ETFs is a major step towards easier regulatory patterns. Yes, the SEC has delayed its decision-making process, though originally the organization had listed the bitcoin ETF application of VanEck SolidX Bitcoin Trust for public comment to see what everyday traders would have to say about it. This is a huge sign that the SEC is potentially changing the way it looks at crypto.
Lastly, we are seeing a general easing up on crypto legislation from both the SEC and the Commodity Futures Trading Commission (CFTC) primarily due to pressure from the U.S. Chamber of Commerce, which has long called for both agencies to clear up regulatory uncertainty. The Chamber says that raising capital to begin crypto and blockchain-based companies has been relatively difficult, and an environment that's more accommodating to such ventures should allow for further innovation.
We are seeing growth in the cryptocurrency market, but while it's easy to accept bitcoin as having "made it" and surpassing all present obstacles, one must remember that volatility remains a prominent threat. Thus, investors are advised to remain cautious, and only trade what they can afford to lose.
Image(s): Shutterstock.com