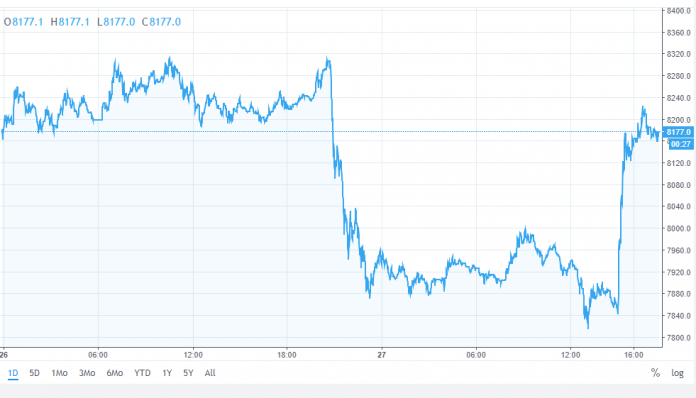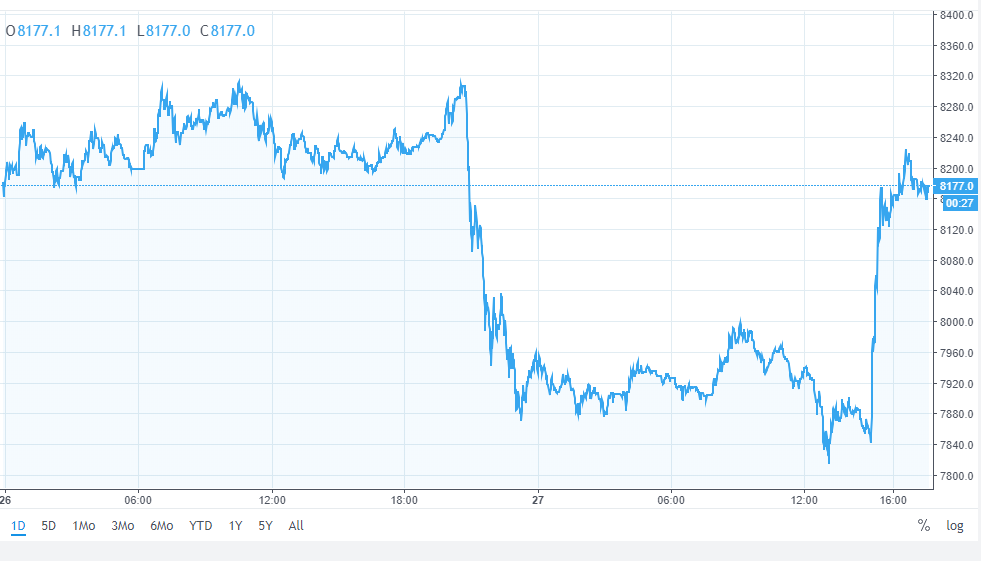 The price of bitcoin has fallen a bit at press time, with the father of crypto trading in the $8,200 range. This is a small step back from yesterday's price of $8,205, and probably nothing to be too concerned about.
The $8,000 level has proven to be a comfortable spot for bitcoin as of late, which has shot up nearly $2,400 over the past few weeks. While bitcoin hasn't necessarily moved up from this position, it certainly hasn't gone down, and enthusiasts have a lot to be grateful for.
That's not to say, however, that bitcoin isn't still vulnerable. One of the alleged reasons behind the recent drop may be the Securities and Exchange Commission's (SEC's) decision to reject the Winklevoss Twins' application for a bitcoin ETF.
Bitcoin ETFs have been all the rage, lately. Many analysts are for them, as they can potentially provide new outlets for institutional traders in the cryptocurrency arena. However, the SEC's reactions towards them have been relatively mixed. For example, bitcoin trust firm VanEck SolidX initially tried to get their application for a bitcoin ETF approved early last year, but their request was met with immediate rejection.
On the other hand, the company submitted the same application again this year, and the SEC appeared more open to the idea. Instead of flat-out saying "no," the organization decided to post the application for public comment, to get an idea of what industry experts believed was the right thing to do. They also sought to get opinions from general, everyday traders to see if this was something they would ever want to take part in.
It takes some real openness to do something like that, right? Furthermore, representatives of the SEC later announced that they were working on new regulations that would make it easier for open-ended ETFs to file their applications and garner approval, and things began looking up for bitcoin platforms.
Unfortunately, the SEC is proving to be more rigid than we had hoped. The government body has put off making decisions about five current bitcoin ETF proposals and has pushed aside the one submitted by the Gemini Exchange and the Winklevoss Twins. Though disappointed, co-founder Cameron Winklevoss explained in a statement:
"Despite today's ruling, we look forward to continuing to work with the SEC and remain deeply committed to bringing a regulated bitcoin ETF to market and building the future of money."
At the time of this writing, bitcoin support lies at $7,900. One source suggests the bears are again entering the mix, and that the coin is at risk of dropping to $7,200. Should the bulls continue to have their way, we may see $8,500 relatively soon.
Image(s): Shutterstock.com