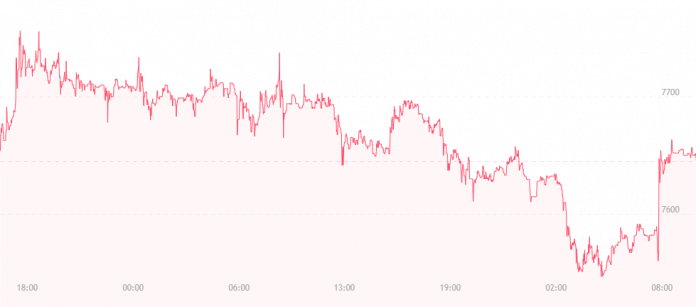 At press time, bitcoin is trading for just over 7,600. This is a near $60 drop since reaching yesterday's high of $7,700. Though small, the currency has ultimately failed to defend this new line, leading analysts to wonder if $8,000 is no longer doable in the short-term.
One source suggests that a triangle pattern is forming in the bitcoin technical charts, and that the father of cryptocurrency could wind up striking the $13,000, or falling to as low as $1,200. It suggests that the 90-day volatility index has taken a free fall, but that trading has started to normalize in the long run, and that the currency hasn't bottomed out just yet, thus making it relatively hard to know exactly where it will go from here.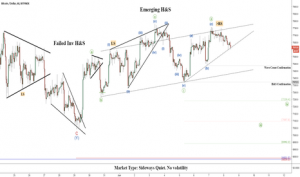 Over the last two days, our price pieces have respectively covered cryptocurrency regulation, and how it's potentially affecting the prices of major assets and altcoins. Fundstrat's Tom Lee now points out that despite Jay Clayton's stance on ICOs, regulators may indeed be lessening their stance on cryptocurrencies and taking a few steps back.
Lee refers to two specific moves in the cryptocurrency arena to explain his reasoning. The first is Coinbase, one of the largest cryptocurrency exchanges in the United States. Recently, the platform announced that it would become an SEC-regulated firm through its acquiring of securities dealer Keystone Capital.
The second revolves around Circle, which is now seeking a federal banking license and plans to register with the SEC as a brokerage and trading venue.
"We believe the regulatory picture is now improving – best evidenced by Coinbase and Circle running towards regulation," Lee explained in a recent interview with CNBC. "We are basing this on the notion that Coinbase and Circle would only take these actions if such was the case. We also believe both companies would only make these moves if their perception of regulatory risks in crypto was improving."
The real clincher here is that the Securities and Exchange Commission largely regulates securities, which may include ether and Ripple. Bitcoin, which is labeled a commodity, does not fall under SEC scrutiny, though the power and stance of major competitors like ether can ultimately bear repercussions on bitcoin's value and price, so one is left to assume that if regulation for these kinds of currencies leads to positive results, bitcoin will undoubtedly be included.
One of the big outcomes that could result from either softer or clearer regulation, according to e-Toro UK managing director Iqbal Gandham, is that further institutional capital will trickle down into the cryptocurrency arena. Several large firms have failed to make initial investments in digital assets, either out of fear or ignorance, and as the regulatory scene becomes more solid, they're likely to feel less inclined to stay away.
"As the regulatory landscape clears up, we can expect far more investors, including big-ticket institutions, to make their first cryptocurrency investments," he explained confidently.
Stronger institutional support could also assist in legitimizing the cryptocurrency arena, thereby bringing further investors to the table and giving entities like bitcoin the price boosts we've been waiting for all year.
Charts by TradingView
Image(s): Shutterstock.com