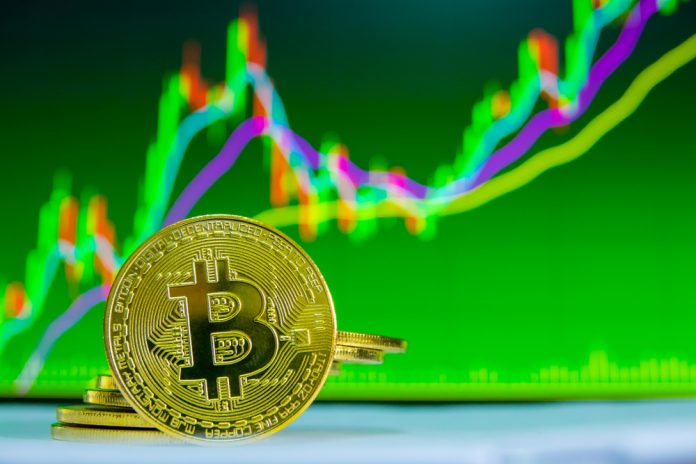 At press time, the father of cryptocurrency is trading for well over $5,300. This is about $100 more than where it was during our last price piece. Jumping from $5,200 to about $5,300 in just under a week, bitcoin is keeping up its present momentum and defying all the bears that have dominated this industry for so long.
Another Jump in Bitcoin's Price
And, as many analysts suggest, the buck doesn't stop here. Many chart indicators have popped up to suggest that bitcoin will reach $6,000 again in the coming weeks. Should this occur, it would mean that all bearish activity of the last five months will be virtually erased.
Chart by MarcPMarkets
As we all remember, 2018 was not a good year for bitcoin and cryptocurrencies, with many losing 50 percent of their values or more. Bitcoin struck the $20,000 mark in December 2017, but ultimately experienced loss after loss the minute January rolled along. From there, it was consistent slumps that finally seemed to peak at the $6,000 range. This is where bitcoin largely spent the summer and autumn months, though winter brought about new bearish conditions that sent everyone into a flurry.
Around Thanksgiving of last year is when bitcoin's price took a nasty turn for the worse. The currency fell into the mid-$3,000 range, which is where it stayed until the first week of April 2019. With no end to the bearish conditions in sight, many believed that bitcoin had run its course, and was a dying (or dead) currency.
It has taken nearly half-a-year, but if bitcoin does reach the $6,000 mark soon, the bearish turns of November 2018 will be erased, and the currency will be back on a track similar with where it was two years ago.
However, there are concerns regarding the potential manipulation of bitcoin's price. Manipulation is alleged to have brought the currency to the $20,000 mark during the latter half of 2017. Many claim the price swell wasn't natural, and that bitcoin's sudden demise the following year was part of a serious correction effort to bring bitcoin down to where it potentially belonged.
Who's Behind the Curtain?
These concerns still exist as one source puts it, commenting on several interesting developments revolving around bitcoin's sudden turnaround a few weeks ago. For example, the bitcoin trading volume during the final two days of March was hovering at $100 million, though just a few days later, the volume was roughly eight times that. How could this figure jump so high in such a short amount of time?
In addition, many institutional investors are allegedly showing interest in bitcoin and have gotten involved in crypto trading, yet their identities remain a secret. The source is warning investors to remain cautious and keep trading to a limit until further details are revealed.
Bitcoin Charts by TradingView
Image(s): Shutterstock.com