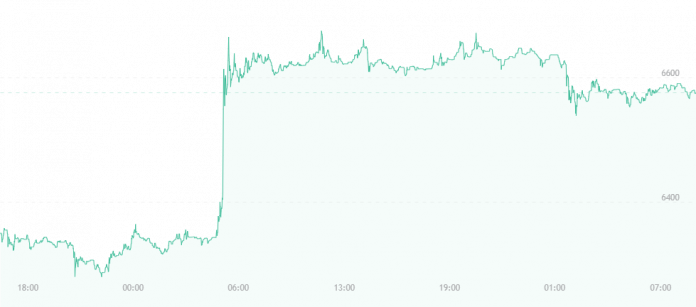 Bitcoin has experienced a slight stumble since yesterday's "high." The currency is now trading for $6,500, which is about $100 less than where it was 24 hours ago.
The bitcoin price had previously escalated to the $6,600 position, which marked a huge change from the previous downturn of events in bitcoin's world. The currency had hit $5,800 just a few days prior – its lowest point since February – and many investors found themselves worried about what was to become of the father of crypto.
But a rise to $800 was something worth celebrating, and many analysts and traders breathed a sigh of relief, believing bitcoin was taking its first steps towards recovery.
One source mentions Coinbase – one of the largest and most trusted digital exchanges in the U.S. – has a lot to do with bitcoin's sudden rise. The platform has released what executives call "Coinbase Custody," a series of cold storage broker services now available to both private and institutional customers. Coinbase wrote on its website that it wants cryptocurrency to be available to everybody.
"Over the coming weeks, we'll continue on-boarding a set of world-class clients that includes leading crypto hedge funds, exchanges and initial coin offering (ICO) teams," representatives stated.
Top financial figures – like Black Square Capital fund manager Maxim Nurov – praised Coinbase's new program, explaining:
"This is truly a milestone in the development of institutional-grade crypto market infrastructure. The demand for custodial solutions in the crypto space has been growing rapidly, as institutional investors seek exposure to this new alternative asset class. Now, service providers are adapting to securities laws to ensure they can fulfill the needs of institutional investors. Circle and BitGo could soon follow suit as big players in this market."
Coinbase isn't alone in its attempts to push bitcoin to the top. Joining it is the European Union, which released a paper that calls cryptocurrencies "relatively safe, transparent and fast." The report is slated to bring about several new crypto-customers in both Europe and abroad.
The authors wrote," Financial regulators may dislike VCs because of their anonymity or cross-border circulation. Such concern may be legitimate in some instances, but must not be generalized. In most cases, transactions in VCs result from the free business choices of economic agents and, therefore, should be treated by regulators as any other financial transaction or instrument – that is, proportionally to their market importance, complexity and associated risks. Given their global trans-border character, it is recommended that regulations concerning VCs be harmonized across jurisdictions, which is far from the case now."
Lastly, Japanese financial firm SBI Holdings has added bitcoin to its digital currency exchange, which could bring crypto to approximately 23 million new customers.
Image(s): Shutterstock.com