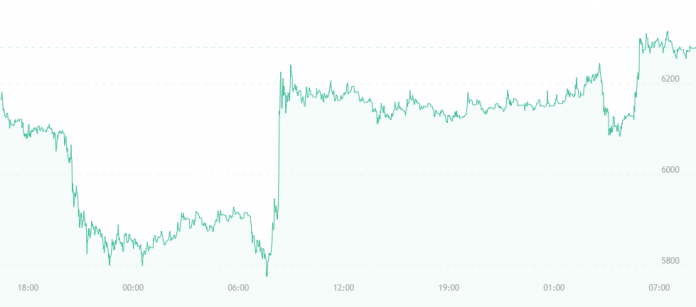 At press time, the father of cryptocurrencies has incurred a $200 rise and is now trading for roughly $6,300. This marks some good news for investors and traders, who up to this point, have probably lost some serious cash after bitcoin fell by over $1,500 in just the last two weeks.
In early June, the currency was trading for roughly $7,600, where it hovered for some time. Unfortunately, while many traders were waiting for $8,000 next, bitcoin had other plans, and decided to take a little trip down south – all the way to $6,100, where it has been trading at for the last 72 hours.
According to Fortune Magazine, the bitcoin hype has come to a screeching halt thanks to new reports that the price was subject to mass manipulation through trading schemes that involved tying bitcoin to Tether. This ultimately hurt investor trust, and caused many to wonder if they were involved in the right playing field. From there, Japan's Financial Services Agency (FSA) has placed restrictions on as many as six separate cryptocurrency trading platforms, and requested that they boost their security protocols after noticing weaknesses in their infrastructures.
However, it appears other problems have come about in the forms of phony initial coin offerings (ICOs) and scams, along with imposing regulation from organizations like the Security and Exchange Commission (SEC) and the Commodity Futures Trading Commission (CFTC). In addition, several new altcoins and digital assets have entered the frame over the last 12 months to ultimately take focus and attention away from bitcoin, thereby preventing it from recovering appropriately.
According to e-Toro analyst Matthew Newton, however, the price drops witnessed amongst most major forms of crypto (including bitcoin, Ethereum and Litecoin) are to be expected through such a "nascent market."
"The reality is that emerging technologies carrying radically new ideas will always see swings in their value," he explained in a recent interview. "Market adjustments, as we have seen over the past months, can help to stabilize prices and move the industry towards a more robust, sophisticated regime. This is good for the long-term future of blockchain and [cryptocurrencies], giving the industry time to develop."
At press time, bitcoin is up by almost 150 percent since this time last year, and it is more than ten times more valuable than where it stood in June of 2016. This is something to be positive about, though it is difficult when one considers where bitcoin was last December, and that near $20,000 price will always be in the back of investors' heads.
When will bitcoin hit this position again? How long will it take? Why is so much time needed to recover? These are probably only a fraction of the questions running through traders' minds, and considering we're on the verge of entering July – meaning we'll soon be in the second half of 2018 – the many predictions running rampant about bitcoin's end-of-the-year prices are a little difficult to swallow, but as we've seen in the past, bitcoin's price can drop or fall at a moment's notice. Thus, $25,000 – $60,000 may be easier to fathom in that context.
Image(s): Shutterstock.com