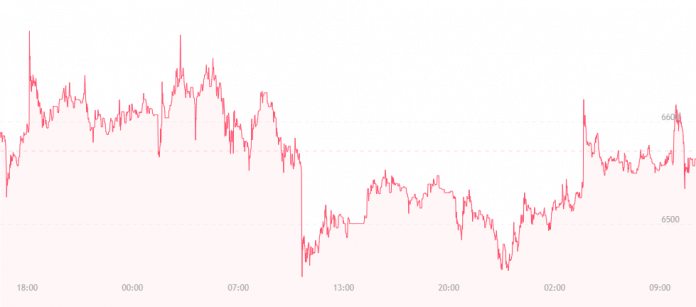 At press time, the father of cryptocurrency is back up to $6,600, where it has been on-and-off for the past few days.
Since last weekend, bitcoin managed to stay within the mid $6,000 range, though small hikes and falls have occurred within that time. The currency first experienced an $800 jump from $5,800 to $6,600, but has moved about to $6,500, $6,400 and $6,300 respectively over the past five days. Now, it's back to its "weekend high," and while it's easy to get excited, the recent jumps cause a person to wonder if this is a long-term or short-term move.
At the time of writing, most trends on the bitcoin technical charts appear to be bullish, and the price may continue to edge higher as buyers continue to gain market traction. $7,000 is ultimately in reach, though support lies at $6,400, and the demand zone remains at an even $6,000.
Bitcoin's decline over the recent weeks – according to one source – may be the reason why payments platform Square ultimately withdrew an application with the Federal Deposit Insurance Corporation (FDIC) for a banking charter. Representatives haven't commented on this yet, though they say they would like to consider resubmitting the application in the coming months.
"We have been engaged in constructive dialogue with the FDIC, and our decision to withdraw and refile was a procedural step in the review process that will allow us to amend and strengthen some areas of our FDIC insurance application," a spokesman mentions.
Some bad news for bitcoin occurred in China when the China Center for Information Industry Development (CCID) operating through the Ministry of Industry and Information Technology released its latest report on cryptocurrencies. Each digital asset is ranked based on various elements from usability to safety, and EOS has landed the number one spot (Ethereum was ranked first back in May).
Bitcoin, on the other hand, has seemingly dropped back a few places, falling from 13th to 17th place in less than two months. While the ranking is not based on blockchain performance terms, bitcoin's technology, creativity and application were thoroughly examined. CCID head Dr. Songtau Pu explains how the rankings come about:
"First of all, I must emphasize that what we do is not ratings for cryptocurrencies, but the technical assessment index for public blockchains. The assessment results are not determined by us – by human beings. We have a model to assess the blockchains (not the cryptocurrencies), and we have a team to capture the data, so with both the model and the data, we calculate the results. It is hard to explain why bitcoin dropped four places, [but] what I can say is that with the current results, bitcoin is listed at 17th."
Image(s): Shutterstock.com