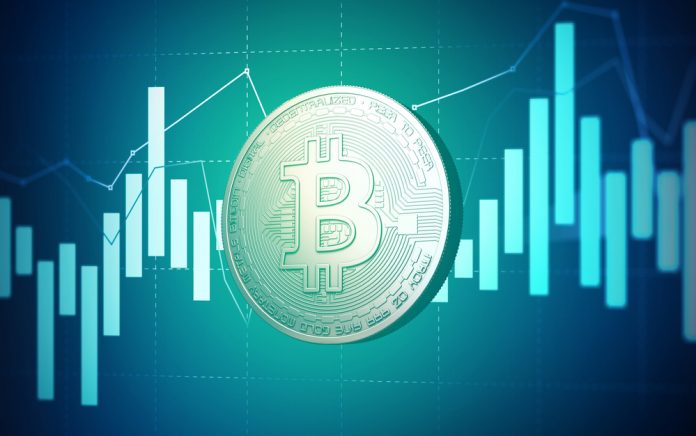 At press time, the price of bitcoin remains virtually unchanged since our previous coverage and is still hovering within the $6,400 range. Apparently, $6,400 has become the new $6,500, or the spot where bitcoin feels the most comfortable. The currency spent several days, if not weeks, traversing the $6,500 boards, but following a $300 drop late last week, bitcoin has only managed to recover $200 of those "lost funds." It's unsettling, but at least the coin isn't falling any further.
BTC is, for the most part, trading on a flat range, though it is experiencing low volatility. The downside is that volume is low as well, and it's rare to see both volatility and volume down at the same time. Granted bitcoin can break out of its current falling wedge, we may witness a sudden bull rally.
One piece of good news centering around bitcoin is the fact that bitcoin futures trading seems to have grown significantly from the first quarter to the third. CME Group Inc., which began permitting the trading of bitcoin futures contracts in December 2017, announced on Twitter:
"In Q3, bitcoin futures average daily volume rose 41 percent, and open interest was up 19 percent over Q2."
Just two months ago, volumes on the futures markets were stuck in oblivion for three consecutive trading seasons. Roughly 2,500 BTC transactions – possibly even less – were reported. This is more than three times less than where it had been just a few weeks ago. During early August, the amount of recorded transactions exceeded 8,000, which means figures fell by over 70 percent in just a matter of days, and it was a scary time for all.
Now, however, the average daily volume has exploded, and has seemingly passed the 5,000 level. This is a massive improvement over the 3,500 contracts reported in quarter two, and even stronger than the 1,800 contracts reported in quarter one (approximately 170 percent higher).
With regards to open interest, the figures are also higher, with approximately 1,500 individual contracts reported in the first quarter. In quarter three, CME says that approximately 2,900 contracts fall into the open interest category, which covers all contracts that are incomplete or unsettled but should be closed relatively soon.
CME managing director and global head of equity products and alternative investments Tim McCourt suggests that interest stemming from Asia is largely to "blame" for the sudden success of bitcoin futures trading. While speaking of recent additions to the company's roster, he commented:
"Out of the 40 percent of bitcoin futures trading on CME that's outside the United States, approximately 21 percent is coming from Asia."
Image(s): Shutterstock.com