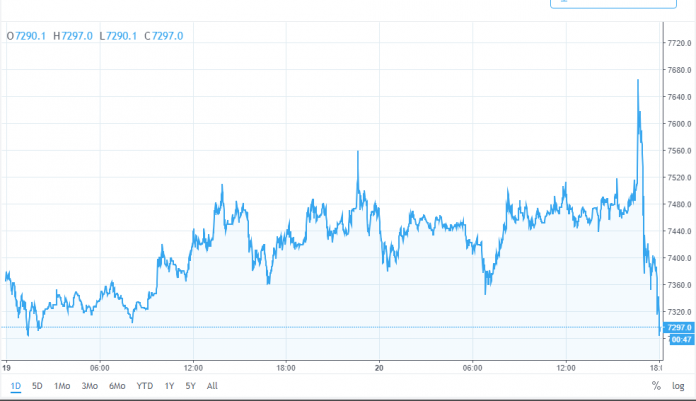 At press time, bitcoin has reached $7,500, a coveted position according to most analysts. Many believe that $7,500 will lead the path to $8,000, and now that the first figure has been reached, the second will be easy as pie.
One source explains that the big number to be concerned about, however, is $7,530, and granted bitcoin can reach this number in due time, we're likely to see explosive gains in the coming weeks. It suggests that $7,605 is the next big figure to hit, while $7,625 will arrive soon after, followed by $7,717 and then $8,000 respectively. This could then open the door to $8,034.
Support for bitcoin presently lies at $7,392. If the currency can remain above $7,439, all should be fine in the community, and bitcoin will likely continue experiencing price surges.
Bitcoin's market dominance lies at 45.1 percent, which is a bit smaller than where it stood last April (48 percent). Also, bitcoin appears to be the only major coin incurring price ascensions, as smaller altcoins and competing currencies are struggling to maintain their positions on the financial ladder. Ethereum, for example – the second-largest cryptocurrency by market cap and the number one competitor to bitcoin – currently sits at $467, nearly $50 less than where it was trading for last Tuesday.
One of the reasons for bitcoin's consistent rises may be growing interest among high-ranking Wall Street players. True Digital, for example, is a digital currency agency led by Sunil Hirani, the founder of interest rate swaps exchange trueEx. The company recently announced two new interest rates, and has teamed up with Wall Street players like Goldman Sachs, DV Trading and Hehmeyer Trading.
"If you grab the data off an API from a crypto exchange, you don't know where the data came from," Hirani explains of the new rates. "99 percent of institutions that haven't gotten involved will have more confidence in the market with a product like this."
Head of Genesis Global Trading Michael Moro provides data for True Digital's reference rates. He says the price data from an OTC desk is more likely to attract Wall Street investors.
"While the exchanges dominate volume, the truly institutional guys are trading OTC, and it might be a truer indication of where those institutional trades will get done," he explains. "The OTC market is going to give you a much better sense of the price on million-dollar trades. What True Digital is trying to do is address the more institutional crowd."
This, in turn, leads to an argument we've been hearing for years: that bringing more institutional investors on board will legitimize the arena, making it safer and less vulnerable to volatility.
Image(s): Shutterstock.com