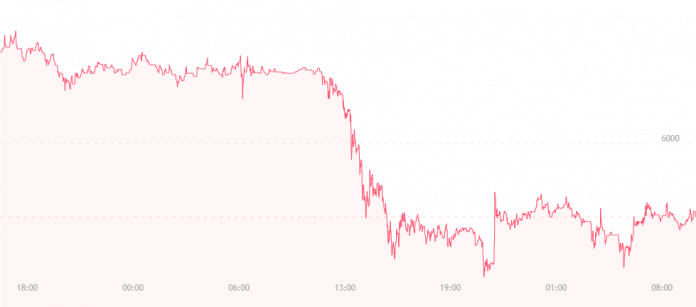 Ho, hum… That's what most investors are likely saying to themselves as they wake up this morning to find that the father of cryptocurrencies has dropped yet again, only this time below the $6,000 mark.
Over the past several days, bitcoin has been low, but it has managed to stay within $6,000 and $6,300. It wasn't pretty, but the fact that bitcoin was able to hold its ground suggested that perhaps the dreaded $5,000 arena was a little far-off. That thought has been proven false today, and the currency has dropped by over four percent in a single hour.
Overall, bitcoin has lost about 20 percent of its value this June, and there doesn't seem to be a single clear answer as to why. However, Jim Iorio from TJM Institutional Services suggests there's increased pressure from state authorities across the world to sell quickly. While bitcoin isn't the only currency affected (at press time, the entire market is deep within the red), this is certainly not the end, and he believes the sell-off will continue granted governments are unchanging in their positions.
The bears seemingly control the market and will do so through the coming weeks. Granted the bulls do have some say, the price of bitcoin could spike to $6,100 and then $6,400 respectively, though drops to roughly $5,777 and $5,550 could also occur.
And yet, not everyone is distressed by this news. Economic advisor at Allianz Mohamed El-Erian for example, believes bitcoin is more of a tradeable commodity than a currency, and says the asset's drop below $5,000 could be a good thing. He states bitcoin will become more "buyable" at that price, thereby inviting further investors and pushing its price back to the top.
"I don't think you can get all the way back to $20,000," he commented. "But I do think that you need to establish a base whereby the people who really believe in the future of bitcoin consolidate, and then that provides you a lift."
In the long run, El-Erian doesn't put all his faith in bitcoin and cryptocurrencies themselves, but rather the blockchains behind them.
"I suspect that if you look ten to 15 years down the road, we will have digital currencies, but the public sector will be involved in all that," he stated. "It will not be pure bitcoin. Blockchain technology, however – take that seriously. It will be a means of exchange. It's not going to be a currency. It's going to be another commodity-like asset out there that you can trade, and mainly as a store of value."
Overall, bitcoin has lost about 70 percent of its total value since its December peak. However, some remain confident that $5,800 is only a short-term price, and the currency will likely spike sooner than we anticipate.
Scott Weatherill – Chief risk manager at B2C2 Japan – is one of those figures. "I would have to reassess my short-term bearish bias if the digital currency experienced a break above the short-term 6350-6400 pivot," he explained. "Should this take place, a squeeze retest of the broken multi-month wedge is on the cards which would take us to the 7,000-7,200 range."
Image(s): Shutterstock.com