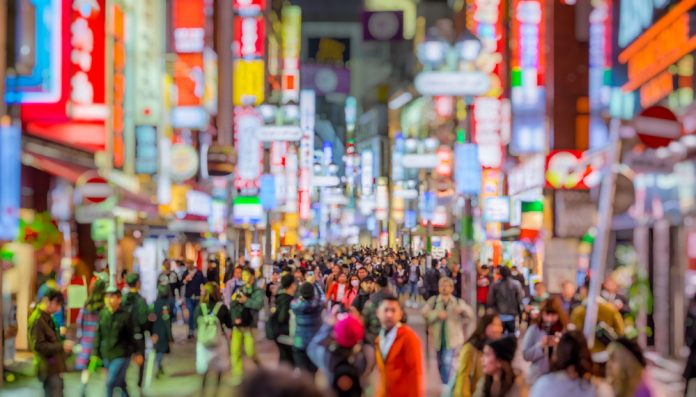 Japan is a very important location in the world of Bitcoin and cryptocurrency. Considering that it is one of only two countries to have officially recognized Bitcoin as legal tender, any development in this country will be important. For Japan's economy, the influx of cryptocurrencies and blockchain technology could not have come at a better time.
Bitcoin Matters a Lot to Japan
In the Western world, very little appears to be known about Japan when it comes to the financial side of things. It is not a powerhouse like China, and it appears safe from political struggles affecting many other Asian countries. Despite a rather calm outlook, Japan's economy has not been in the best of places over the past few years.
More specifically, economic growth in Japan has been a problem since the early 1980s. Ever since that time, it seems growth has stagnated and even been negative. Until recently, that gap could not be overcome, but it appears things are heading in the right direction once again. Ensuring future growth may require a completely different mindset, though.
SBI Holdings' Yoshitaka Kitao envisions a very peculiar future for Japan. That future will largely hinge on how cryptocurrencies and blockchain technology evolve in the years to come. Considering that these technologies are of great interest to the entire world right now, Japan may very well have a competitive edge over other nations. After all, the Japanese government legalized Bitcoin as a form of money last year and has reaped the rewards of doing so ever since.
Kickstarting Japan's economy with Bitcoin and blockchain seems like an odd idea. Given the volatility of cryptocurrencies, they do not seem to have a real seat at the table when it comes to financial development. Even so, there is a very good chance that this new form of money will find common ground with Japan and possibly neighboring countries as well. Combined with developments in 5G mobile connectivity and AI, a very interesting decade lies ahead.
Moreover, it seems SBI wants to play a key role in achieving this economic growth. The firm is working on ways to take blockchain beyond the financial industry, although it remains to be seen what they aim to do with it exactly. The role of cryptocurrencies is also undetermined, for the most part, but SBI is confident cryptocurrencies will continue to be of major importance for some time to come.
Bitcoin and other cryptocurrencies need a catalyst in order to be brought into the mainstream. All of the efforts currently taking place in Japan might make that happen a lot sooner than originally anticipated. Even so, there is still plenty of work to be done, regardless of how far ahead Japan may be in this regard. The coming years will prove to be crucial for both cryptocurrency and blockchain, by the look of things.
Image(s): Shutterstock.com