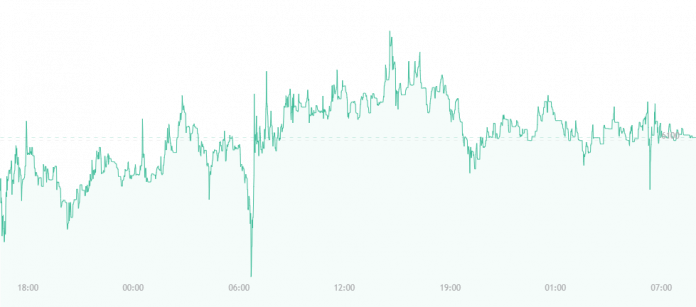 At press time, the father of cryptocurrencies is up to $6,100. That's about $100 more than where it stood during yesterday's afternoon hours.
The currency seems to be incurring small changes each day: $100 here, $200 there, etc. Thus far, the coin is going through a rough patch of weak trading and low volumes, and is seriously tied to its present support level. Some heavy drivers are going to have to come through and really plow down the opposition if bitcoin is going to experience any serious change.
In addition, analysts believe that nothing significant can happen in the bitcoin space until trading volumes are boosted with some new form of institutional capital. For example, investors are waiting on the U.S. Securities and Exchange Commission (SEC) to approve bitcoin ETFs, though it's unclear how long this process will take.
Bitcoin is trapped in a bearish pattern that if broken, could take the coin as high as $6,250. Granted this is surpassed, the next position would be around $6,483. There's not much to celebrate when one considers that this number is the equivalent of last April's low, but at least it's somewhere. Should the bears continue to control activity, bitcoin could fall to $6,000 next, or as low as $5,777…
But the asset does have one major player sitting in its corner of the field – Facebook. The social media giant recently announced that it's planning to lift the cryptocurrency and ICO ad ban that it implemented at the beginning of the year. Interestingly, this was the first of several maneuvers that ultimately knocked bitcoin into its consistent drop pattern that enthusiasts and investors have been unable to escape for the past six months, and many are hoping the news will shift the price swings from low to high.
It's also unusual that Facebook would revoke the decision after only half a year, though this was likely in response to the company's shift in management. The company is now putting together a special blockchain group designed for studying the technology headed by the company's CTO Mike Schroepfer.
"Customer safety and education about the market should remain a priority, but a blanket ban is a poor approach to new ideas," says UK managing director of e-Toro Iqbal Gandham. "Technology giants like Facebook are aware of the potential of blockchain technology to fundamentally change the financial system."
In addition, it appears Facebook has some big ambitions when it comes to the crypto space. Rumors are swelling that the social media platform is looking at purchasing Coinbase, one of the largest and most trusted digital currency exchanges in the United States. The move is slated to bring a major tech giant into the cryptocurrency arena, bringing further legitimacy to the world of digital assets and implementing Facebook's value and utility.
"It wouldn't surprise me if Facebook tried to acquire Coinbase," says tech entrepreneur Oliver Isaacs. "Whether [Coinbase CEO] Brian Armstrong and the team would agree is another question."
At press time, the rumors have not been confirmed as truth, though Armstrong has hinted in the past that his team would like to reach a minimum of one billion customers, and having Facebook's help could make that a possibility.
Image(s): Shutterstock.com