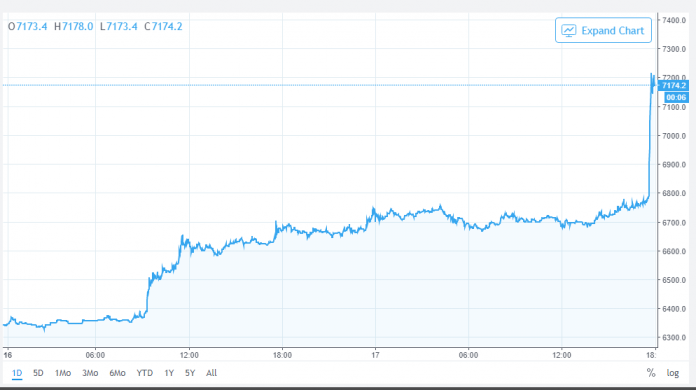 At press time, the father of cryptocurrency has jumped to $7,327. This is a massive increase from yesterday's price, and a clear sign that bitcoin is strong enough to handle present resistance, which is set at roughly $6,800. Granted the currency can step beyond that level, we are likely to witness $7,600 next, according to most analysts.
One of the big things potentially contributing to the current price is the community support for a new bitcoin ETF. A few weeks ago, the Securities and Exchange Commission (SEC) opened the ETF up to public comment to get an idea of its popularity and promise. Will institutional investors and normal, everyday traders take an interest in such an opportunity?
So far, the response has been overwhelming, with more than 90 individuals submitting their comments and ideas on the situation. This is about ten times more commentary than the last time (April 2018) the SEC opened an ETF up to the public, suggesting that cryptocurrencies might be heading deeper into mainstream territory.
Bitcoin support sits in the $6,400 range, while resistance at $6,800 has already been surpassed. $7,600 is next, which in turn could lead to $8,000. In addition, trading volumes are nearing $5 billion per day, the highest they've been since July 6, and the cryptocurrency market cap has shot up by roughly $20 billion.
Several good things are happening in the bitcoin and cryptocurrency communities, one being IBM's new stable coin, which can potentially help banks streamline international payments. Furthermore, bitcoin mining giant Bitmain – headquartered in China – recently announced a stake in Block.one, the parent company of EOS. It has also built a 20,000-square foot facility in California's Silicon Valley ahead of its initial coin offering (ICO) set to occur later this year.
Unfortunately, not everything's coming up roses in the crypto space, which is still marred by scams and failed projects that deter it from its mainstream goals. Camera king Kodak has employed a mining scheme known as Spotlite USA, which collapsed last night due to being labeled a "scam" by critics. The project was also blocked by the SEC. Spotlite has since confirmed it will not be moving forward on any additional mining operations.
One of the issues with the project is that mining costs tend to change every month, and Spotlite made it sound like miners would be able to extract the same number of coins throughout every mining session.
"There is no way your magical Kodak miner will make the same $375 each month," writes economist Saifedean Ammous, who says that anyone who got involved would have incurred serious losses.
Luckily, the project is being closed before a single coin could be extracted, which means nobody is at risk.
Image(s): Shutterstock.com