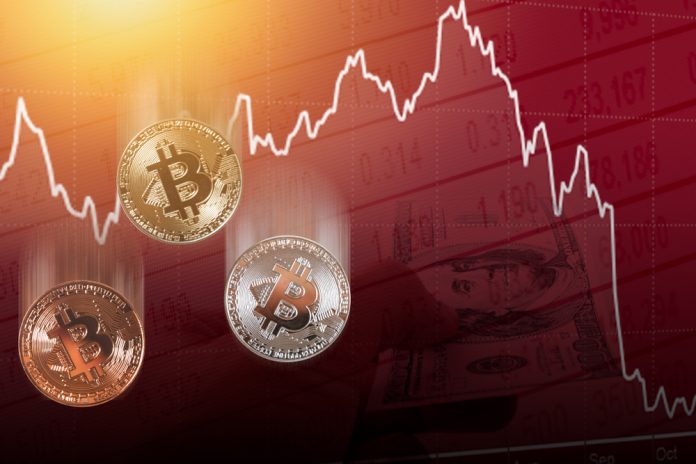 Bitcoin is down 10 percent in the past 24 hours and has set a new low for the year. The currency has been struggling to stay above $4,000, but it looks like the bears have the upper hand, at least in the short term. The currency slumped below $3,400 on most markets overnight and has since then looked increasingly likely to head to $3,000. At press time, Bitcoin was trading at $3,377 on BitMEX, Coinbase Pro and Kraken.
The rest of the market has also been heavily battered, with Ethereum trading at $86, Stellar down 17 percent to $0.11 and EOS bleeding heavily to trade at $1.7. For the second day in a row, Bitcoin SV and Tether are the only cryptos in the green in the top 20, with SV climbing to clinch the fifth place.
$3,000 an Increasing Possibility 
Just three weeks ago, Bitcoin was trading at $6,400 and was enjoying one of its best runs in terms of volatility. This all changed just before the Bitcoin Cash hard fork, and nothing has been the same since. The currency has since then lost close to half its value and the agony looks set to continue for investors.
At press time, the currency had lost 10 percent of its value in the past 24 hours to trade at $3,434. On some markets, the $3,400 level had been well beaten. These include BitMEX, Kraken, Bitstamp, Coinsbank and Coinbit where it was trading below $3,380.
Despite the unimaginable losses, it's still not clear why the market is crashing. Some have attributed the losses to a spill-over effect of the Bitcoin Cash fork, but that in itself doesn't seem enough to crash the entire market. Bitcoin SV, the result of that fork, has been on a great run recently which has seen it overtake Bitcoin Cash and EOS, further undermining this reason.
There are those who are of the conviction that all this is orchestrated by well-funded crypto traders who are tanking the market to make profits.
Dear noobs,
Bitcoin is NOT naturally going down. It is being pushed down via whales placing spoofy sell orders on exchanges to make noobs and risk managers sell to "buy back lower". They are stealing your bags and will make you buy back at a higher price.

Retweet this.

— XC (@XCBitcoin) December 5, 2018
While there's no doubt in many people's mind that Bitcoin will bounce back in 2019, there are indications that it could go even lower this year. With the sell-off being at its highest since mid-year, the currency could test the $3,000 level before the month ends. This could be the ultimate test for Bitcoin as falling below this level could greatly impair its ability to bounce back.
Crypto Startups Begin Sinking
The bear market has seen many crypto and blockchain startups either shrink their operations or sink altogether. Most of these startups raised funding through ICOs and have held most of it in Bitcoin and Ethereum. With the prices being 80 percent lower, they have been faced by lack of funds.
One of these is the Ethereum-based blockchain incubator, Consensys which recently revealed that it will reduce its workforce by 13 percent. The New York-based firm has been one of the most successful in the blockchain space and its downsizing shows just how much of an effect the bear market is having on most startups
Bloomberg also revealed that ETCDEV is closing down after lacking enough funds to operate. The startup is behind the successful Ethereum Classic which is a fork of Ethereum. According to its founder Igor Artamonov, the firm's employees have had to seek employment in rival firms. He explained:
There are a few things that happened at the same time. I am sure if that happened a year ago, that wouldn't be a problem at all, a year ago there was a lot of free money in the market. But in a bear market there's a change
Image(s): Shutterstock.com