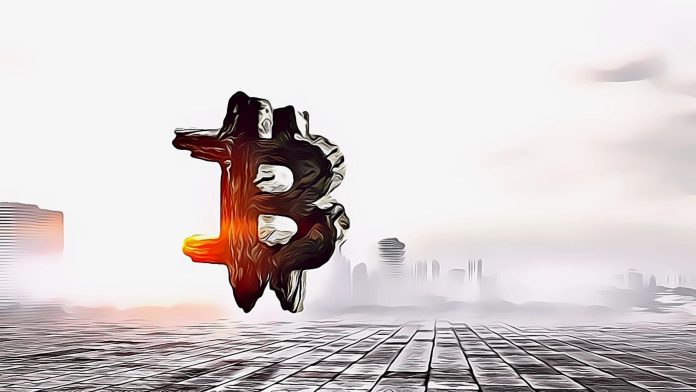 The recent trends in the Bitcoin market indicate a shift towards self-custody as the supply of Bitcoin on exchanges continues to decrease. Despite experiencing a drop below the $30k mark last week, the market has not shown severe reactions, suggesting that fear, uncertainty, and doubt (#FUD) are not driving significant sell-offs. This observation highlights the resilience and maturity of the cryptocurrency market, as investors seem to be holding onto their assets rather than rushing to sell in response to short-term price fluctuations.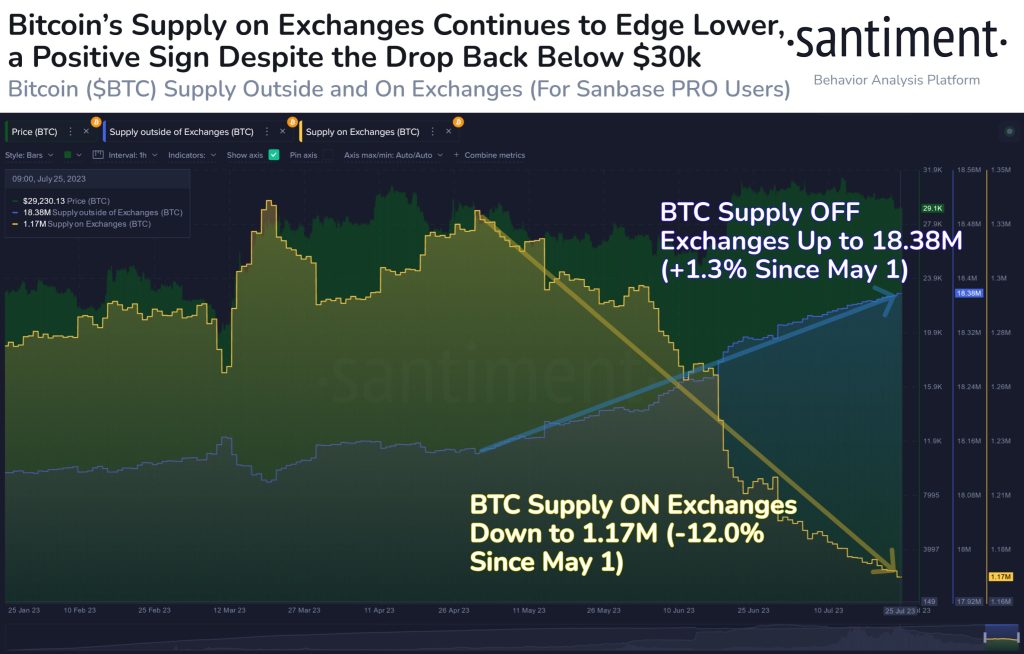 Bitcoin Supply On Exchanges Decline
The data shows a noteworthy decline in the supply of Bitcoin on exchanges, down to 1.17 million BTC, representing a 12% decrease since May 1st. This shrinking supply indicates that more individuals and institutions are opting to move their Bitcoin holdings into self-custody solutions, such as hardware wallets or other secure offline storage methods. This trend towards self-custody is a positive sign for Bitcoin's decentralization and the overall security of the network, as it reduces the reliance on centralized exchanges, which can be vulnerable to hacks and other security breaches.
Bitcoin Supply Off Exchanges Hits 18.38 Million BTC
In contrast to the diminishing on-exchange supply, the amount of Bitcoin held off exchanges has increased to 18.38 million BTC, growing by 1.3% since May 1st. This growth in off-exchange holdings could be attributed to long-term investors and hodlers who are confident in Bitcoin's potential for future appreciation and are choosing to store their assets in more secure, long-term storage solutions.
Lowest Since November 2018
The fact that the current on-exchange supply of 1.17 million BTC is the lowest since November 2018 is a significant development. This suggests that investors are becoming more cautious and conservative in their approach, opting to hold their Bitcoin rather than actively trading it on exchanges.
Final Thoughts
Overall, these trends point to a more mature and stable Bitcoin market, with investors displaying confidence in the long-term value of the cryptocurrency. The decreasing on-exchange supply signifies a shift towards self-custody and a greater emphasis on long-term investment strategies. While short-term price drops have not triggered panic-selling, the increasing off-exchange holdings indicate a strong belief in Bitcoin's potential for future growth. As the cryptocurrency market continues to evolve, monitoring these supply dynamics will be crucial in understanding investor behavior and market sentiment.
Disclosure: This is not trading or investment advice. Always do your research before buying any cryptocurrency or investing in any services.
Follow us on Twitter @nulltxnews to stay updated with the latest Crypto, NFT, AI, Cybersecurity, Distributed Computing, and Metaverse news!
Image Source: nexusplexus/123RF // Image Effects by Colorcinch