One of the most controversial cryptocurrencies on the market – Bitcoin SV seems to be the only one immune to the recent market correction which sent most coins down almost 10%. The overally cryptocurrency marketcap took a $20b loss last night and unfortunately is not showing any signs of recovery at the time of writing.
After nearly doubling in price last week when news came out that Dr. Craig Wright was granted US Copyright Registrations for the Bitcoin Whitepaper and Code, the currency has been stable ever since. If there's one cryptocurrency that is detached from Bitcoin's influence, Bitcoin SV is the one.
Vitalik Buterin Calls Bitcoin SV A Scam
In a recent youtube video with Hardcore Crypto, when asked "What's your position on Bitcoin SV [] being delisted from Binance…" Vitalik Buterin outright replied: "Obviously Bitcoin SV is a complete scam."
Bitcoin SV has its share of supporters and critics, but such a bold statement from Ethereum's founder is bound to trigger some people. As mentioned earlier BSV is by far the most controversial cryptocurrency at the moment, and the fact that it boasts a $4 billion market cap definitely fuels the debate.
Reddit User Seeks to 51% Attack BSV
As if there wasn't enough drama for BSV already, a reddit user is openly asking for a mining farm to 51% Bitcoin SV. So far, nobody has taken him on his offer but even if they did that would mean a massive loss of revenue for the farm, which could be actually mining a SHA-256 cryptocurrency for profit.
Bitcoin SV Technical Analysis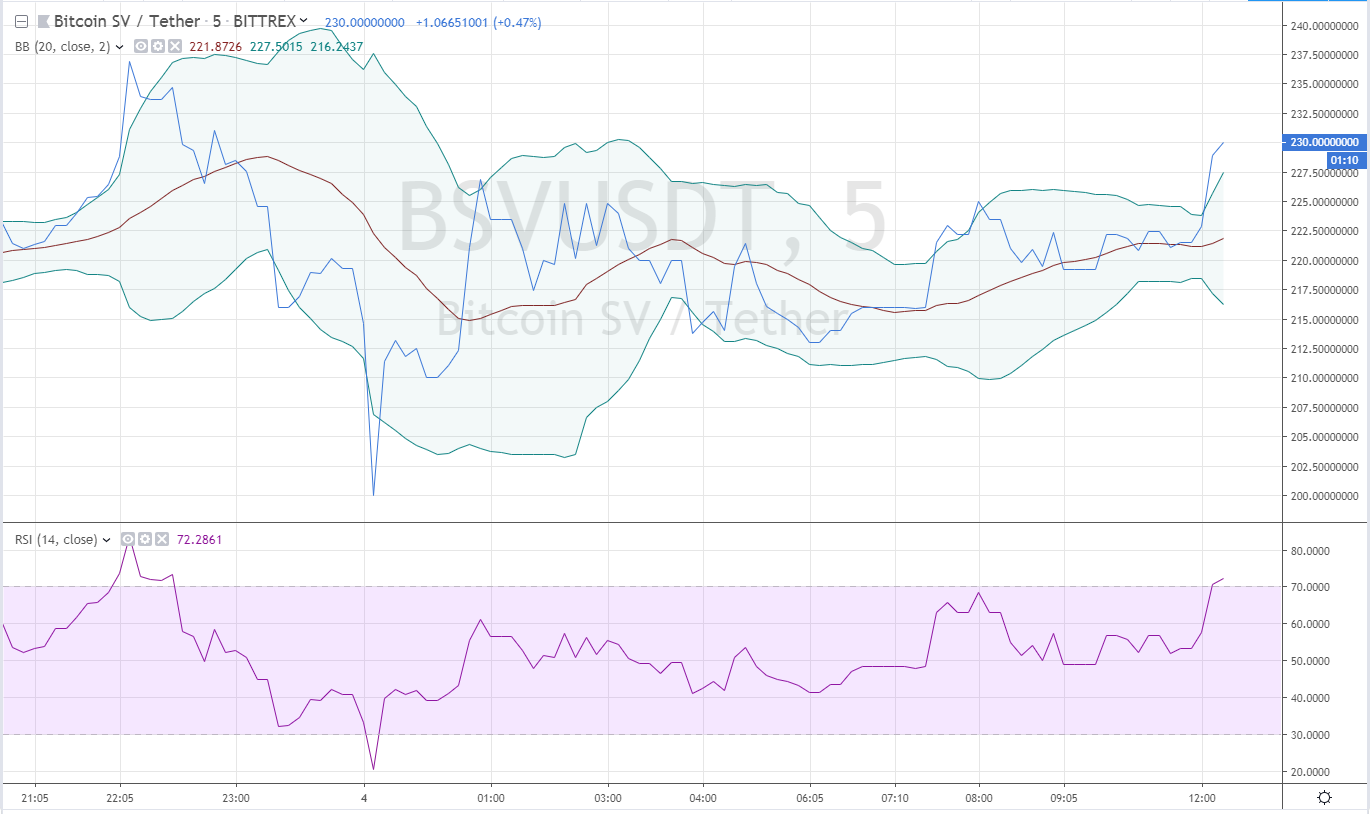 Relative Strength Index: Bitcoin SV's RSI at the time of writing is at 72 points which is right above the healthy market threshold. Currently the RSI is signalling a slightly overbought market and one that should correct slightly down.
Bollinger Bands: Looking at the BBs we can see that the price is also above the upper band and outside the threshold. As such we should see a slight rebound back to the $227 level before further momentum can be achieved. We can also see that BTCSV does respect the BBs quite well and any time the market is out of range it stabilizes shortly after.
Both the RSI and BBs are signalling a slight correction before further moves can be made.
Bitcoin SV Charts By Tradingview
---
Disclaimer: This is not trading or investment advice. The above article is for entertainment and education purposes only. Please do your own research before purchasing or investing into any cryptocurrency or digital currency.