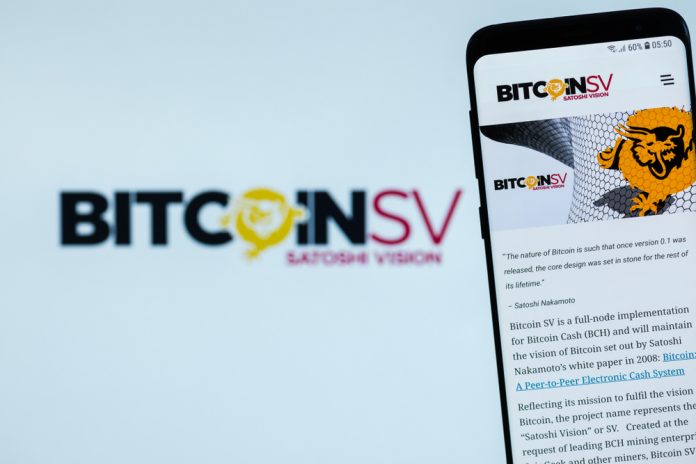 One of the more interesting cryptocurrency markets to keep an eye on these days is Bitcoin SV. One of the reasons all of the attention is on the cryptocurrency is because it is well underway to overtake Bitcoin Cash itself at this rate. There is still a large gap between the two, but the momentum often favors SV, whereas BCH is getting hammered.
Bitcoin Cash SV Price Goes in the Green
It has been an interesting month for the Bitcoin SV team and the altcoin's price itself. Although no one will claim things have gone according to plan exactly, the current trend is far less negative than some people had expected. That in itself is perhaps the biggest surprise to date, as very few people gave this fork any chance of success. Even so, it is still around and quietly doing its own thing.
Over the past 24 hours, there has been a 5% increase for the Bitcoin SV price. This affects both its USD and BTC value alike, further confirming some positive momentum is brewing. The main question is whether or not this momentum can remain in place for more than a few hours. Considering how there hasn't been any sustained uptrend for Bitcoin SV in recent weeks, it seems unlikely that will change in the near future.
The opinions on the future of Bitcoin SV are all over the place on social media. That isn't entirely abnormal either, as there is a lot of hate toward Bitcoin SV, Bitcoin Cash, and pretty much everything that isn't Bitcoin itself. An interesting and funny GIF was shared by Timmme in this regard, although it remains to be seen if the end is indeed near for any of these currencies.
#BCHABC & #BCHSV
…..get welll soon btc 😉 pic.twitter.com/9RKAINiIum

— Timmme (@timmmme) December 6, 2018
Melik Manukyah, on the other hand, is somewhat concerned over how Coin Dance is depicting the current pool hashrate distribution for BCH and BCHSV. It is evident a lot of "unknown pools" are showing up for SV, although it remains to be seen if those are indeed "unknown" or simply "most listed separately". Even so, it seems clear BCHSV is gaining more hashrate support in quick succession, which is always interesting to keep an eye on.
Hmmm, seems pretty disingenuous to list all of the smaller #BCHABC pools and group them up as "Other Mining Pools" for #BCHSV.

This gives the illusion that one of these shitcoins has more support and is more "decentralized" than the other. pic.twitter.com/itp3JYhWKj

— Melik Manukyan ⚡️ ludvigart.com (@realLudvigArt) December 6, 2018
Last but not least, there is a genuine chance both BCH and BCHSV will reach equal value sooner rather than later. It is impossible to tell what would happen at that point, although it is a development a lot of people are seemingly looking forward to. Danny Knight hopes they will cancel out one another so things finally return to normal. An odd sentiment, albeit one that is also somewhat understandable.
Rumor has it…

If ABC & SV reach equal value, they will spontaneously combust into the oblivion.

A bit like of you time travel and meet yourself.

When non-existance?#bitcoin #bcash #bch #bchsv #bchabc #shitcoin pic.twitter.com/9F5wqY1XoK

— Danny Knight (@danny_knight) December 6, 2018
Based on all of the current market momentum, it seems to be a matter of time until this clash between Bitcoin Cash and Bitcoin SV materializes on the price charts. Both currencies note rather low trading volume, which is always a cause for concern first and foremost. For the time being, Bitcoin SV will need to retain the $90 level, albeit that will be an uphill challenge in its own regard.
---
Disclaimer: This is not trading or investment advice. The above article is for entertainment and education purposes only. Please do your own research before purchasing or investing into any cryptocurrency.
Image(s): Shutterstock.com