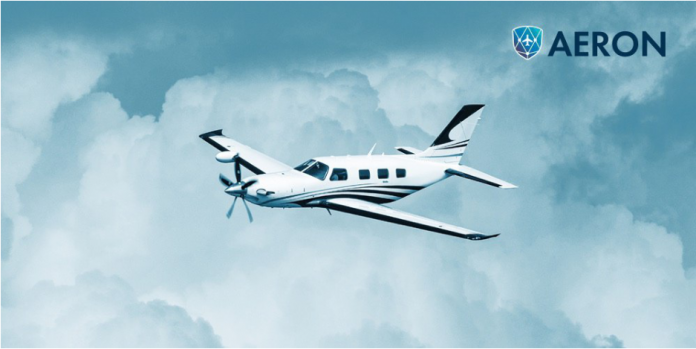 London based Aeron looks to make one of the most popular modes of transportation even safer. In 2017 aviation with either freight or passengers reached a capitalization of $250 billion, with 4 billion passengers and 104,000 flights annually.  By 2037, Boeing expects their fleet to double in size for both passengers and commercial cargo in order to keep up with increasing demand in this industry. While flying is one of the safest ways to travel, over 3000 accidents occur yearly still. Some of these cases are fatal, and also results in large amounts of collateral damage when planes crash.
Disclosure: This is a Sponsored Article
Aeron to Tackle Common Industry Problems
Aeron will make flying safer with their blockchain based platform that will tackle the most common problems in the industry of pilot training and flight school management, including thwarting flight log forgery, under-reporting flight hours, and stopping any modified data and replacing an old system with one built on new technologies and tools. Discrepancies are flagged automatically when information from sources (pilot, aircraft, operator, ATC) differ from each other. The app will make recognizing differences much easier, and will also keep up to date records on pilot licenses, and will flag expired licenses or pending renewals.
The Future for Aeron
The Aeron Team has recently announced launch of the mobile application to both Google and Apple's mobile application services, and even got their native token integrated within Aerotrips marketplace. Aeron CEO, Artem Orange said:
"We are proud to announce that we will integrate the ARN token to be the payment method of choice for Aerotrips.com. We are all excited for the future of Aeron, we believe putting the passengers safety first, a vital part of our company beliefs. The development team are hard at work finishing off the decentralized storage portal next. We are on track at what looks to be a very successful year, and I would like to say thank you to everyone that has and continues to support Aeron."
Aerotrip is an aviation marketplace that offers services like chartered flights to air safaris and flight training. Users will now have another payment method for the same services, and also a better way of referencing data.  Proper logs are a major key to fixing mistakes that can lead to catastrophic failures. Under reporting flight hours to allow an aircraft to fly more may result in short term profits, but risks equipment failure and potential loss of human life.
Equipment that isn't properly maintained, and given proper time to rest and cool down from operation is more likely to fail during use and not last as long compared to aircraft handled correctly.
To learn more about Aeron, visit their website and check out their whitepaper. To chat with community and team members, check out their Telegram channel and WeChat. Social media updates are made on their Twitter and Facebook, with blog posts made through Medium. For market updates, check out their page on CoinMarketCap.
Image(s): Shutterstock.com