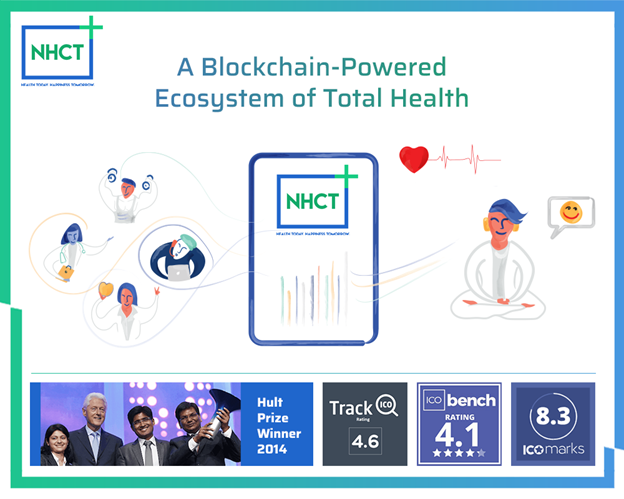 The Cayman Islands-based project NHCT (NanoHealthCareToken) looks to raise a maximum of $9,000,000 through a presale launched on October 1, 2018, Early birds that participate in the presale will be able to take advantage of a 35% discount.
A total of 350 million tokens will be for auction, with the sale being split into two main stages: the pre-sale and the main token sale.
Existing App Uses Blockchain Tech
NHCT is a holistic health management platform, built on the principles of preventive medicine, rather than reactive medical care. The platform uses blockchain to address issues that traditional health management systems have to deal with like high costs, data fragmentation, and data security will be addressed by the implementation of blockchain technology.
NHCT.io is led by Manish Ranjan who is an Alumnus of IIT Bombay and ISB Hyderabad. Speaking of his vision of NHCT, Manish stated,
"There are a lot of inefficiencies in the way healthcare is managed. The user data is not all in one place, is prone to security issues like hacking and above all the accuracy is a big challenge for both the payers and providers. Our idea is to gamify the entire system by using tokens. We incentivize users to stay healthy via tokens that can be redeemed to avail services like gym, wellness, lab tests among others; while payers and providers get the advantage of accurate data & lesser claims. We are trying to make the entire ecosystem efficient."
The project won the Hult Prize back in 2014 and has already secured $1,000,000 in seed funding. Funds raised through the sale of tokens will be used towards refinement and marketing of their existing app, which can be downloaded on both Android and iOS devices.
Nagarjuna Vangala, CTO – NHCT who has a rich experience of more than two decades in managing enterprise-scale applications mentions:
"Blockchain is a natural fit for what we are trying to achieve at NHCT. Its inherent security & decentralization is perfect for correcting what ails the healthcare of today. The idea is to give the control of data back to where it belongs: to the users."
The app has already assisted over 75,000 people with coordinated, continuous care via "health coaches." Not only are these health coaches trained medically to provide care tailored to each individual but play a crucial role in propagating authentic data throughout the NHCT ecosystem.
To encourage investment from large and accredited investors, any participant that invests over $100,000 will be granted protection in the form of equity backing, which helps assure those investing in this volatile market.
The token sale ends mid-December and is currently open to investments from those interested in participating in either the pre-sale or main sale.
To learn more about NHCT, visit their website. To talk with community and team members, make sure to hop into the Telegram channel. For blog posts, make sure to check out NHCT's Medium. For social media updates, make sure to follow them on Twitter and Facebook, so you don't miss a beat. Any videos are uploaded and can be viewed on their YouTube channel.
---
This is a sponsored article and does not necessarily reflect the opinions or views held by any employees of NullTX. This is not investment, trading, or gambling advice. Always conduct your own independent research.
Image(s): Shutterstock.com