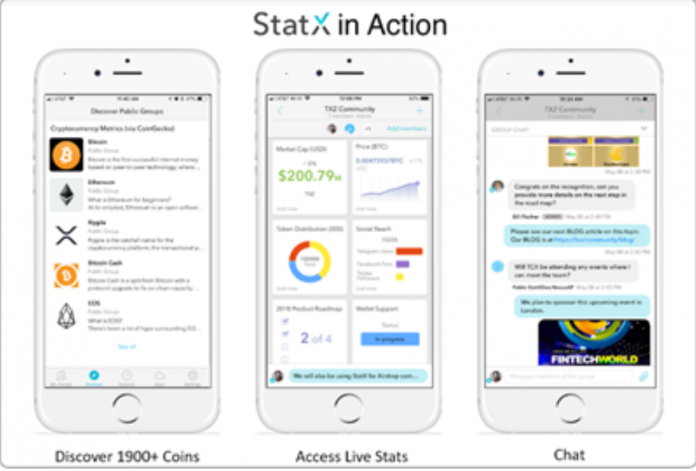 While Telegram has become the de facto standard for crypto communities wanting to chat, StatX looks to challenge the status quo with an app dedicated for the crypto and blockchain market.
Disclosure: This is a Sponsored Article
Telegram Focuses On Talking, StatX On Info
A major difference StatX claims to have over Telegram is that the popular messaging app is "conversation-centric" while the California based startup will be "information-centric", with users of the app able to "expect a well presented, simple and elegant dashboard offering company financial and status information."
Prasad Raje, StatX co-founder, and CEO offered these words on StatX and it's growing network;
"Our secret sauce is the unique way StatX combines information and conversation to drive a higher quality and higher value user experience. It's gratifying to see that our approach has been validated in the marketplace by a growing number of crypto industry innovators such as Boosto, Decred, Foleum, MediBloc, ZCoin and many others."
Useful Dashboard Offers Information At A Glance
This dashboard can highlight market cap, price, token distribution, social reach, and product roadmap milestones. It is able to also show situational information such as an update for airdrops or bounty programs. Users can also set alerts that will notify them if any changes to price, market cap, etc. are detected.
Some of the leading altcoins have already expressed support for the new app, including Decred and ZCoin among others.
Noah Pierau, Community Builder at Decred, (a top 30 cryptocurrency with a focus on governance) had this to say about StatX;
"While there are many pure chat applications, StatX has the unique ability to combine technical indicators such as exchange rate and PoS info conveniently with chat functionality, all in one beautiful mobile app. StatX improves the signal to noise ratio in the blockchain community."
While Reuben Zap, COO of Zcoin, had this to say about the company's partnership with StatX;
"Zcoin is happy to partner with StatX to deliver Zcoin price and blockchain metrics to our community via StatX. We want this to be a high-quality information and conversation channel with all parties interested in Zcoin."
Another key factor that separates StatX from Telegram is several measures implemented to mitigate against unwanted spam and scammers. For example, API's are only available to group admins, to ensure only wanted third-party services take advantage.
Companies like Boosto, also a supporter of the app, are using this feature to their advantage.
Boosto CPO Rock Zhang stated;
"By presenting the metrics and company data that we want to share and driving the conversation around that, StatX provides an excellent tool for proactively building and controlling our brand online,"
StatX is also for more than just users looking to join crypto communities, with use cases for Crypto Fund Managers, Developers, and even blockchain creators able to take advantage of the tools this app offers.
To learn more about StatX, visit their website. For the mobile app, make sure to check out the App Store for iOS and Google Play for Android devices. For social media updates, check their Twitter. Blog updates are made on StatX's blog, and videos are uploaded to their YouTube Channel.
Image(s): Shutterstock.com