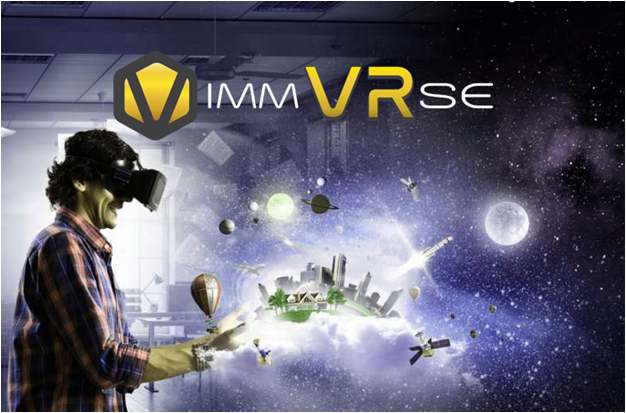 ImmVRse, blockchain VR platform looks to solve scaling issues that come with using higher definition media for VR content.
Disclosure: This is a Sponsored Article
Why Higher Resolution At Lower Latency Is Necessary For VR
VR headsets require more pixels for the same level of image quality compared to a regular monitor due to the larger screen area. A higher resolution, known as Ultra High Definition (UHD) is available but currently is costly and requires significant hardware to run at suitable speeds.
The VR platform recognizes the need to solve this issue before moving on, and will create a hybrid architecture to distribute the load, effortlessly processing videos on demand at UHD and low latency.
VR currently gives a sizeable portion of user's motion sickness, even though they are physically remaining in the same location. Increasing definition and lowering response times has been shown to help reduce motion sickness symptoms, according to a pilot research project carried out in collaboration with Imperial School of Medicine last year.
ImmVRse Announces New Partnership and Advisor
ImmVRse's first step to creating the suitable architecture for the platform is a partnership with IAGON, a decentralized startup focusing on cloud computing and artificial intelligence (AI). The cloud computing company will provide a platform capable of satisfying the storage requirements for storing the massive files associated with 4k and higher resolution videos.
Complementing this partnership is ImmVRse's newest advisory, Ani Fox Bochenkov. Bochenkov is the director of Oracle (EMEA and APAC) and will advise the VR platform on cloud computing, scalability, and improving the product development life-cycle.
The Director of Oracle (EMEA and APAC), Ani Fox Bochenkov Stated:
"ImmVRse represents a prime example of how modern technologies can be utilized within a digital cloud infrastructure. I look forward to working closely with the team to make this a market leading content platform for the future"
ImmVRse's presale is scheduled to launch in the following weeks, and has garnered increasing interest as the launch date gets closer. ImmVR'se recommends anyone interested in participating in the presale or public sale should complete whitelist registration to save time. That way users can immediately purchase tokens as soon as it's possible.
Implications of UHD VR In A Growing Multi-Billion Dollar Industry
Easily accessible UHD VR content will revolutionize how media is consumed for entertainment. Immersive VR content also has implications in numerous industries as well, including tourism, health, education, advertising, and even more advanced applications like remote control of drones, robots, and other machinery.
The VR market is expected to grow rapidly in the next couple years, growing from a market of $5.4 billion in 2017 to nearly $61 billion by the end of 2023.
To learn more about the VR platform, visit their website. The website also has information on the team members, if you want to know more about the people behind the project. A whitepaper is also available for more in-depth information. For interested potential participants for the token sale, users can sign up to get registered for the whitelist.
ImmVRse has a Telegram channel where team members and the community can talk together to solve any questions that may arise. ImmVRse also has a Facebook, where any social media updates are posted.
Image(s): Shutterstock.com