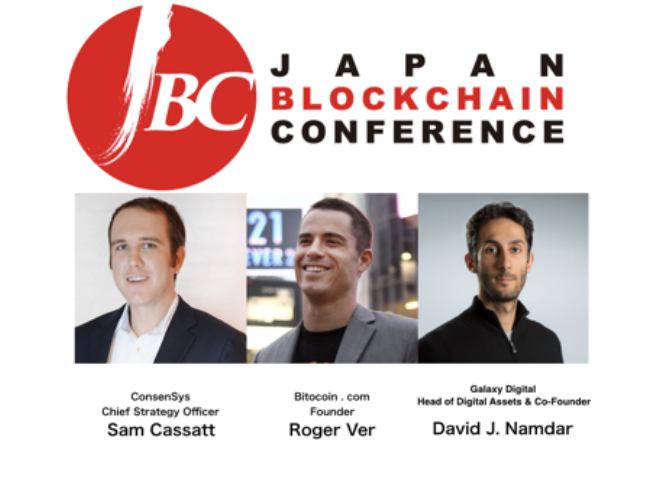 Tokyo, Japan, July 02, 2018: The Japan Blockchain Conference 2018 took place from June 26-27 at the Tokyo International Forum. The conference, one of the largest blockchain conferences in Japan, is being organized by the General Incorporated Association Global Blockchain Council.
Disclosure: This is a Sponsored Article
Several luminaries from the blockchain world have been confirmed as guest speakers, including the founder of Bitcoin.com Roger Ver, co-founder and Head of Digital Assets at Galaxy Digital, David J. Namdar and Sam Cassatt from ConsenSys, with a whole host of other blockchain innovators scheduled to speak.
The Japan Blockchain Conference 2018
The aim of the Japan Blockchain Conference 2018 is to assist blockchain business corporations and organizations, thereby raising the profile of cryptocurrency. The conference will bring together native Japanese and international companies and blockchain fans to encourage cooperation and the sharing of expertise.
About Roger Ver (founder, Bitcoin.com)
A maverick by nature, Roger Ver has been involved with cryptocurrency for many years.  Following the founding of several successful companies in Silicon Valley, Roger turned his attention to Bitcoin in February 2011. Long before traditional venture capitalists showed any interest, he was the first to start investing in Bitcoin-based startups, financing the first wave of Bitcoin companies. Roger's investment portfolio includes Bitcoin.com, Blockchain.com, Bitpay.com, Kraken.com, to name just a few.
About David J Namdar (founding partner, Head of Digital Assets, Galaxy Digital)
David has extensive international business and financial market experience with companies of all sizes, as well as considerable knowledge of private and public equities, derivatives and foreign currencies.  He is also skilled in the application of fundamental and quantitative analysis
in global investing. In addition, he has significant expertise in blockchain technology, cryptocurrency investments and the emergent decentralized economy. David is a founder of SolidX Partners.
About Sam Cassatt (Chief Strategy Officer, ConsenSys)
Sam Cassatt main role is CSO at ConsenSys, a global group of technologists and entrepreneurs that is spearheading the development of the Ethereum ecosystem.  Sam's expertise lies in venture capital, software development methodology, enterprise architecture, and growth strategy. These skills assist him in developing company business strategies in the fast-growing blockchain economy.  Before ConsenSys, Sam was CTO at mobile identity company Atmospheir and also undertook voluntary work for Engineers Without Borders in South Africa. Now based in Brooklyn, he advises a number of tech companies, as well as being a member of Venture One's investment committee.
Japan Blockchain Conference 2018
Dates and Times: 9:00-18:00, Tuesday June 26  – Wednesday 27, 2018
Conference Venue
Hall E (1) + (2) of Tokyo International Forum
5-1, Marunouchi 3-chome, Chiyoda-ku, Tokyo 100-0005
Tickets
Tickets can be booked in advance or purchased on conference days.
Advance tickets available here: https://japan-blockchain-c.com/ticket/
Japan Blockchain Conference 2018 in the media:
YAHOO Finance: https://finance.yahoo.com/news/sbis-yoshitaka-kitao-confirmedspeaker-093000421.html
KCBD: http://www.kcbd.com/story/38392779/sbis-yoshitaka-kitaoconfirmed-as-a-speaker-at-the-japan-blockchain-conference-in-tokyoon-june-26th-and-27th

Coin Spectator: https://coinspectator.com/news/518311/sbis-yoshitaka-kitao-confirmed-as-a-speaker-at-the-japan-blockchain-conference-in-tokyo-on-june-26th-and-27th
Zaikei Newspaper, Zaikei Co: http://www.zaikei.co.jp/releases/637691/
Line News, Line Co.: http://news.line.me/articles/oa-rp31535/6e4ee135a26a
SankeiBiz: https://www.sankeibiz.jp/business/news/180615/ prl1806151422098-n1.htm
Image(s): Shutterstock.com